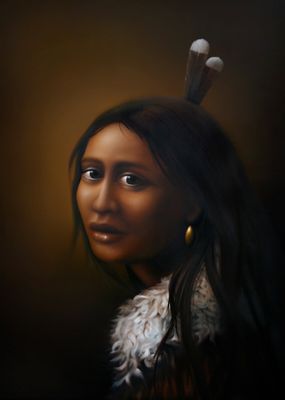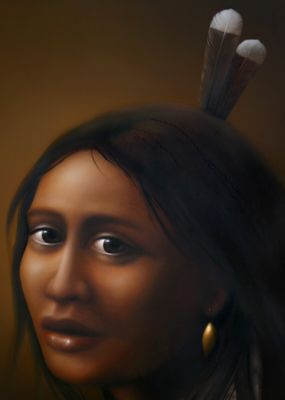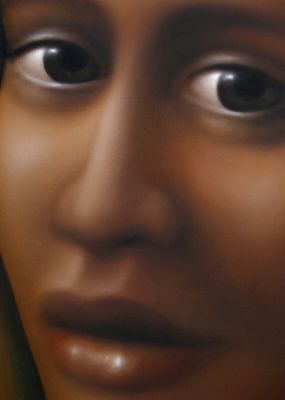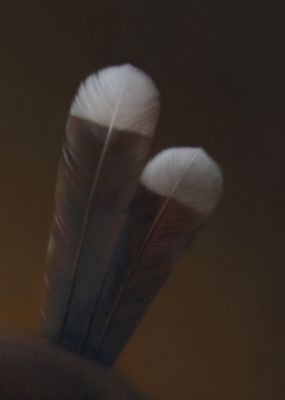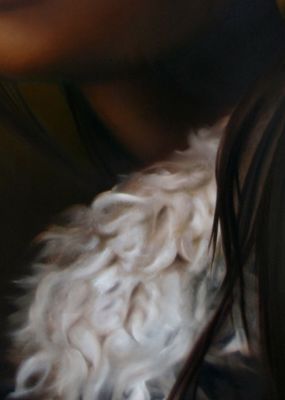 Girl with a Pounamu
$1,950.00
or 4 interest free payments of $487.50 with
learn more
Original painting SOLD, oil on canvas, 1300 x 1300mm, 2007

Explore the story of the artwork >>


Print sizes and editions

Regular museum archival paper print - 756 x 540mm (limited to 275)
Large museum archival paper print - 1071 x 765mm (limited to 195)
Extra Large museum canvas print - 1246 x 890mm (limited to 175)

Your unique limited edition fine art print
Sofia Minson creates your exclusive signed print
We ship for $25 in NZ and from $50 internationally
Your artwork arrives rolled, ready to be framed - do you need help? Request framing guidance


---

The story of Girl with a Pounamu
In her teens and early 20s, Sofia was seeking answers to her own questions of ancestry, culture and identity.  Her search is mirrored in this graceful portrait of a young Māori girl. 
There is a softness and freshness of spirit in the young maiden's eyes, yet this is contrasted with the very ancient and traditional nature of her korowai (cloak), her pounamu earrings and the Huia feathers in her hair. Her ancestors are present and speak through her, even in her youth. 
The legend of the goddess Hine-tītama ('Dawn Maiden')

Spiritually, she embodies the youthful presence of Hine-tītama ('Dawn Maiden') before, as the myth goes, she uncovers her unconscious trauma and works through her shadow self.  As Hine-tītama transforms during this potentially painful process, she matures into Hine-nui-te-Pō ('Great Woman of the Night').  
Hine-nui-te-Pō dwells in Rarohenga; the underworld; the unseen world. There, she embodies her incredible power of transformation. As she sheds her innocence, she masters her potent ability to embrace death and change. She also chooses to unconditionally love and care for the souls of other humans who pass through life into death, or metaphorically through any number of deaths and rebirths in their own lives. 
The evolution of the atua wāhine (goddess) Hine-tītama into Hine-nui-te-Pō represents our own cycles from the dawn to night, to dawn again. From light, to dark, to light again. From life, to death, to life again.
Hine-tītama poem by Sofia

"Emerging from the darkest part of night I am Hine-tītama, the young Dawn Maiden. 
When you find yourself in Rarohenga, your underworld, and there is too much change to handle, and too many deaths, literal or figurative... FEAR-NOT my love. 
There are archetypal cycles in myth. There are cycles in nature. There are cycles in your soul's journey and in the collective story. 
If you find yourself in the dark birth canal, can you see my eyes glistening? I am just there. I am excited to create with you. What joys and lightness are you imagining at the end of the tunnel? 
When transformation has incubated for long enough I WILL be birthed. I cannot be stopped."

Vermeer's Girl with a Pearl Earring
The composition of the work emulates Vermeer's 17th century portrait, illustrating that a larger global history of art and civilization is part of Sofia's consciousness. Valuable influences from European art and Māori culture are all present in this contemporary exploration of portraiture.
There is an air of mystery surrounding Johannes Vermeer's masterpiece "Girl With a Pearl Earring" (c.1665). Perhaps not intending to create a conventional portrait, Vermeer may have wanted to capture a simple moment in which the girl in the painting turns her head towards someone whom she has just noticed. Significantly, the identity of the young girl remains uncertain to this day. Inspired by this historical work, Sofia's "Girl With a Pounamu" responds with a sense of delicacy, intrigue and innocence. 

---

Sofia Minson Paintings | New Zealand Artwork
SKU: 10163