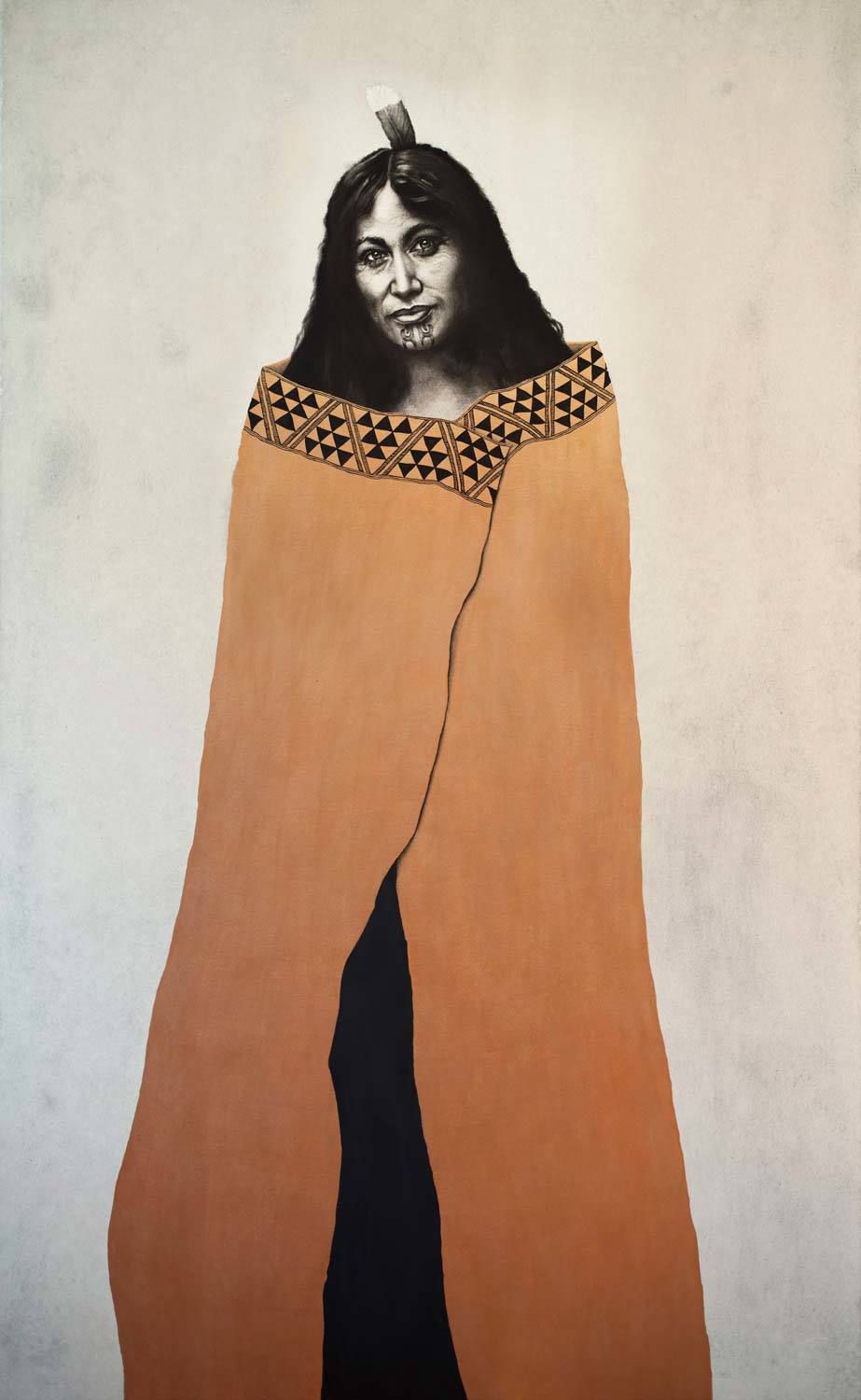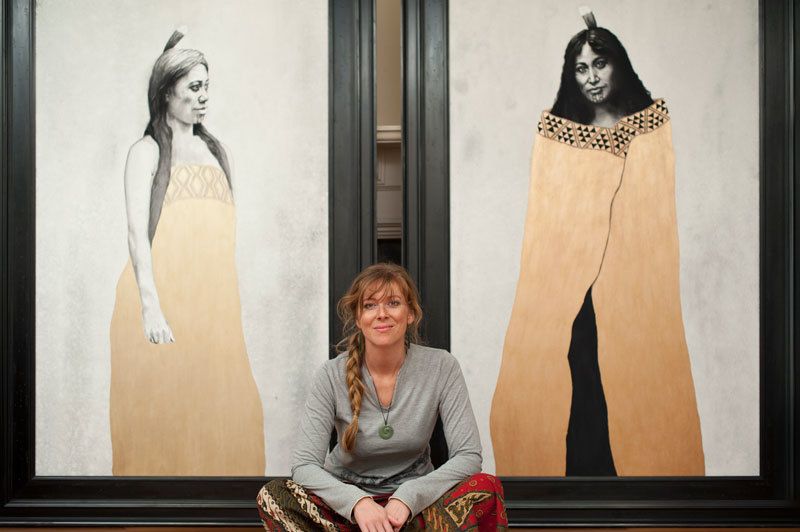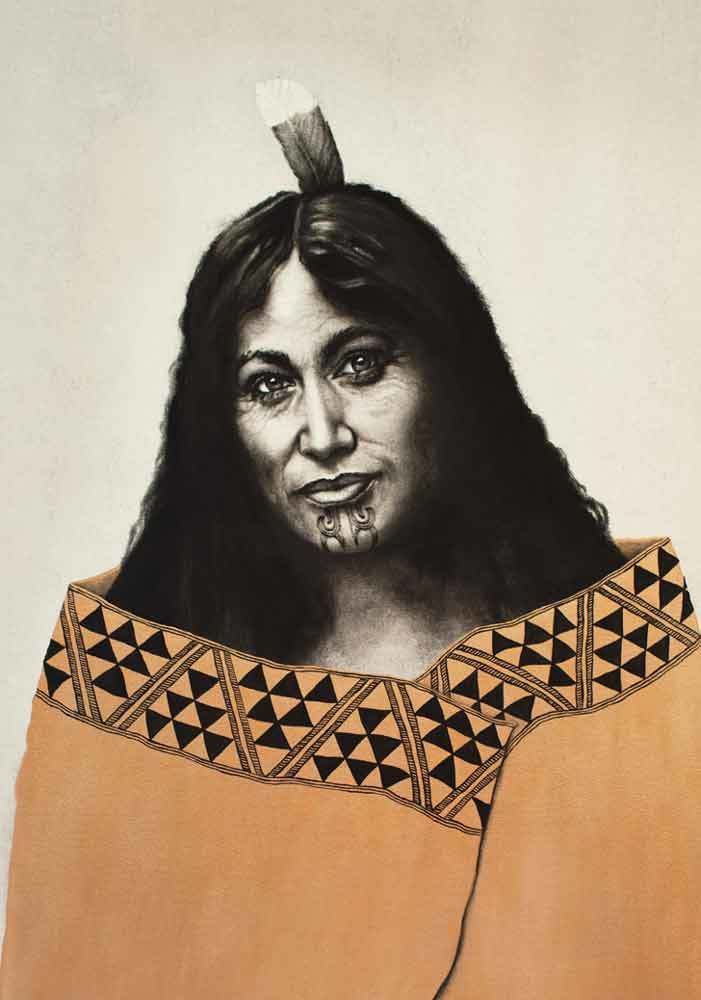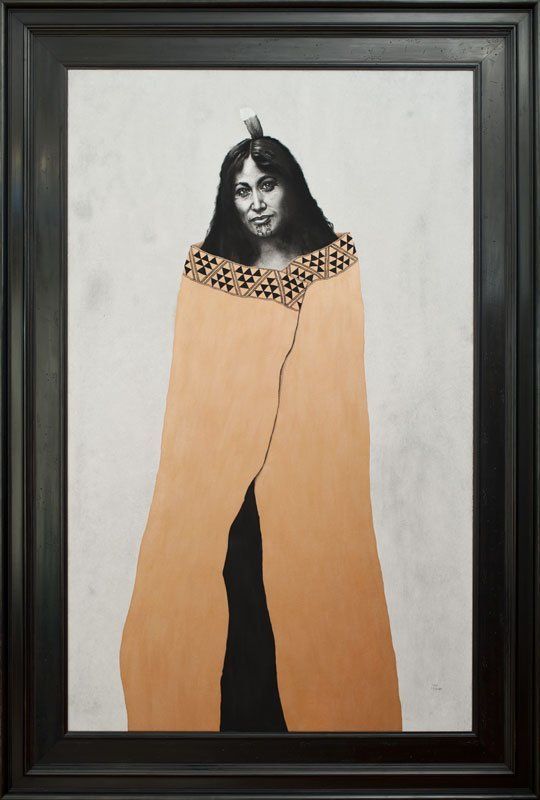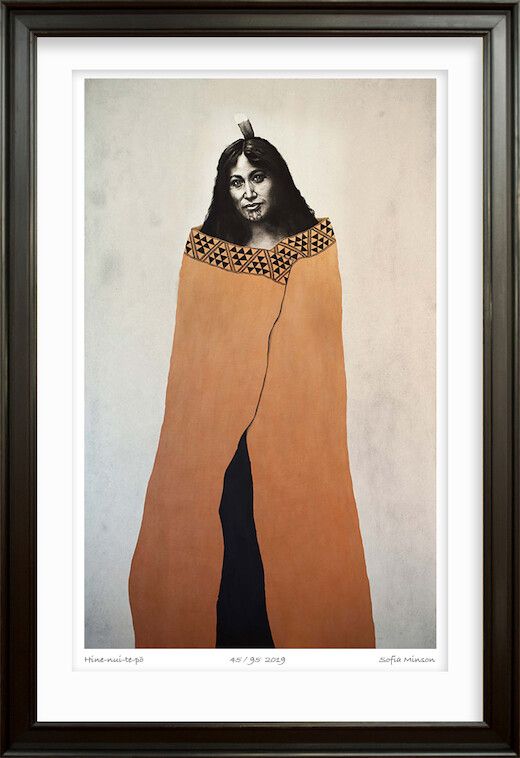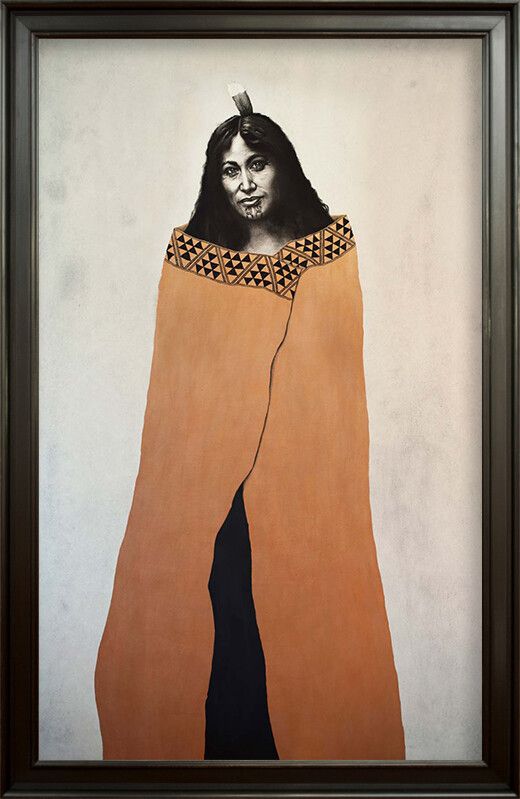 Hine-nui-te-pō
$2,000.00
or 4 interest free payments of $500.00 with
learn more
Explore the story of the artwork >>
Print sizes and editions
Regular museum archival paper print - 805 x 500mm 
(limited to 95)
Large museum archival paper print - 1150 x 714mm 
(limited to 95)
Extra Large museum canvas print - 1361 x 840mm 
(limited to 95)
Your unique limited edition fine art print
Sofia Minson creates your exclusive signed print
We ship for $25 in NZ and from $50 internationally
Your artwork arrives rolled, ready to be framed - do you need help? Request framing guidance
Original painting SOLD, flashe (acrylic vinyl) on canvas, 1975 x 1350mm (including frame), 2017

---
The story of Hine-nui-te-pō
I drew visual inspiration for this portrait from dozens of black and white 19th and 20th century photographs of Maori. I pieced together her form from my imagination.  And she has become something entirely new in the creative process.
"Hine-nui-te-pō" is part of Sofia Minson's 2017 Sacred Mirrors series of works.

Symbolising who we are


The clothes we choose to wear each day are costumes that symbolise who we are. They indicate to people how they should relate to us. In the same way, this woman's clothing and adornments give us an impression of her mana and significance.

She wears a stylised korowai (traditional Maori cloak) painted in reflective gold. The korowai is detailed with black tāniko designs. Tāniko are geometric patterns woven into the borders of fine garments.  

Her chin bears the indelible mark of Moko Kauae (tattoo) signifying whakapapa (lineage).
She has a sacred, white-tipped huia feather in her hair.

Legend of Great Woman of the Night
After finishing this painting and sitting with her for a while, I realised that she embodied the goddess Hine-nui-te-pō - great woman of the night.  She and the other similar piece Hine-tītama - Lady of the dawn, are actually the same goddess at different stages in their evolution.

Hine-tītama's father was Tāne, the god of the forest and progenitor of mankind. Her mother was Hineahuone - the first woman, the first human. Hineahuone was formed by Tāne from the earth.
Hine-tītama married Tāne-mahuta, not aware that he was her father, and they had several children.
One day, Hine-titama asked her husband if he knew who her father was, and he told her to ask the pillars of the house. She knew that her husband had built the house, and then realized that her husband was actually her father. Shocked, she ran to the underworld.

Great woman of the night

She told Tāne that he could not follow her.  He was to stay in Te Aō Marama, The World of Light, to look after their children. She was to be guardian of the underworld. She embraces her children as they enter the realm of chaos, change, creativity and death.

It was at this point that she changed her name to Hine-nui-te-pō - Great woman of the night.
In this portrait Hine-nui-te-pō's head is tilted like the mother Mary in Christian artworks. She engages us, inviting us in.
She embodies a loving, eternal, embracing quality. As the mother of the long night she has compassion for all of her children. She embraces them as they cross the threshold between life and death. Between known and unknown dimensions.
"Puritia ngā taonga a o tīpuna, hei tikitiki mo to māhunga"

"Hold fast to the treasures of your ancestors, as a plume for your head"
- Whakataukī (ancient Māori proverb)
---
Artwork Category: Maori Portrait
Sofia Minson Paintings | New Zealand Artwork
SKU: 10006