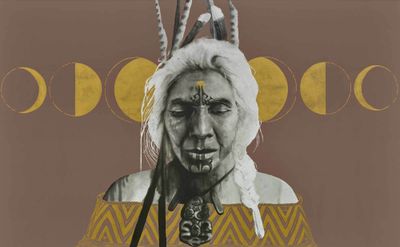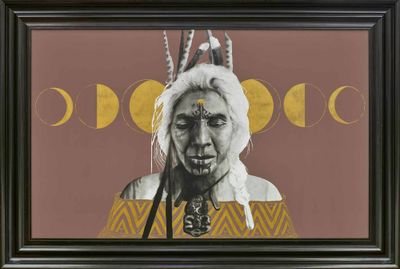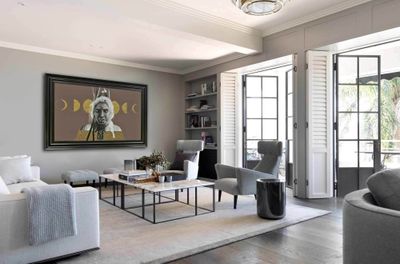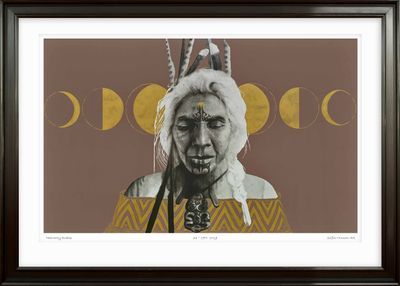 Heavenly Bodies
$1,950.00
or 4 interest free payments of $487.50 with
learn more
Explore the story of the artwork >>

Print sizes and editions
Regular museum archival paper print - 497 x 805mm (limited to 275)
Large museum archival paper print - 712 x 1153mm (limited to 195)
Extra Large museum canvas print - 840 x 1361mm (limited to 175)

Your unique limited edition fine art print
Sofia Minson creates your exclusive signed print
We ship for $25 in NZ and from $50 internationally
Your artwork arrives rolled, ready to be framed - do you need help? Request framing guidance
Original painting SOLD, flashe on moulded fibreglass board, 1900 x 1280mm (including antique wooden frame), 2018

---

The story of Heavenly Bodies


Te Whānau Mārama is The Family of Heavenly Bodies. These are the celestial lights of the sun, moon, stars, phosphorous light, gloomy light and the smallest star in the sky.
In the Māori creation story, Ranginui (sky father) and Papatūānuku (earth mother) were joined in a close embrace. Their 70 sons lived in the darkness between them. Their strongest son, Tāne-nui-a-rangi (Tāne of the heavens, who is also the progenitor of humankind), pushed his parents apart. He then hunted for a source of light for the world created by their separation.
Tāne found Hinerauāmoa, the smallest and most fragile star in the sky. She was also the female element he'd been searching for to create humankind. From their union came Hine-te-iwaiwa.

The first woman, the first human


This portrait is of Hine-te-iwaiwa, the guardian of weaving, childbirth, and the cycles of the moon. She is also Papatūānuku, and represents our own relationship with the Heavenly Bodies. Papatūānuku is the clay from which our ancestor Hineahuone, the first woman, the first human, was formed and given the breath of life by Tāne. The background colour of the painting is that of earthen clay.
The form of this portrait was inspired by dozens of 19th-century black and white photographs of Māori, pieced together to become something entirely new in the process.

Cosmic whakapapa


She wears a pounamu tiki pendant, which is the male element. Her moko kauae (chin and forehead tattoo) is an indelible link to her cosmic whakapapa (lineage). She wears a korowai (cloak) with golden tāniko designs that are traditionally woven into the borders of fine garments.
The karearea (NZ falcon) feathers in her hair suggest the importance of acute vision and perspective. Her eyelids are lowered meaning the sight is not outward but rather inward.
The huia feathers suggest ascension of consciousness. Manu huia travelled through the Twelve Heavens from the uppermost to our earthly realm. He was charged with delivering a message to Tāne, that it was time for him to come and receive the baskets of knowledge.

Divinity and manifestation


The overall composition forms a cross. Her power and vision exist in the tension between the vertical pull of divinity and the horizontal pull of manifestation on this earthly plane. The most illuminated point is in the full circle at her third eye. The phases of the moon cycle into lesser and lesser light, the further away from the centre you go.
If we serve only God-consciousness, we become disembodied spirits, adrift in an unreal world, and if we serve only matter, we become gluttonous and lack vitality. As Jesus on the centre of the cross, the call is to be equally aligned towards divinity and connected to this earthly realm.
---
Sofia Minson Paintings | New Zealand Artwork
SKU: 10060