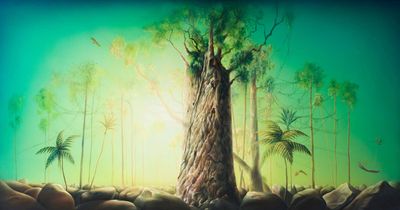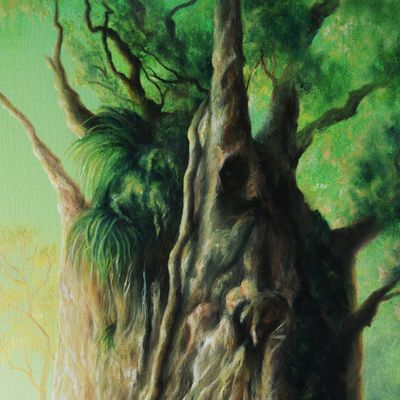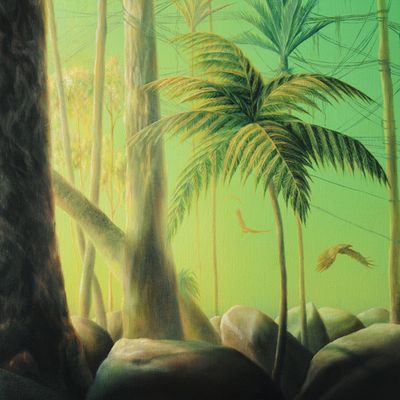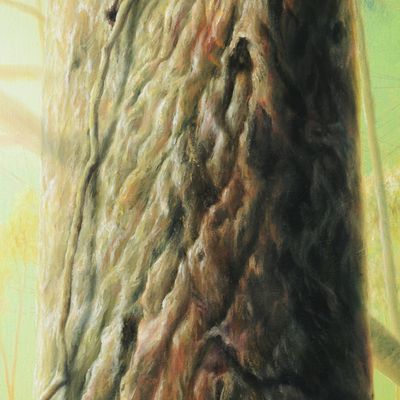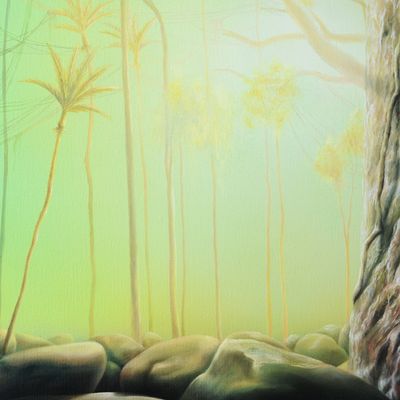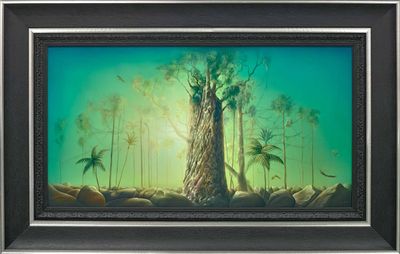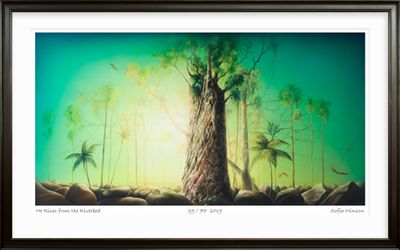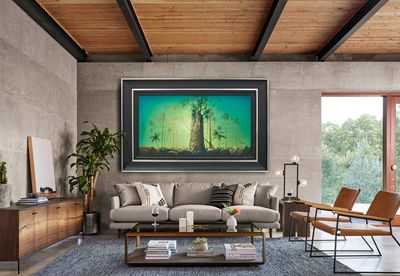 He Rises from the Riverbed
$3,750.00
Explore the story of the artwork >>
Print sizes and editions

Regular museum archival paper print - 876 x 460mm (limited to 75)
Large museum archival paper print - 1247 x 655mm (limited to 75)
Extra Large museum canvas print - 1371 x 720mm (limited to 75)

Your unique limited edition fine art print
Sofia Minson creates your exclusive signed print
We ship for $25 in NZ and from $50 internationally
Your artwork arrives rolled, ready to be framed - do you need help? Request framing guidance
Original painting, SOLD, oil painting on canvas, 2020 x 1290mm (including frame) 2013.

---

The story of 'He Rises from the Riverbed'


God of the forest and progenitor of mankind Tāne Mahuta, in the form of a giant, gnarled old kauri tree, rises from a surreal riverbed of boulders along with other elongated kauri, ponga ferns and nikau palms. Pouakai eagles - a native bird with the world's largest wingspan of over 3 metres that went extinct c.1400 A.D. - soar through the forest acting as guardians. The prehistoric New Zealand forest is bathed in the first glow of Te Aō Mārama or The World of Light, which in Maori creationary tradition came into being after Tāne separated earth and sky.

Ranginui, Papatuanuku and Tane


Long ago Ranginui (sky father) and Papatūānuku (earth mother) clung together in a close embrace and Tāne was one of 70 sons born into the dark, confined realm between them. Yearning for more air, space and light in which to live, Tāne braced his back against the earth and feet against the sky and pushed, separating his parents. Only in this new world of light could all other living things such as birds, forests and mankind, exist. Tāne went on to fashion the first human; he adorned the heavens, and brought the baskets of knowledge, wisdom and understanding down from the sky to human beings.

A visual representation of genealogy


In this work Tāne stands strong, holding up the sky. The trees of the forest are intricately connected to each other via a delicate web of vines, representing visually the Maori belief of whakapapa or genealogy, which not only links people to their ancestors but also to all other living things, and to the earth and the sky, and it traces the universe back to its origins.
---

Sofia Minson Paintings | New Zealand Artwork
SKU: 10090