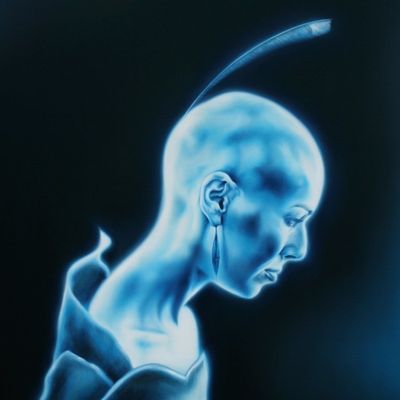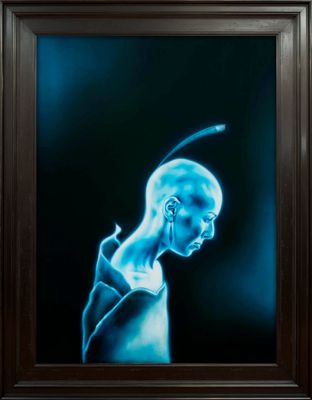 Effulgent Self
$3,750.00
Original painting SOLD, oil painting on canvas, 1324 x 1585mm, 2009
Explore the story of the artwork >>
Print sizes and editions
Regular museum archival paper print - 546 x 740mm  (limited to 275)
Large museum archival paper print - 778 x 1056mm (limited to 195)
Extra Large museum canvas print - 870 x 1180mm (limited to 175)

Your unique limited edition fine art print
Sofia Minson creates your exclusive signed print
We ship for $25 in NZ and from $50 internationally
Your artwork arrives rolled, ready to be framed - do you need help? Request framing guidance


---

The story of Effulgent Self

When we dream, who are we? What do we identify with beyond our conscious minds? Our culture, race, gender, politics or accomplishments? If these labels seem too small for the sense of "I" beyond the veil, then what greater space is there available for us to be? And how can we step into the infinite possibilities of self, here and now? In following these questions we begin to hack our own limited reality matrix.
"Effulgent Self" was a finalist in the 2010 Adam Portraiture Awards judged in Wellington, New Zealand.


Sofia created this self-portrait after she had her head shaved at the February 2009 event 'Shave an Artist' along with 12 other New Zealand artists. The event raised $20,000 for the Leukaemia and Blood Foundation.

This is a portrait of the artist's inner, spiritual, creative being consisting of light.

A kowhai korowai

She is clothed in a native New Zealand kowhai flower, usually yellow in colour, and the way the petals sit on her shoulders resembles a korowai or a Maori cloak. Her ears organically dangle into long earrings similar to leaf-shaped pounamu/greenstone earrings. Growing from the back of her head is a huia feather, which traditionally signifies high status and dignity for Maori.

Culture as clothing

Sofia explores the notion of culture as being deeply routed in our inner being, or perhaps more like clothing that we wear to learn and distinguish ourselves. How far do we take our culture - into the afterlife, into our next lives, or do we discard our culture completely at the point of death or even sometimes during the course of our lives?

Self-effulgent

In Hindu thought, what does it mean when it is said that souls in the third world live in their self-effulgent form? Gurudeva says self-effulgent means full of light and that the soul's energy is permeating the astral and physical bodies.
---
Sofia Minson Paintings | New Zealand Artwork
SKU: 10096