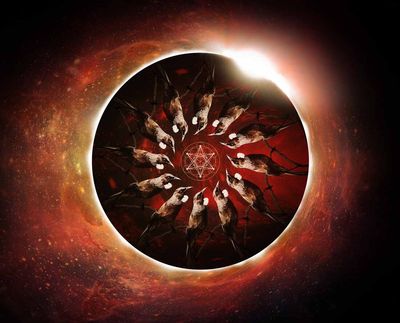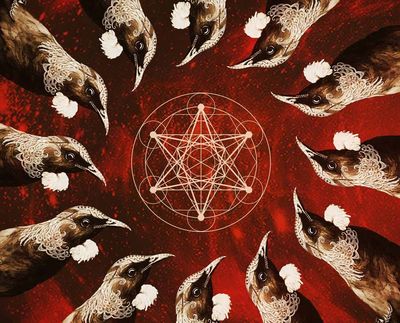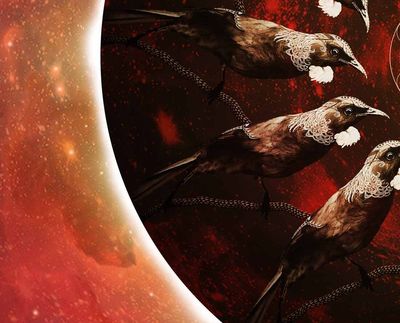 Resplendent Frequencies
$1,950.00
or 4 interest free payments of $487.50 with
learn more
Original painting AVAILABLE, digital design & painted flashe on canvas, 1100 x 1360mm, 2021.  Contact us to enquire about the original.
Explore the story of the artwork >>
Print sizes and editions
Regular museum archival paper print - 570 x 705mm (limited to 275)
Large museum archival paper print - 814 x 1007mm (limited to 195)
Extra Large museum canvas print - 980 x 1212mm (limited to 175)
Your unique limited edition fine art print
Sofia creates your signed, museum archival print 
We ship for $25 in NZ and from $50 internationally 
Your artwork arrives rolled, ready to be framed - do you need help? Request framing guidance
---
The story of Resplendent Frequencies
This artwork was inspired by a Total Solar Eclipse on 15th December 2020, visible from South America.  
The twelve tui birds in the eclipse are from one original bird that Sofia painted by hand, at a large scale, and then captured in high-resolution. This piece is a synthesis of hand-painted and digitally painted.
A solar eclipse is a powerful moment to commit to who we truly are; to commit to love.  
Sofia's intention for this painting is to aid any heart opening ritual. The mandala can be used to tap into the void space of our hearts, which is our infinite potential for being. Here we find our light, our nothingness, our everything, our oneness, and our own connection to Source. 
Sofia's own ritual intention is this: 
"Hand-in-hand, I stand with ngā atua (the gods), my tipuna (ancestors), my galactic origins, Papatūānuku (the earth), my descendants and my ascendants. 

I invoke Te Here Tāngata - The Rope of Mankind. Stretching into the past until the instant of creation, through my body in the present, and on into the future. 
Together I ask "Are we now willing to be on a path of radical change that will leave us naked and resplendent in our frequencies and without the tethers to a defined and limited self that is no longer serving us?""
- Sofia Minson
Sacred geometric centre
In the centre of this solar eclipse - this heart chamber - is a sacred geometric Merkabah symbol, alchemically marrying our polarities. Our light and dark. Our fire and water. Our feminine and masculine forces. Our divine source and physical manifestation. 
---
Sofia Minson Paintings | New Zealand Artwork
SKU: 10224