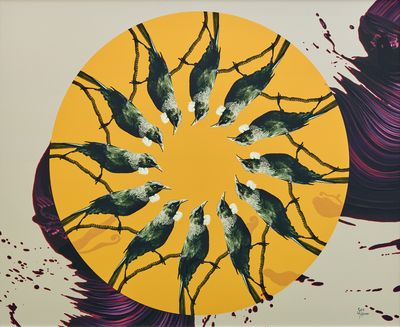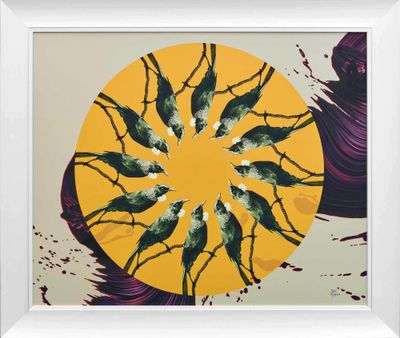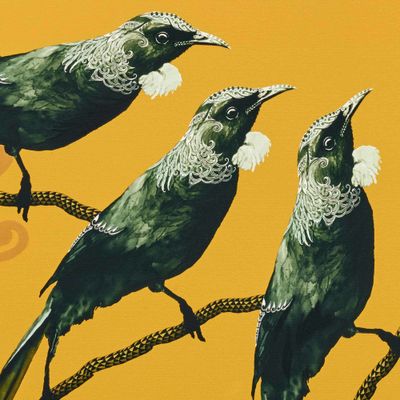 The Moon is Full
$950.00
or 4 interest free payments of $237.50 with
learn more
Original artwork SOLD, digital design & painted acrylic on canvas, 1230 x 1455mm, 2018.


Explore the story of the artwork >>
Print sizes and editions
Regular museum archival paper print - 703 x 570mm (limited to 275)
Large museum archival paper print - 1004 x 815mm (limited to 195)

Your unique limited edition fine art print

Sofia Minson creates your exclusive signed print
We ship for $25 in NZ and from $50 internationally
Your artwork arrives rolled, ready to be framed - do you need help? Request framing guidance
---

The story of The Moon is Full


The Moon is Full is part of The Navigators series of work. The wheel of repeated tui, form a twelve-sided mandala. Their place inside the circle indicates that community, connection and cycles of learning enable growth. Mandalas are sacred symbols of the cosmos used in Hinduism and Buddhism to aid meditation.
Together, the following two pieces of wisdom informed the kaupapa or set of principles of this artwork.
"Kua hua te mārama" is a whakatauki (Māori proverb) meaning "The moon is full." It indicates that something has completed a full cycle or reached maturity.
My reading of this proverb is that we go through cycles in order to evolve. There is a spiralling path of many lessons upward. There is never a straight line.  The goal is to cycle toward autonomy and away from our subconscious programming.

Another whakatauki also guided this work. The humble acknowledgement:
"Ehara taku toa, he takitahi, he toa takitini."
"My success should not be bestowed onto me alone, as it was not individual success but success of a collective."  
I take this to mean we should honour all the parts that make up a whole. Separateness is a falsehood. Hundreds of years of dry, scientific materialism and nihilism have programmed us to believe we are isolated individuals.

I believe in an Animist universe. That the entire cosmos is a dream, which is alive.  We are part of a collective human family. Humanity is a collective of biological life, which makes up the earth, which makes up the solar system, and on and on outward into the macro cosmos. The same goes for the micro scale.  Atoms, molecules, biological systems and communities of gut and skin flora all make up the human body. We are wiser and happier when we acknowledge all aspects of our nature. This includes our shadow selves, our greatest potential, our instincts and our micro-personalities. 
 
The bold, dark, splattering paint stroke in this work symbolises creative work.  It is the making of something novel, whether it be material or conceptual. The process is sometimes messy, curvy and uncontained. It is yin (feminine) in nature. It is the flow state, through which we receive divine inspiration.

The brilliant yellow circle is daylight. It is Rā, the sun. The circle is a perfect shape symbolising heaven and oneness. It is a gateway to the source of inspiration that impregnates the yin vessel with its clarity.

The technique used here is a fusing of digital and analogue. It takes an existing symbol in my work, the tui, and places it in a fresh context. New meaning is discovered in this process.
I hand-painted the tui at a large scale using watery washes of flashe (vinyl paint) on canvas. I took a high-resolution digital capture of the tui. Using digital technology I created a repeating twelve-sided mandala pattern and then printed this on canvas.

I created the rest of the composition by hand using acrylic and flashe paints. The tui takes on a far more complex meaning in relation to the mandala, the proverbs and the other visual elements in this work.


---
Sofia Minson Paintings | New Zealand Artwork

SKU: 10037