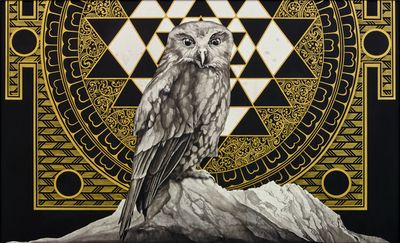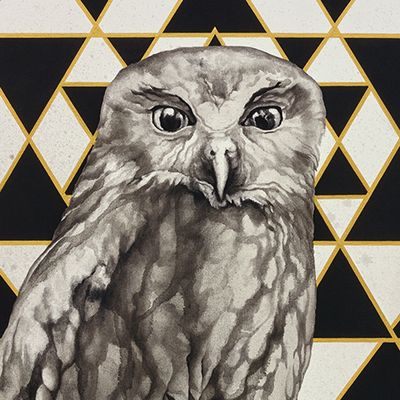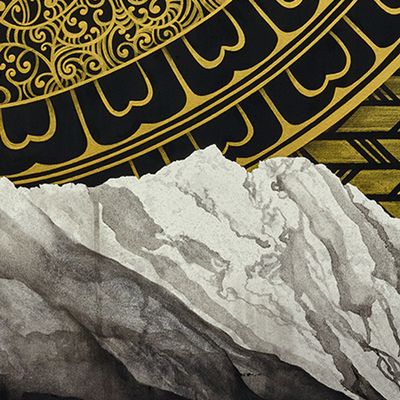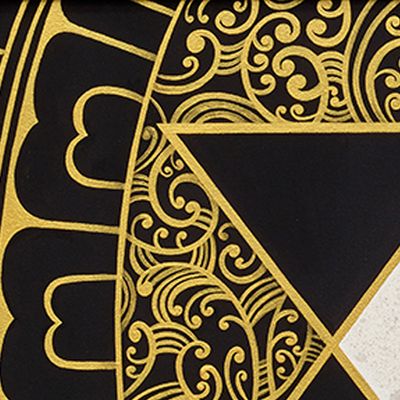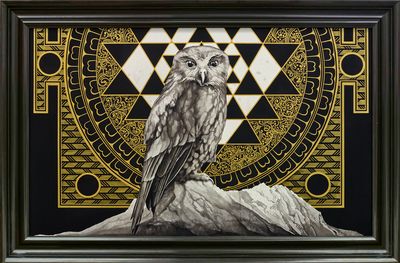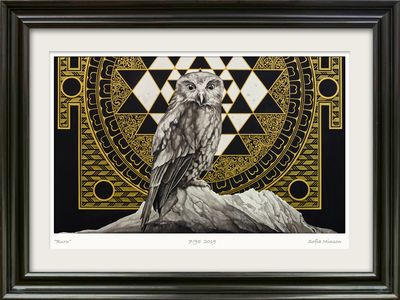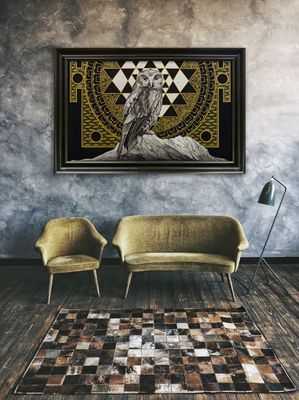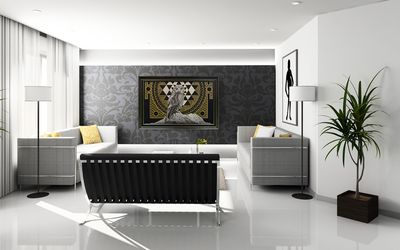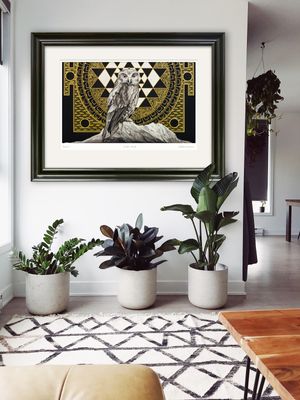 Ruru
$1,950.00
or 4 interest free payments of $487.50 with
learn more
Explore the story of the artwork >>
Print sizes and editions
Regular museum archival paper print - 497 x 805mm
(limited to 275)
Large museum archival paper print - 700 x 1152mm
(limited to 195)
Extra Large museum canvas print - 840 x 1360mm
(limited to 175)
Your unique limited edition fine art print
Sofia creates your signed, museum archival print
We ship for $25 in NZ and from $50 internationally
Your artwork arrives rolled, ready to be framed - do you need help? Request framing guidance
Original painting SOLD, flashe (vinyl paint) on canvas, 1290 x 1920mm, 2019

---
The story of Ruru



Lifting the veil between realms, awakening a new paradigm

"Ruru" signals us to recall our inherent connectedness with our environment. It beckons and awakens a shift in our consciousness - from a psyche unhappily separated from Papatūānuku (earth mother), to a diverse global Collective who is aware of its place within the living cosmos and alongside earth mother and sky father.

Ruru is a painting about re-membering ourselves - putting ourselves back together. As three ancient and potent symbols come together, we see that their meaning and message evolves as we go through the process of transforming, and becoming more clear in our purpose, day by day.

Conjuring, grounding, and connecting - with three powerful symbols

Ruru, the native messenger

Ruru, or the morepork, is our native owl in Aotearoa. He is a mysterious messenger, understood by Māori as a herald communicating between worlds - mortal and spirit, material and sacred.

The messenger stares confrontingly into our space, reminding humans that we are part of the breathing consciousness of the natural world he inhabits.

While painting this piece, I was thinking about the 17th century Western idea that man is separate, and can therefore triumph over, nature and the natural world. For centuries, this ideology has helped us soar technologically but has been a barrier to us finding a meaningful relationship between the wellness of the natural world and our own human flourishing.

Ruru embodies that shift in our collective psyche, as we start to dismantle the archaic Cartesian philosophy separating mankind from the environment. This painting honours the rediscovery of our intrinsic connection to the natural world, to Papatūānuku and her consciousness.

While this shift is being felt all over the world, knowledge of our connection within the land is fundamental to Māori knowledge - the natural world is interwoven within one's whakapapa, or spiritual ancestry.

Sri Yantra, the sacred symbol

An ancient geometric emblem, the gilded Sri Yantra spreads across the canvas. The Sri Yantra is a manifestation tool, transmitting divine energy and wisdom.

This symbol, used in ancient meditation practices to activate inner desires with the outside world, reflects our deep inner yearning to tap into collective consciousness.

The Sri Yantra amplifies and projects the message of awakening out into our space, fusing together two worlds - mankind and nature, conscious and subconscious, mortal and divine wisdom.

Maunga, the grounding Pepeha

Ruru stands proudly atop Mount Hikurangi, establishing a sense of place in the painting. The grounding power of this maunga signals an intrinsic bond to our home within and as part of nature.

It's this ancestral belonging to the natural world that is echoed through one's pepeha; a Māori introduction that grounds one's ancestral presence with the mountains and waters around them.

Ngāti Porou would say:

"Ko Hikurangi te maunga, Ko Waiapu te awa, Ko Ngāti Porou te iwi"
"Hikurangi is the mountain, Waiapu is the river, Ngāti Porou are the people"

Ruru explores this link between people and place, guiding us to connect with the land that we stand on and understand the reciprocity of our relationship with the natural world in all its wisdom and mystery.

Awakening and evolving in a new paradigm

In the Ruru painting, three powerful and ancient entities come together to awaken our consciousness. They beckon us into their realm, recalling our place not as separate, but as a part of nature and the divine world.

Ruru is a learning tool, its message and meaning evolving alongside our spiritual development. It welcomes us to the new worldview, where a shift in consciousness reveals inner truths.
---
Sofia Minson Paintings | New Zealand Artwork

SKU: 10210