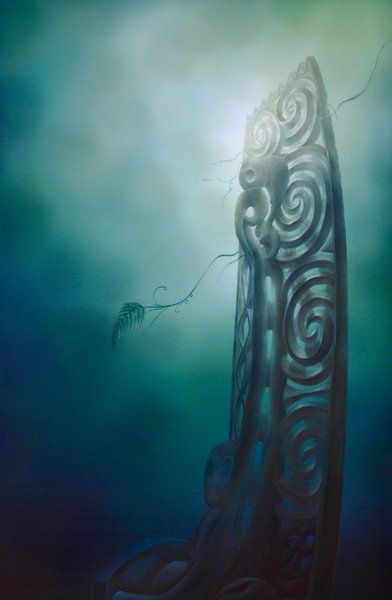 The Resting Place
$950.00
or 4 interest free payments of $237.50 with
learn more
Original painting SOLD, oil on canvas, 920 x 610mm, 2010

Explore the story of the artwork >>

Print sizes and editions (limited to 275)
Regular museum archival paper print - 550 x 365mm

Your unique limited edition fine art print
Sofia Minson creates your exclusive signed print
We ship for $25 in NZ and from $50 internationally
Your artwork arrives rolled, ready to be framed - do you need help? Request framing guidance


---
The story of The Resting Place


"The intricately carved taurapa (stern post) of Māui's mythical waka Nukutaimemeha rests at the bottom of the deep ocean, dwelling in the mystery, in the underworld, in the realms of the undiscovered."
Māui was a Polynesian demi-god who lived in Hawaiiki, the mythical ancestral homeland of Māori. One day Māui and his brothers went fishing far out into the ocean and he dropped his magic fishhook over the side of his waka. He felt a strong tug on the line and after much straining and chanting of karakia (incantations), there surfaced Te Ika a Māui (The Fish of Maui), also known as the North Island of New Zealand.

Ngāti Porou, the iwi (people) from whom Sofia descends, claim that their sacred mountain Hikurangi was the first piece of land to be fished out of the sea by Māui. Local tradition also says that Māui's waka Nukutaimemeha remains on the mountain in its petrified form to this day. The risen land may be called Te Ika a Māui but at a more fundamental level the land is Papatūānuku (Earth Mother).

In this artwork the land, Papatūānuku, has returned to her quiet resting place underneath the ocean and she has taken Māui's ancient waka with her. "The Resting Place" gives a sense that over time things are circular and what rises, ultimately falls again. The great ocean-going waka belonging to Māui has risen to the top of a mountain peak and returned to the ocean once again.
---
Sofia Minson Oil Paintings | New Zealand Artwork | Maui
SKU: 186