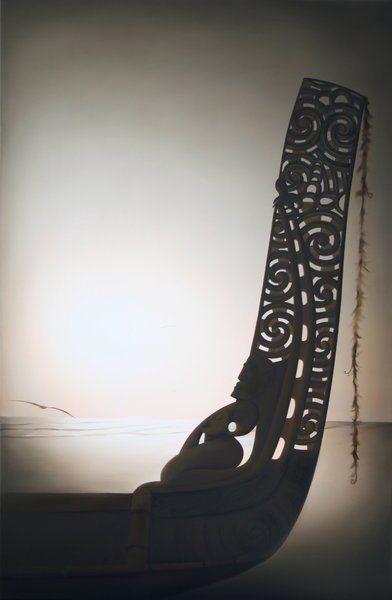 Te Hekenga
$950.00
or 4 interest free payments of $237.50 with
learn more
Explore the story of the artwork >>
Print sizes and editions
Regular museum archival paper print - 550 x 360mm
(limited to 275)

Your unique limited edition fine art print
Sofia Minson creates your exclusive signed print
We ship for $25 in NZ and from $50 internationally
Your artwork arrives rolled, ready to be framed - do you need help? Request framing guidance
Original painting SOLD, oil on canvas, 1300 x 850mm, 2007
---

The story of Te Hekenga


"Te Hekenga" (The Migration) was motivated by Sofia's respect for the land and history of Oceania and it explores the legend of Kupe. This fabled Polynesian navigator is said to have journeyed from Hawaiiki, the mythical ancestral homeland of the Maori, to discover Aotearoa (New Zealand). Matawhaorua is the name of the great ocean-going waka (canoe) that brought Kupe to these shores. Inspired by the old story, Sofia has depicted the Matawhaorua's intricately carved taurapa (stern post) and also the puhi (adorning feather streamers).

Tradition tells that before the great voyage began, Kupe who was already married, also desired his cousin's wife intensely. When out fishing one day, Kupe ordered his cousin Hoturapa to dive down and free the tangled fishing line. Kupe then cut the anchor rope from the waka and rowed furiously back to shore, leaving his cousin to drown. By killing Hoturapa, Kupe had planned to take his wife. However the circumstances surrounding his death at sea caused Hoturapa's family to be suspicious of Kupe. To escape vengeance, Kupe and his family left Hawaiiki and embarked on the infamous journey to Aotearoa. Kupe's wife Hine Te Aparangi was the first to sight the shores of New Zealand. The land appeared to lie beneath a great cloud. Because of this, they named the islands Aotearoa, Land of the Long White Cloud. As Kupe and his crew sailed along the coast of the newly discovered land they mistakenly disturbed a giant octopus. A battle ensued between the powerful, enraged sea monster and the unassuming waka but due to Kupe's ingenuity they managed to defeat their formidable opponent.

In this work the ancient, carved waka rests upon the eerie shores of Aotearoa after its immense voyage. The vessel's solidity and stillness suggest the overcoming of obstacles, the calm after the storm and the final reaching of a destination. The soaring albatrosses introduce a dynamic energy that refers to the Matawhaorua's tremendous, perilous voyage. Like the waka that brought Maori to Aotearoa, these birds also undergo a hekenga or migration to new lands.
---
Sofia Minson Paintings | New Zealand Artwork
SKU: 172