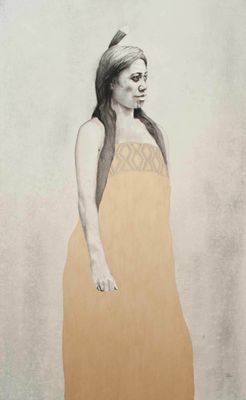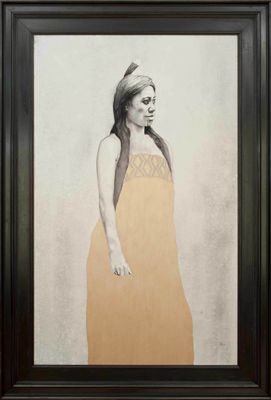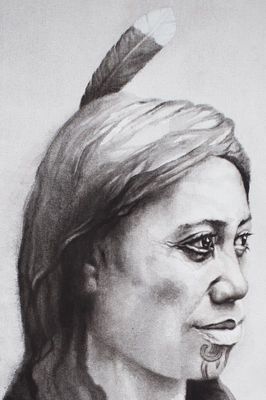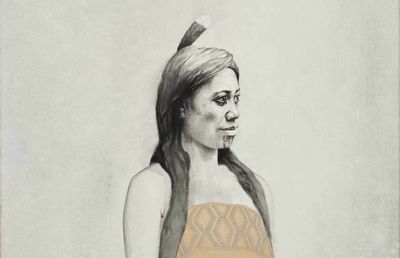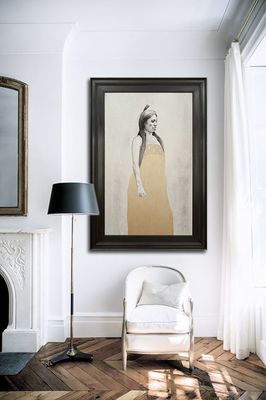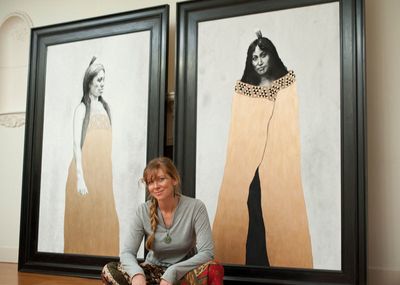 Hine-titama
$8,000.00
Explore the story of the artwork >>
Print sizes and editions
Regular museum archival paper print - 497 x 805mm
(limited to 95)
Large museum archival paper print - 714 x 1150mm
(limited to 95)
Extra Large museum canvas print - 840 x 1229mm
(limited to 95)
Your unique limited edition fine art print
Sofia Minson creates your exclusive signed print
We ship for $25 in NZ and from $50 internationally
Your artwork arrives rolled, ready to be framed - do you need help? Request framing guidance
---
The Story of Hine-tītama
This portrait began as a feeling I was curious to uncover. While I painted her she was a sacred mirror, reflecting back a quiet, strong, authentic quality.  

Her face is from an imaginary realm. She is not modelled off a particular person but was inspired by images of my tipuna (ancestors) from 19th-century photos and from my own dreams.

Symbolising who we are


The clothes we wear each day become our costumes. They symbolise who we are and indicate to people how they should relate to us. In the same way, Hine-tītama's clothing and adornments in this portrait give us an impression of her mana or status.

She wears a stylised korowai (traditional Māori cloak), painted in reflective gold. The korowai is detailed with subtle grey tāniko designs - geometric patterns woven into the borders of fine garments.  Her chin bears the indelible mark of Moko Kauae (tattoo) signifying whakapapa (lineage). And she has a sacred white-tipped huia feather in her hair.

The huia feather is a symbol of her divinity. Manu huia travelled through the Twelve Heavens from the uppermost to our earthly realm. He was charged with delivering a message to Tāne, that it was time for him to come and receive the baskets of knowledge.

Legend of the Dawn Maiden
Tāne Mahuta, god of the forest and progenitor of mankind, fashioned from clay the body of the first woman, and breathed life into her nostrils. She was Hine-ahu-one ('Earth-formed Maid') and bore Tāne a daughter, Hine-tītama ('Dawn Maiden') who in time also bore children to Tāne.
Hine-tītama had but a short reign, like all dawns. She had been unaware that her husband was also her father and when she found out, she was overwhelmed by Tāne's deceit. Passing to the realm of darkness as all dawns must pass, she left the world of light, Te Ao, and moved to Te Po or Rarohenga, the underworld. There she became known as Hine-nui-te-Po ('Great Woman of the Night').
In Rarohenga she awaits with love, the souls of her children in the upper world as they pass through the veil of life into death.
Original painting SOLD, flashe (acrylic vinyl) painting on canvas, 1975 x 1350mm (including frame), 2017
---
Sofia Minson Paintings | New Zealand Artwork

SKU: 10109