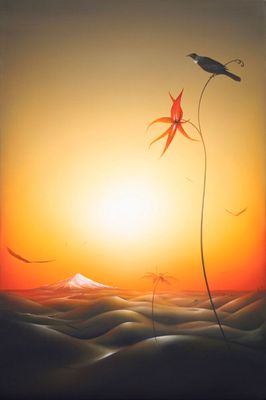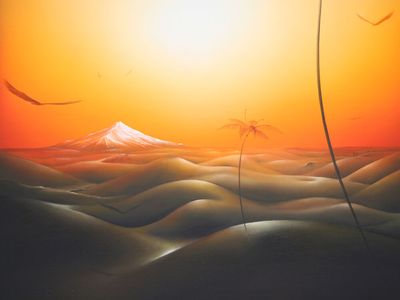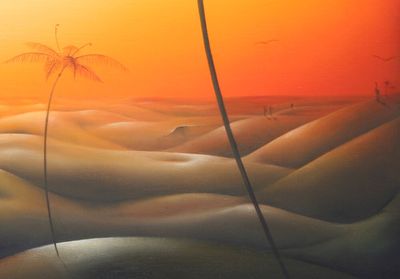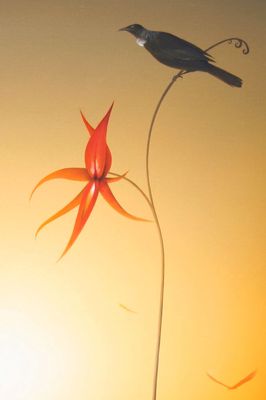 Communion of Taranaki
$950.00
or 4 interest free payments of $237.50 with
learn more
Explore the story of the artwork >>

Print sizes and editions (limited to 275)

Regular museum archival paper print - 784 x 520mm

Your unique limited edition fine art print
Sofia Minson creates your exclusive signed print
We ship for $25 in NZ and from $50 internationally
Your artwork arrives rolled, ready to be framed - do you need help? Request framing guidance
Original paining SOLD, oil paint on canvas, 920 x 610mm, 2006
---

The story of Communion of Taranaki


Your body is an organism of communion
Your body doesn't judge itself
Earth is an organism of communion
Earth doesn't judge herself
The nude forms of Papatūānuku (mother earth) lie within the smooth hills and valleys that bathe in the caressing glow of her lover Ranginui (father sky). Our human bodies are part of this Being, this organism who is known by many names - Earth, Gaia, Pacha mama, Papatūānuku - and so on through all cultures.
Ever-Present Origin

This mythic landscape shows our world as being a living expression of an Ever-Present Origin, as the philosopher Jean Gebser wrote. Gods, goddesses, ancestors, earth, stars, myths and magical realms are within all of us. Yearning for us to remember ourselves.

A shift in who we think we are
Over the last couple of hundred years our minds have been trapped in our heads and we have been identifying with and judging our bodies harshly. Now, as the apocalypse (lifting of the veil) of the old world takes place we find ourselves desperate to do two things - 1) expand far beyond our ego minds into our cosmic consciousness and 2) drop more fully into our bodies.
This shift in identification takes us into right relationship with our bodies. Into a dynamic where we can ask our bodies questions and open up spaces of possibilities. What intelligence the body has! Our bodies have their own consciousness, wisdom and preferences. As an extension, this shift brings us into right relationship with earth herself.
Together, what can we become?
Ko Taranaki te maunga - Taranaki is the mountain
"Communion of Taranaki" features Aotearoa's beautiful West Coast maunga Taranaki.
All over the earth these high, snowy mountains such as Taranaki are revered as sacred places by the local people. They are gods of earth who reach up, in love, to the heavens. And in their high perspective, admire earth's beauty in all her forms, casting their awareness far and wide.
The separation of Rangi and Papa
We see in this artwork, the mythic dawning of our World of Light, Te Ao Mārama in Māori creationary cosmology.

The light bursts forth from the separation of our sky father Ranginui and earth mother Papatūānuku. Legend has it that before our world existed, Ranginui and Papatūānuku clung together in a close embrace and were eventually pushed apart by their divine sons.
We living beings are now the sacred bridge between the divine parents. And this realm that we find ourselves in is the space for their alchemical, desiring, throbbing, sexual, loving union to take place, as seen in the never-ending fertility and creativity of the natural world.
A dawn chorus of native birds
A tui gazes out over the sun-kissed land, perched on a surreal plant with a bright red kaka beak flower in bloom. Two extinct bird species also guard the primordial landscape. Pouakai (Haast) eagles glide over the hills with their immense three metre wingspan and far away to the right, a tiny silhouette of a flightless moa stands tall.
---
Sofia Minson Paintings | New Zealand Artwork
SKU: 10218