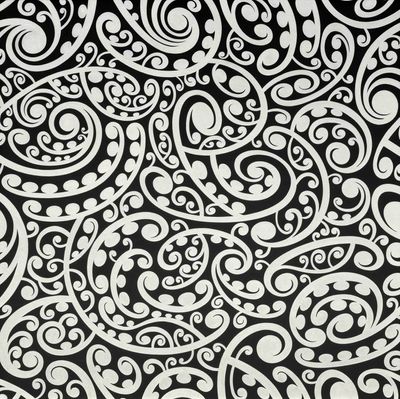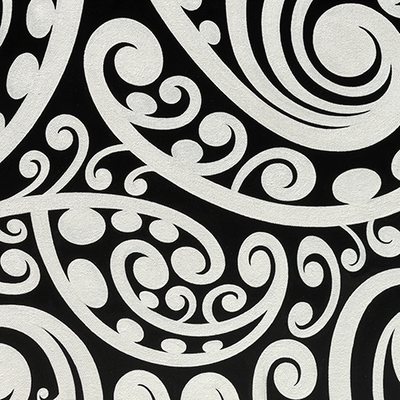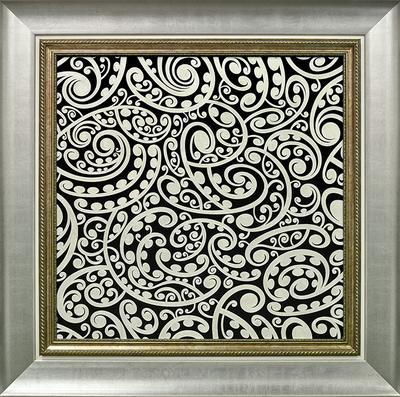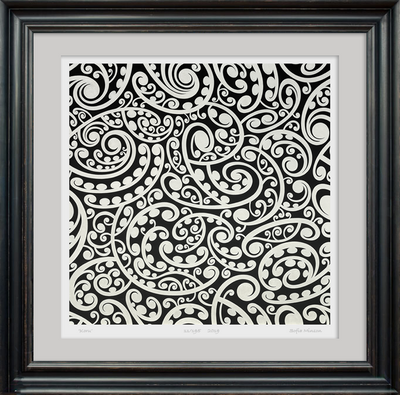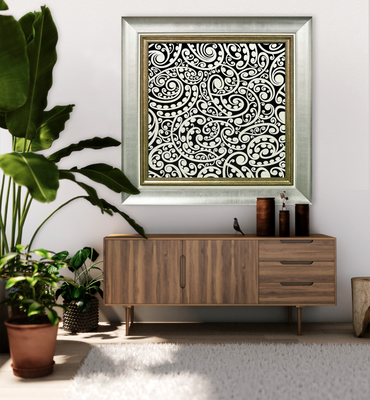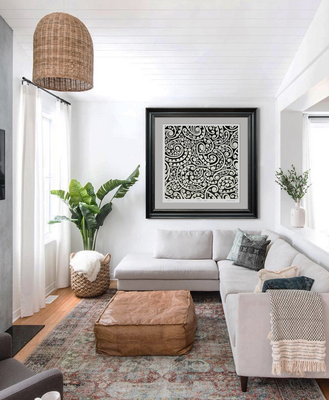 Koru
$1,950.00
or 4 interest free payments of $487.50 with
learn more
Original painting AVAILABLE
Matte black vinyl paint and metallic pearl acrylic on canvas, 1370 x 1370mm (including silver frame), 2019. Contact us to enquire about the original.

Explore the story of the artwork >>

Print sizes and editions
Regular museum archival paper print - 640 x 640mm
(limited to 275)
Large museum archival paper print - 900 x 900mm
(limited to 195)

Your unique limited edition fine art print
Sofia creates your signed, museum archival print
We ship for $25 in NZ and from $50 internationally
Your artwork arrives rolled, ready to be framed - do you need help? Request framing guidance
---
The story of Koru

Sofia has been influenced by the style of Dutch artist Theo Schoon's 1963 untitled work, which creates an abstract image using elements from kōwhaiwhai patterns - the curvilinear and organic designs that are painted onto the heke (rafters) in whare whakairo (decorated houses).
Sofia's experience painting this artwork was that the organic pattern of the "Koru" was spiralling out from Te Pō, the Long Night. Represented in the black background, Te Pō is the fertile darkness from which Te Ao Mārama, the World of Light, is born into existence. The koru designs, painted with a metallic pearl luster, branch off from one another and spiral on infinitely.
"We are the river flow of Light Divine - He awa pari tātou i te Aho Nō te Atua. This heart exploding, inspirational blessing, is just how I feel when I look at this painting "Koru" that dances with the never-ending fractaling of pearlescent light, in the pregnant womb of Te Pō, the darkness."

- Sofia Minson


Like branches from a tree

Just as branches grow from a tree, you can see that each koru is branching off from its predecessor, with another branching off from that. It creates something close to an illusion of an infinite fractal pattern.

When you take a closer look, you can see smaller korus branching off from larger ones. Bright, defined curves organically flow out of generative chaotic darkness.

Something born from nothing

From the pregnant womb of Te Pō comes light, creation and infinite growth - a concept that relates directly back to the creation myth and Māori mythology.

Many of Sofia's works have the underlying theme of black and white, of something born from nothingness. What begins as a void moves into different stages of potentiality, from which Te Ao Mārama bursts forth in the spiral of creation.

Spiralling in and expanding out

"Te tōrino haere whakamua, whakamuri."
"At the same time as the spiral is going forward, it is returning"

Sofia has also used fractal patterns in some of her other works. These pieces share the same concept of a spiral that simultaneously moves into the centre of who you are whilst also expanding outwards. This plays with the tension of what we identify as our personal, inner mind versus a universal mind or Self and where the two may meet.

The artist's journey

Sofia describes how creating this piece was a very different experience for her. In working with pattern, there is no formal landscape or portrait to bring into fruition. Rather, it is a process of playing with the idea of creation, of bringing yin and yang and light and dark into the context of a single pattern.

"Working so often with intense portraits and lifelike forms, I wanted to break this up to create something more abstract."

Though she usually uses a sense of realism in her work, Sofia strayed from the norm with Koru and created a fun, playful piece that is entirely pattern based.

Inspired by mythology

The piece follows the same vein of inspiration drawn from creation mythology that Sofia's entire body of work is centred around. Understanding the origins of form and being is something which the artist has in mind both when painting and when simply existing in her day-to-day life.

"Painting Koru was a very free-flowing, full-body experience for me."

The size of the piece allowed her to create soft rounds and circles, mapping out the shapes with the full length of her arm. Using the extent of her reach, she felt a connection to the canvas in a more bodily, spiralling way. In this sense, painting it was almost like a dance - and an amusing reflection of the koru.

Creation from the unconscious

The original mapping out of the pattern was a physical, playful experience. It grew from Sofia's unconscious in much the same way that Te Ao Mārama grew from Te Pō, a depiction that is clear in the painting itself.
---
Sofia Minson Paintings | New Zealand Artwork

SKU: 10213