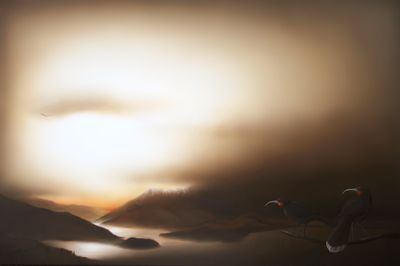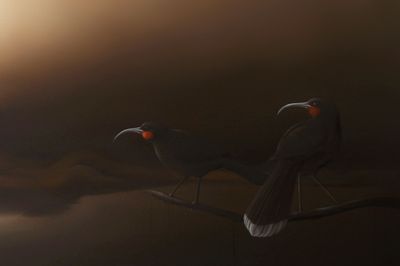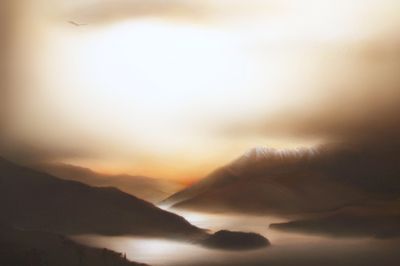 Wakatipua
$950.00
or 4 interest free payments of $237.50 with
learn more
Original painting SOLD, flashe on moulded fibreglass board, 1410 x 1190mm (including frame), 2016


Explore the story of the artwork >>

Print sizes and editions (limited to 275)
Regular museum archival paper print - 367 x 550mm

Your unique limited edition fine art print
Sofia Minson creates your exclusive signed print
We ship for $25 in NZ and from $50 internationally
Your artwork arrives rolled, ready to be framed - do you need help? Request framing guidance


---

The story of Wakatipua


"Wakatipua" was inspired by Sofia's respect for the land, myths and history of Aotearoa (New Zealand). The soft, russet-coloured clouds caress Lake Wakatipu and its surrounding mountains. An enchanted, primordial world has subtly taken form on the canvas. It reveals water, land, sky and birdlife bathing in the fiery glow of creation. 
A number of Maori legends have been passed down through the generations to explain the origins of Lake Wakatipu. One such story tells of the labours of chief Te Raikaihaitu, pioneer explorer of the interior of the South Island. He is said to have brought with him from his former home in the tropics a ko (long wooden spade), and with this he dug the inland lakes. Wakatipu was the most difficult to dig because of its great depth, its rocky surroundings, and its high mountains. It took the utmost effort of the spade combined with many karakia (invocations) to excavate the bed of the lake.


The title of this painting comes from a different legend however. Wakatipu has an unusual rise and fall in water level, about 12 cm every five minutes. Scientifically, this is due to variations in atmospheric pressure caused by the mountains, which rise hastily from the shore of the glacier lake. An old Maori myth explains this strange, rhythmic oscillation as the effect of a monster's slow, steady heartbeat from the depths. According to folklore, Lake Wakatipu was formed when this evil giant was set on fire by a daring youth. The resulting heat melted the snow and ice of surrounding mountains, which then filled the long double-dogleg hollow. The name should theoretically be "Waka-tipua", which translates as "hollow of the giant". 


Huia birds (a now extinct native species) perch on a branch in the foreground. The artist imagines that they have witnessed the creation of Waka-tipua and now find themselves in a land 'out of time'. Together they experience a divine world, embraced by the spirit of Ranginui (sky father) and Papatuanuku (earth mother). A distant Pouakai Eagle (also an extinct species with an impressive wingspan of three metres) soars into view. These unique, majestic birds act as guardians of the history and wairua (spirit) of Wakatipua.
---
Sofia Minson Paintings | New Zealand Artwork
SKU: 10044