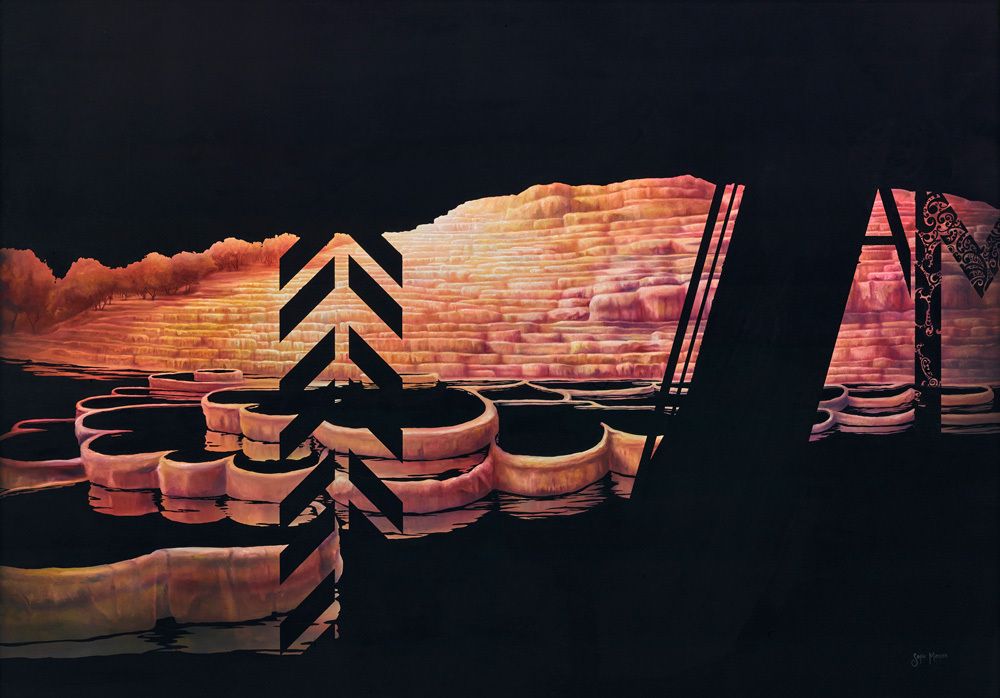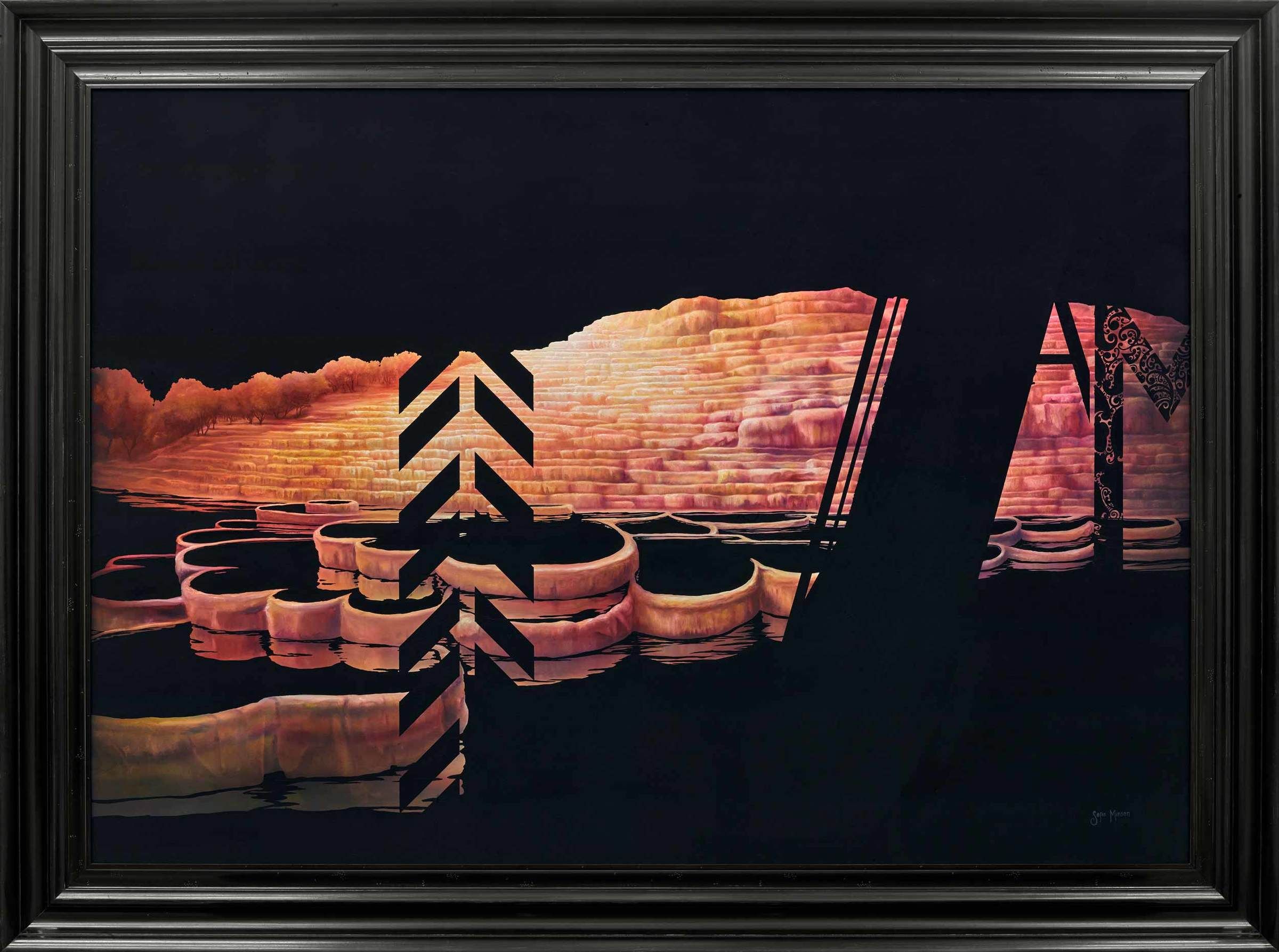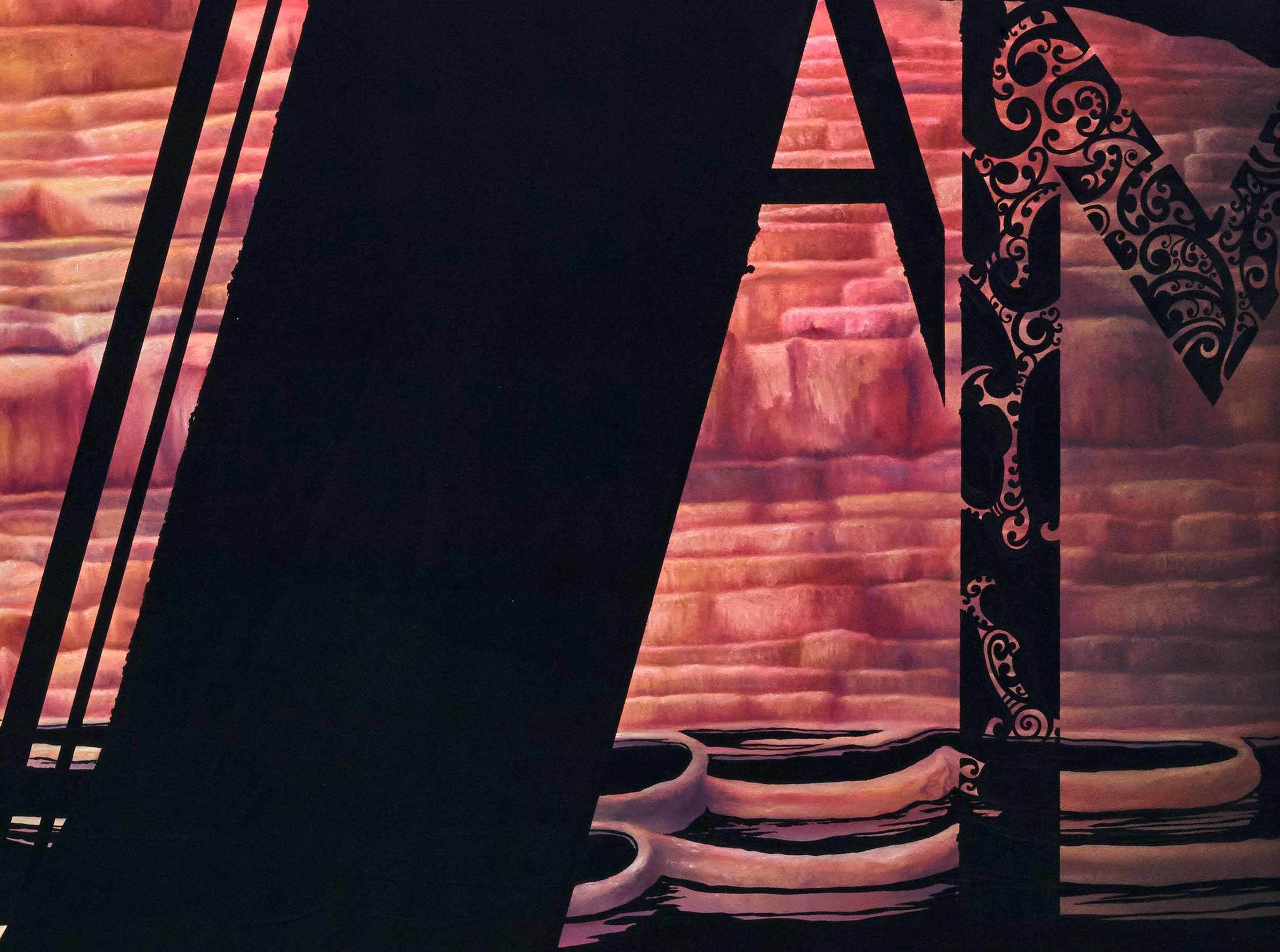 Terraces of Myth
$3,750.00
Original painting AVAILABLE, oil and flashe (vinyl) on canvas, 2080 x 1550 mm, 2018. Contact us to enquire about the original.

Explore the story of the artwork >>
Print sizes and editions
Regular museum archival paper print - 755 x 535mm
(limited to 275)
Large museum archival paper print - 1053 x 785mm
(limited to 195)
Extra Large museum canvas print - 1221 x 910mm
(limited to 175)

Your unique limited edition fine art print
Sofia Minson creates your exclusive signed print
We ship for $25 in NZ and from $50 internationally
Your artwork arrives rolled, ready to be framed - do you need help? Request framing guidance
---

The story of Terraces of Myth


Terraces of Myth is part of The Navigators series of work. There are mysteries within mysteries to uncover when I paint primordial New Zealand landscapes. I let my imagination loose in a world that is familiar yet surreal and full of stories.
Terraces of Myth is Te Tarata or the White Terraces. Lit in a vivid pink hue against the deep black sky, this painting is contemporary yet ancient and mythical. The writing "I AM" overlays the silica formations, recalling Colin McCahon's work. The form of the landscape is influenced by Charles Blomfield's 19th-century paintings of what some called the Eighth Wonder of the World.

The pink and white terraces once spectacularly cascaded down the hillside in the thermal Rotorua region. 11 days before the 1886 eruption of Mt Tarawera, a number of Māori and European people saw a waka wairua (spirit canoe). An omen of disaster. They all reported a ghostly waka taua (war canoe) paddling across Lake Tarawera. Its occupants were clearly visible and dressed traditionally for death. The volcano violently erupted and the lake bed blew out killing 153 people.

The deep, matt black, painted with flashe (acrylic vinyl), symbolises Te Kore, the formless void. In Māori cosmology, Te Kore is unlimited potential for being. From that womb of emptiness came Te Pō, the night that lasted for aeons. A slow dawning conception of light seeded itself in the prevailing darkness. Moisture emerged and coupled with a cloud that grew from the dawn. From this union came the heavens and the earth.

The intense fiery colour in this painting is Rūaumoko, the god of earthquakes and volcanoes. The son of Ranginui (Sky Father) and Papatūānuku (Earth Mother).

Rangi and Papa once clung together in a tight embrace. Their sons forced them apart to create a world with more air, space and light. Rangi's tears for his lover flooded the land. The sons decided to turn their mother face down so she and Rangi wouldn't have to gaze longingly at each other. When Papa turned over, Rūaumoko was still at her breast, and was carried to the world below. To keep him warm there he was given fire. The rumblings that disturb the land are made by him as he walks about.

The colour of the terraces also makes me think of the Greek legend of the Phoenix. The long-lived bird dies in a chaotic fire of destruction. The ash becomes fertile ground from which new beginnings emerge, from which the Phoenix rises again.

The black areas refer to this ash. We die mini-deaths all the time. Deaths of bad ideas during constructive dialogue. Ego deaths when we cycle through suffering. And every night while we sleep we go into astral realms that we barely remember, only to be reborn upon waking every morning.

We choose how to remake ourselves in every moment based on the stories we tell ourselves. This is where the idea of I AM comes in. We recall Colin McCahon's 1970 painting Victory over death II. On the enormous 2 x 6 metre canvas he quotes in his cursive handwriting, the crisis of faith experienced by Jesus. In his architectural lettering he paints in barely visible black, the question AM I, and in luminous white, he paints the affirmative I AM.
When Moses asked for God's name (Exodus 3:14) God responds "Ehyeh-Asher-Ehyeh." This can be translated as "I Am that I Am" or "I Will Be What I Will Be" (indicating a 'becoming') or contracted to "I Am."

There is power in using the phrase I AM, in using the name of God in our own lives. We cast spells on ourselves by telling ourselves negative or positive things about who We Are.
---
Sofia Minson Oil Paintings | New Zealand Artwork
SKU: 10193