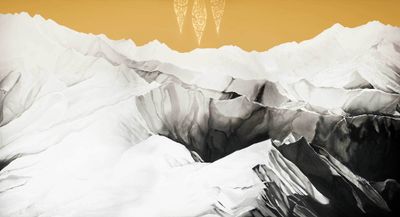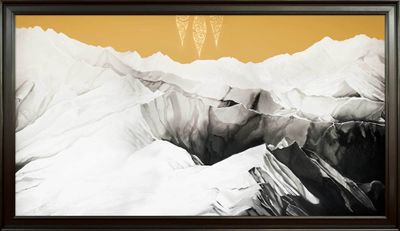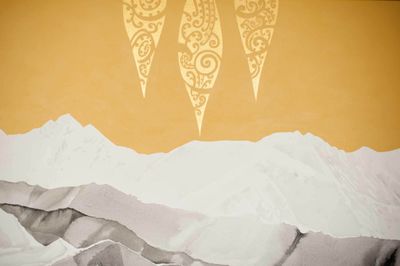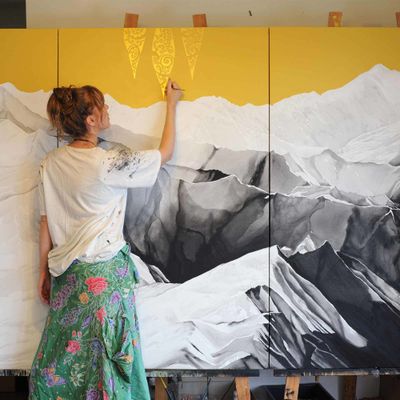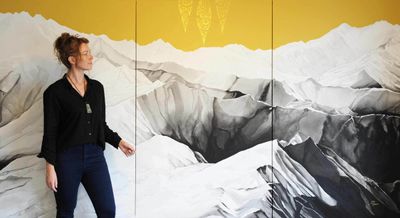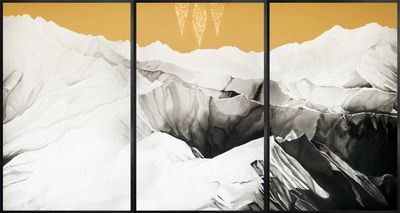 Te Waka a Māui
$3,750.00
Original painting AVAILABLE, flashe (vinyl) and acrylic on canvas, 1640 x 3060mm, 2018. Contact us to enquire about the original.


Explore the story of the artwork >>


Print sizes and editions
Regular museum archival paper print - 470 x 866mm
(limited to 275)
Large museum archival paper print - 668 x 1231mm
(limited to 275)
Extra Large museum canvas print - 840 x 1548mm
(limited to 275)

Your unique limited edition fine art print
Sofia Minson creates your exclusive signed print
We ship for $25 in NZ and from $50 internationally
Your artwork arrives rolled, ready to be framed - do you need help? Request framing guidance
---

The story of Te Waka a Māui


Te Waka a Māui explores the mythological metamorphosis of Aotearoa's highest mountain range.
Te Waka a Māui (the canoe of Māui) is one of the names of the South Island of New Zealand. Others are Te Waipounamu and Te Waka o Aoraki.
Māui is the demi-god trickster hero of Polynesian mythology. One day when Māui and his brothers went out fishing, he dropped his magic fishhook over the side. The fishhook was the jawbone of his grandmother Muriranga-whenua, smeared with blood from Māui's own nose.
Māui felt a strong tug on the line. After much straining and chanting of karakia (incantations), he pulled to the surface Te Ika a Māui (the fish of Māui). Also known as the North Island of New Zealand.
His waka became the South Island, Te Waka a Māui. Rakiura (Stewart Island) is the anchor of the waka.
To Ngāti Porou, the North Island East Cape iwi (people) that I come from, Māui's waka is known as Nukutaimemeha. It is said to reside on the summit of Hikurangi, our sacred ancestral mountain.
When you stand in front of this 3 metre wide painting, its immense scale makes you feel like you're on a precipice. You become part of the landscape. You look out towards the snow covered mountains of Tiritiri-o-te-Moana (Southern Alps).
"The goal of life is to make your heartbeat match the beat of the universe, to match your nature with Nature."
― Joseph Campbell
The black washes of ink-like paint represent moana, the ocean, from whence the land has appeared.
When I gaze over these awe-inspiring mountains toward the bright yellow sky, I find it is a symbol of connecting with the higher Self.
Three gold ornately designed waka paddles shine from the top of the painting. They are Māui's paddles from the Nukutaimemeha. These indicate the divine, cosmic origins of this land, and of ourselves.
Te Waka a Māui is part of The Navigators series of work.

---
Sofia Minson Paintings | New Zealand Artwork | Te Waka a Maui

SKU: 10131