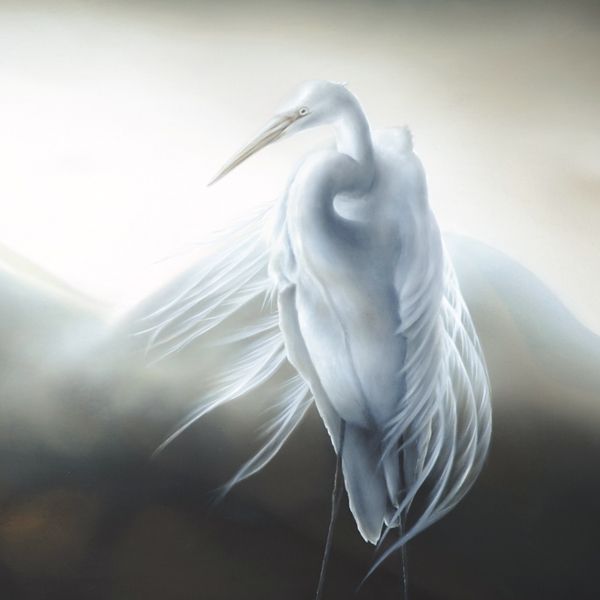 Tuku
$950.00
or 4 interest free payments of $237.50 with
learn more
Explore the story of the artwork >>

Print sizes and editions
Regular museum archival paper print - 350 x 1145mm
(limited to 275)
Large museum archival paper print - 500 x 1636mm
(limited to 195)

Your unique limited edition fine art print
Sofia Minson creates your exclusive signed print
We ship for $25 in NZ and from $50 internationally
Your artwork arrives rolled, ready to be framed - do you need help? Request framing guidance
Original painting SOLD, oil on canvas, 550 x 1800mm, 2009
---
The story of Tuku


In this work a divine power struggle between male and female elements is waged, one that every soul must go through. Tuku is a Maori verb meaning to gift, to cede, to give up or to allow and forms part of the word Kōtuku. Kōtuku is the name of the bird keeping guardianship in the foreground of this painting and also gliding above the mountainous male and female forms. Also known as the Great White Heron, the Kōtuku is a rare migratory bird in Aotearoa. Admired for its angelic beauty, the bird flaps its wings slowly and purposefully as it takes flight. The feathers of Kōtuku, like Huia, were highly prized by Maori and were used to adorn the heads of chiefs. The most telling compliment is to liken someone to a Kōtuku as it symbolizes everything rare and beautiful. It is said that Kōtuku are inhabitants of the nether world, the spirit land of Reinga.

In this otherworldly scene, the three Kōtuku become angels watching the female form enveloping the male form underneath. To the artist this has little to do with human gender, but rather masculine and feminine emotional/energy polarities. "The masculine is sovereignty, the crown upon your soul. Femininity is humility and unconditional love, the heart within the breast of your soul and together they make the whole soul essence." - St. Germain

To gift, to allow, to give up, the word Tuku has very feminine qualities. In essence Tuku means to surrender. In the ultimate experience of unconditional love or enlightenment there is a surrendering that occurs, a letting go of the ego. One must become entirely female in the face of God.
---
Sofia Minson Paintings | New Zealand Artwork
SKU: 10022