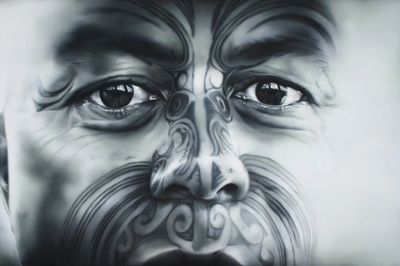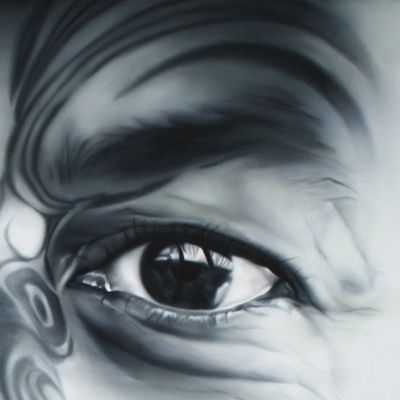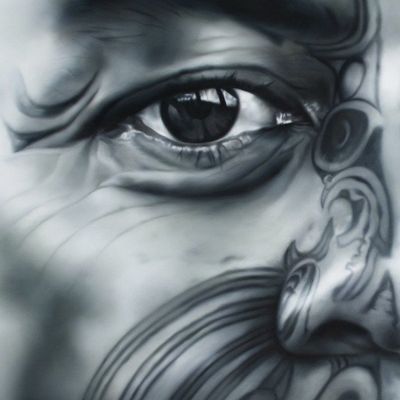 Turumakina
$1,950.00
or 4 interest free payments of $487.50 with
learn more
Original painting SOLD, 1400 x 2100mm, oil on canvas, 2010
Explore the story of the artwork >>


Print sizes and editions (limited to 30)
Regular museum archival paper print - 513 x 770mm
Large museum archival paper print - 739 x 1109mm
Extra Large museum canvas print - 872 x 1309mm

Your unique limited edition fine art print
Sofia Minson creates your exclusive signed print
We ship for $25 in NZ and from $50 internationally
Your artwork arrives rolled, ready to be framed - do you need help? Request framing guidance
---

The story of Turumakina
This work is part of an ongoing series of contemporary Maori portraits, in which Sofia shines a light on creative and inspiring Maori people who are helping to evolve today's culture through their art or roles society.

This portrait of renowned Ta Moko (Maori tattoo) artist Turumakina Duley was created from start to finish in only two and a half weeks - definitely an inspired piece of art as it usually takes at least two or three months for Sofia to complete a painting of this size.

Tu, as he's known, is of Tuhoe, Ngati Awa and Ngai Te Rangi descent. He has been a friend of Sofia's since he tattooed a kirituhi (Maori design) on the palm of Sofia's left hand in 2008. A matakiti (clairvoyant) once told Tu that he had been a Ta Moko artist in another life. He grew up performing in kapa haka (Maori singing/dancing) groups, which travelled everywhere from New Zealand to Brazil's Amazon Rainforest.

In the next era of his life, Tu completed a Bachelor of Maori Development at Auckland University of Technology. After graduating he thought it natural to get a moko to celebrate his graduation. Traditionally, moko is seen as a sign of achievement, status and ancestral connection. Tu studied the art of moko from the best in the world and has been a practitioner touring internationally as a tattooist since 1994. He says "I was fortunate enough to sit under the tutelage of Mark Kopua from Tolaga Bay who has been, and will always be one of my great mentors concerning things Maori." Tu is now at the forefront of moko design and showcases his work in Museums, festivals and exhibitions predominantly in New Zealand, Australia and the Pacific.

When asked what moko means to him, Tu says "If anything, moko to me has been nothing but positive, I have seen it heal people, I have witnessed the beginnings of new journeys in many peoples lives, journeys of identity. Journeys of discovery. Like our ancestors before us, like Taane-nui-a-Rangi, the Great one of Heaven, who traversed the 12 heavens to seek the baskets of knowledge to benefit mankind, our journeys are just as important" For Tu, moko is: He Tohu Atua! (a symbol from beyond our plane of existence) He Tohu Rangatira! (a symbol of mana, or life force) He Tohu Wairua! (a symbol of spirit) He Tohu Maatauranga! (a symbol of understanding) he Tohu Marama! (a symbol of enlightenment) He Tohu Ora! (a symbol of life).

To find out more about the artwork of Turumakina see www.artselemental.com
---
Sofia Minson Paintings | New Zealand Artwork
SKU: 10144