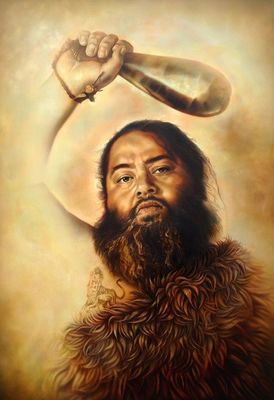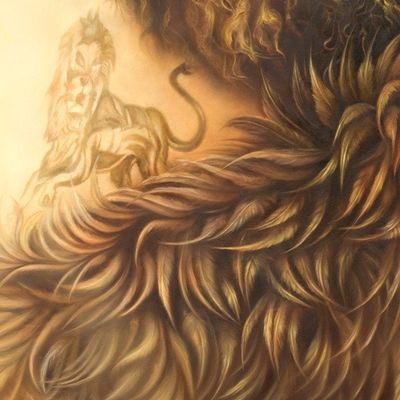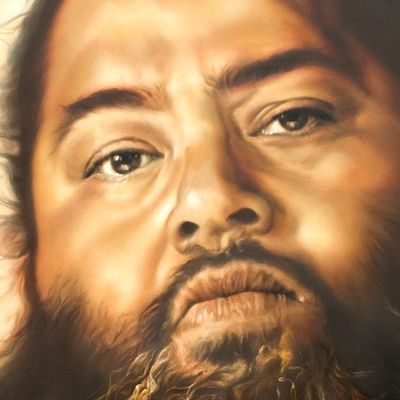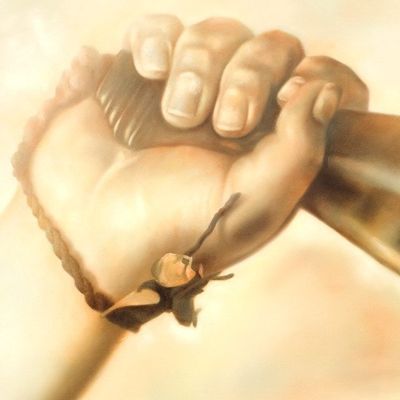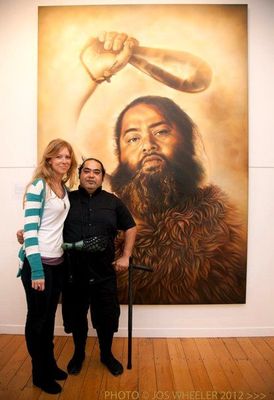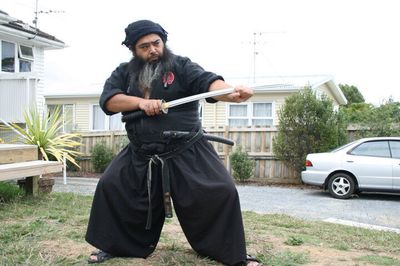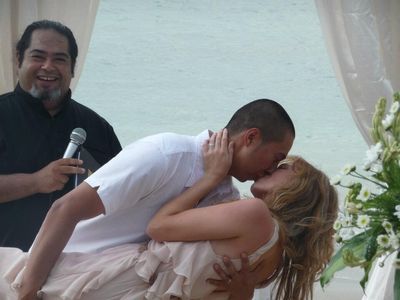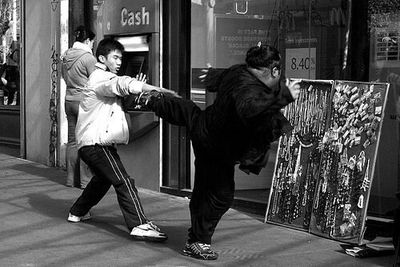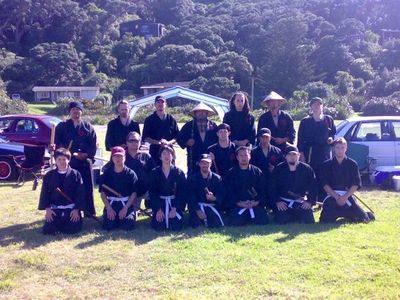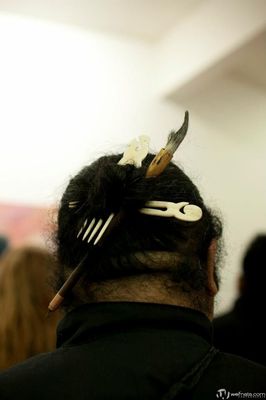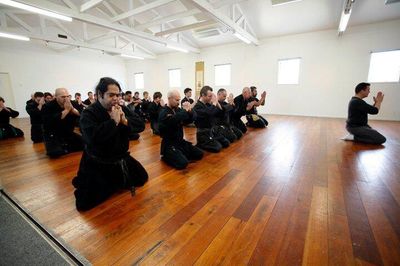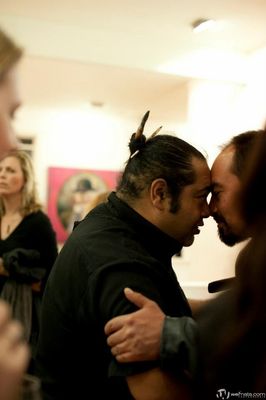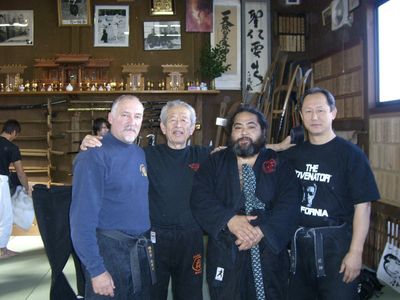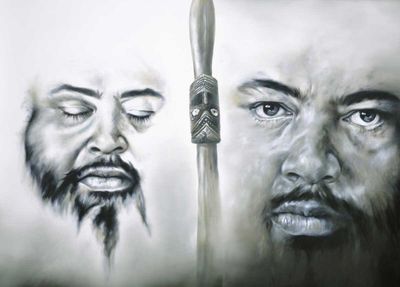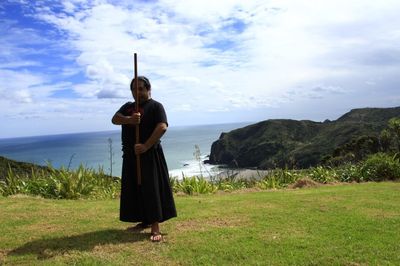 Travis Rapana
$1,950.00
or 4 interest free payments of $487.50 with
learn more
Original painting SOLD, oil on canvas, approx 3 x 2 metres, 2012

Explore the story of the artwork >>
Print sizes and editions
Regular museum archival paper print - 517 x 775mm (limited to 275)
Large museum archival paper print - 740 x 1100mm (limited to 195)
Extra Large museum canvas print - 910 x 1365mm (limited to 175)

Your unique limited edition fine art print
Sofia Minson creates your exclusive signed print
We ship for $25 in NZ and from $50 internationally
Your artwork arrives rolled, ready to be framed - do you need help? Request framing guidance
---

Rest in peace Trav, our cosmic brother, our friend, our sensei.

Rangatira Travis Rapana died on Tuesday at the age of 48 after a decade of radically pushing through major health challenges because he loved life to the extreme.

Travis was highborn of Tainui Waka, i Ngati Whanaunga; Nga uri o Marutuaahu; Matawhaorua Waka; Ngapuhi, Nga uri o Rahiri, Scottish from Stirling; descendant of Hutton; Prussian descendant of Orleck.

He was one of the most interesting, badass people on the planet and so many of us love him, including his wife Von, who grieves for him now and purifies his space with tears.

He loved laaaaaughing and his cheeky laugh made us all crack up. He spoke truth to corruption and bullsh*t and helped other people see their own true value. He knew the dark very well and was a powerful lightworker. As a martial arts master and founder of Ninpo Dojos Aotearoa, he empowered his students with perseverance, stealth, self-confidence and family for over 2 decades.

He was the smartest person I knew. He loved chilling to music and watching movies; he always ordered extra eggs; he loved being in nature. He was an incarnation of the trickster god Māui-tikitiki-a-Taranga. He was an artist and carver. He taught himself law (like an absolute boss) and represented some people who needed help in the courts. Descendant of Ngāpuhi chief Hone Heke, he was the keeper of important taonga for his whānau.

He married Nige and I in a small ceremony on the beach in Indonesia 8 years ago. And he allowed me the honour of painting a 3 metre high portrait of him.

Trav you've lived so many lives in one, I can't fit it all in. We feel your energy with us now and we'll see you in our dreams brother. Thank you for always ALWAYS having our backs and being a truly unique force to be reckoned with here on earth.

We wish you well on your journey in the other realms now as you leap off that cliff at Te Rerenga Wairua and join the waka full of ancestors to return home.
---

The story of Travis Rapana
Towering at three metres high, this portrait of Travis Rapana (Ngāpuhi, Ngāti Whanaunga, Ngāti Whakaue, born 1972) took Minson nearly two years to complete.  Rapana is the artist's friend and is a descendant of Ngapuhi chief Hone Heke.  Painted in sepia tones reminiscent of 19th century photographs of Maori, Rapana wears a traditional kiwi feather korowai (cloak), holds a mere (pounamu war club) above his head and could be mistaken for a historical chief if it weren't for a lion tattooed on his chest - certainly not part of any ancient moko. The lion is the lion of Judah, the symbol of the Israelite tribe of Judah beginning with the patriarch Jacob in the Book of Genesis, the tribe into which Jesus was born.

Traditional Maori oil portraiture


Since 19th century colonial artists such as Lindauer and Goldie, there has been a surprising lack in the tradition of Maori oil portraiture. While Minson is inspired by their works, she says her contemporary Maori portraits "are far from Goldie's recordings of a vanishing race" and are intended to fill an important niche for her generation.  As a Maori artist of mixed heritage (Ngati Porou, Swedish and Irish) she uses the traditional Western medium of oil on canvas to show contemporary Maori as a vibrant and evolving people.

This painting is part of Minson's 4-18 September 2012 exhibition of new works at Parnell Gallery. Watch this Maori Television feature on the show:
---
Sofia Minson Paintings | New Zealand Artwork
SKU: 10139