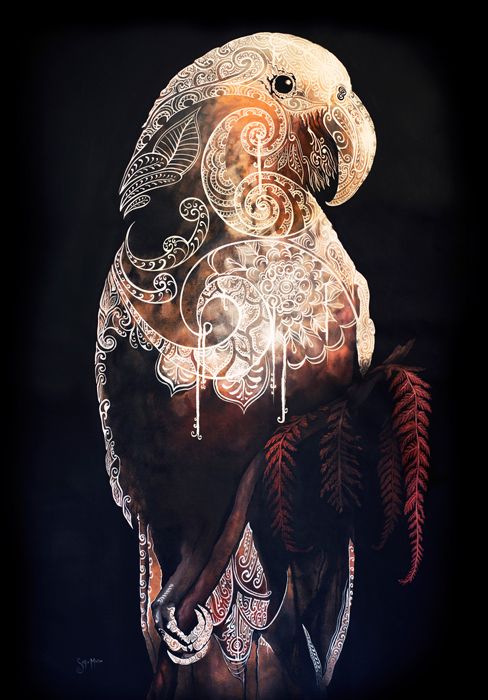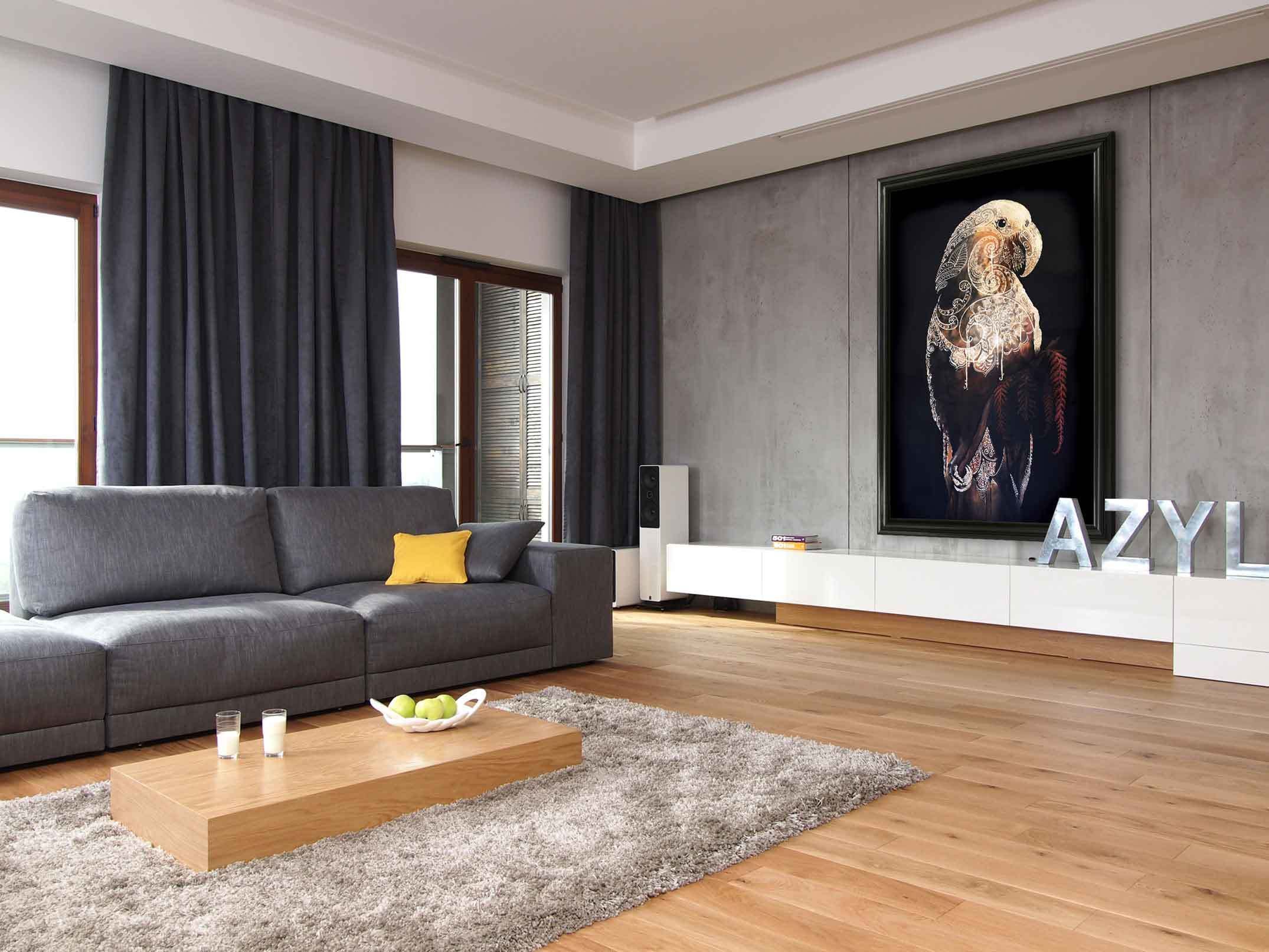 The Kākā is Calling
$8,750.00
SOLD OUT

The Kākā is Calling - all 75 prints in the edition have sold out.
Original painting on loose canvas Sold, 1530 x 970mm, 2014
---
The story of The Kākā is Calling


This painting consists of layer upon layer of washes of acrylic paint with intricate patterns of ink-like vinyl paint called flashe, showing a real departure from Sofia's usual smooth oil painting style.
She also used fabric edging for the borders of the loose canvas and used string and twine to make groups of feathers that hang from the base and are tied to the eyelets at the top.
According to Minson, the idea behind the loose canvas is that it "alludes to Pacific tapa cloth and with the feathers and the fabric edging, the piece has elements of a garment that you can wear, in particular, a traditional Maori feather cloak or korowai."

Once common throughout Aotearoa, our native parrot the Kākā is now found in limited numbers in a few forests in the central North and South Island. From stories of our Māori ancestors and those lucky enough to be close to the Kākā in recent times, we know that they are restless birds and one can hear their calls throughout the night. Any sign of dawn is noted by the brown and red parrot, who is awake and awaiting it. Its harsh cry will surely ring out through the realm of Tāne (the god of the forest). One can say "Kua tangi to Kākā" (the Kākā has cried) and know that Hine-ata, the Morning Maid, is at hand.

Therefore in painting this work with its intricately spiraling koru designs, Sofia was enjoying this sense of dawn and new beginnings, particularly because of this painting's departure from her usual realistic style. The fern leaves and Māori designs are also joined by a Mandala at the Kākā's heart centre for the purpose of establishing a sacred space.  Mandala, which translates as 'circle', is a spiritual and ritual symbol in Hinduism and Buddhism, representing the Universe.

"Ka tangi te Kākā" (The Kākā is calling) is a Māori phrase often said as part of Tauparapara, which is a prayer or chant to invoke the gods' protection. This is said during Whaikōrero (formal speeches) to honour visitors to a marae or as part of welcome ceremonies and social gatherings. 
Tauparapara indicates a wish to speak, for example:

Ka tangi te titi Ka tangi te kākā Ka tangi hoki ahau Tihei Mauriora

The Titi is callingThe Kākā is callingand i wish to callbehold for there is life
---
Sofia Minson Paintings | New Zealand Artwork | The Kaka is Calling
SKU: 10048