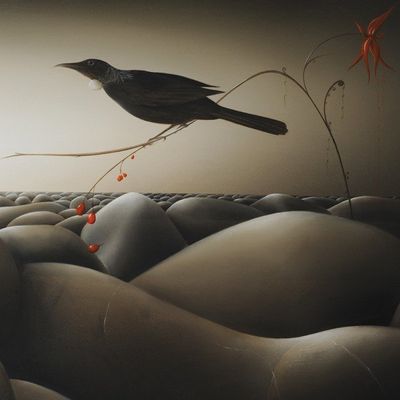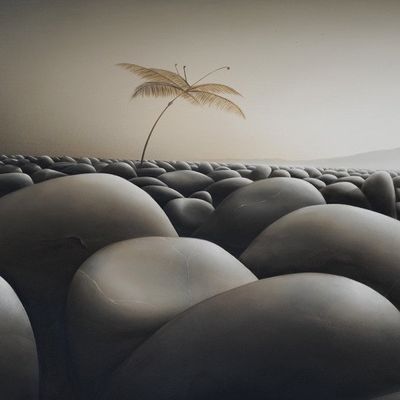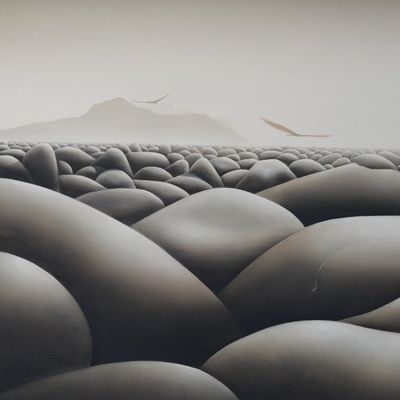 The Garden of Waiapu
$950.00
or 4 interest free payments of $237.50 with
learn more
Original painting SOLD, oil on canvas, 500 x 1810mm, 2007

Explore the story of the artwork >>

Print sizes and editions (limited to 275)
Regular museum archival paper print - 243 x 880mm

Your unique limited edition fine art print
Sofia Minson creates your exclusive signed print
We ship for $25 in NZ and from $50 internationally
Your artwork arrives rolled, ready to be framed - do you need help? Request framing guidance


---
The story of The Garden of Waiapu


"The Garden of Waiapu" depicts Sofia's surreal imaginings of the ancient land and mythology of Aotearoa. The painting also explores connections between past and present, between the artist and her own Maori heritage. Sofia is of Ngati Porou descent but has always lived away from the East Cape of the North Island - the region where her iwi (tribe) settled after the fist waka (canoes) came to New Zealand centuries ago.

Words from the Ngati Porou proverb of identity are central to this work:

Ko Hikurangi te maunga
 Ko Waiapu te awa 
Ko Ngati Porou te iwi 
Hikurangi is the mountain 
Waiapu is the river 
Ngati Porou are the people 
The environment consists of a vast, smooth stoned, waterless riverbed belonging to the sacred Waiapu river. Sofia, being the water element in traditional Chinese astrology, is absent from this picture of her ancestral homeland. Papatuanuku (earth mother) lies within the river stones that bathe in the subdued glow of Ranginui (sky father). She gives birth to enchanted plants, which emerge from crevices in the rocks and morph into various native New Zealand species including Karaka berries, Kaka Beak flowers and Ponga. A Tui perches on a delicate branch in the foreground and we share his gaze across the uncanny garden of Waiapu. Mt Hikurangi appears in the distance, encircled by now extinct Pouakai Eagles. Since the original migration, the mountain has remained a constant, unmoving guardian to Ngati Porou. Wise old Hikurangi has witnessed generations of creation, life and destruction in this fertile garden.

This painting describes a primordial world disconnected from our reality of time and space. Sofia's vision materializes in this eerie, sensuous environment and is brought to life by the wairua (spirit) of Aotearoa's ancient land and mythology.
---
Sofia Minson Paintings | New Zealand Artwork
SKU: 180