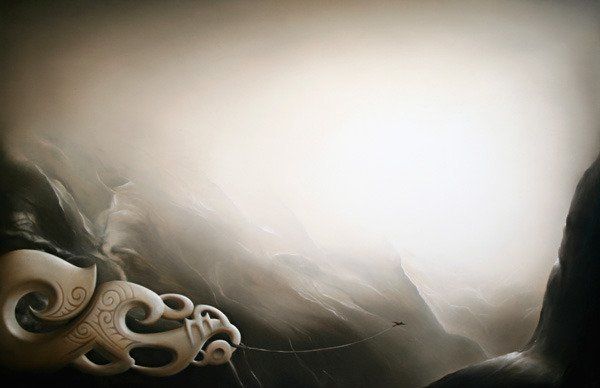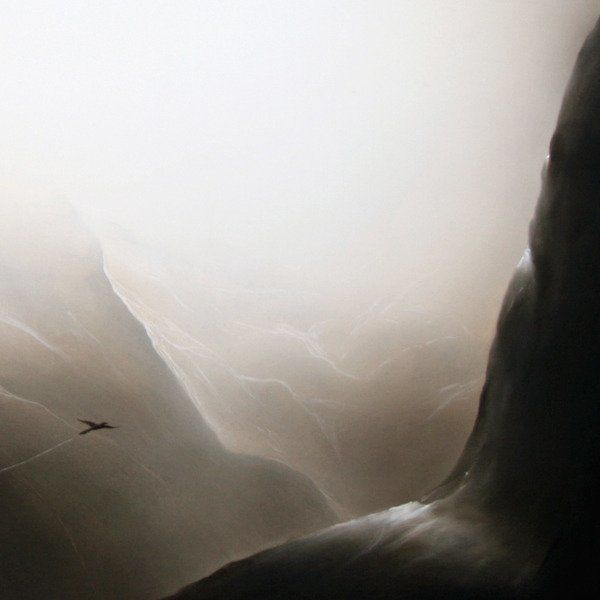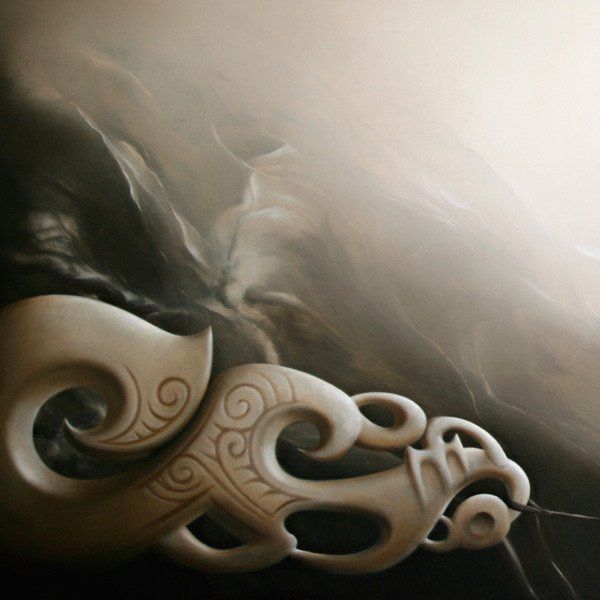 The Flight of Māui
$950.00
or 4 interest free payments of $237.50 with
learn more
Original painting SOLD, oil on canvas, 850 x 1300mm, 2006
Explore the story of the artwork >>


Print sizes and editions (limited to 30)
Regular museum archival paper print - 510 x 780mm

Your unique limited edition fine art print
Sofia Minson creates your exclusive signed print
We ship for $25 in NZ and from $50 internationally
Your artwork arrives rolled, ready to be framed - do you need help? Request framing guidance
---
The story of The Flight of Māui


"The Flight of Māui" was inspired by Sofia's love for the land, myths and history of Aotearoa. Pictured in this painting is an enchanting view of the misty, snow-covered mountains near the Homer Tunnel, just before reaching Piopiotahi (Milford Sound). In Māori legend, the South Island fiords were created not by rivers of ice, but by Tu Te Raki Whanoa, a godly figure who came wielding a magical adze and uttering incantations. Piopiotahi is without a doubt his finest sculpture. 

The great Polynesian demi-god


The narrative of this work is an extension of a myth about Māui-tikitiki-a-Taranga, the great Polynesian demi-god. The story begins with the final and most daring venture of Māui - an attempt to win immortality for mankind. Had courageous Māui not tamed the sun? Had he not fished up the North Island of New Zealand? Could he not also overcome the night of death? The bird pictured in this painting is the now extinct piopio (New Zealand thrush), which is said to have accompanied Māui from Hawaiki. 

The death of Maui


To accomplish his aim of eternal life, Māui was to enter the womb of Hinenui-te-Po (the goddess of death), travel through her body and emerge from her mouth. If he succeeded, death would never have dominion over humans. Māui set out to the place where the goddess lay. Finding her slumbering, Māui demanded silence from the birds of the forest that had come to witness his remarkable endeavour. But when Māui's head entered Hinenui-te-Po's gigantic opening, the sight was so absurd that the piwakawaka (fantail) burst into a shrill twitter of laughter and awakened the goddess of death. She brought her huge thighs together in a thunderous crash. Māui died without gaining the treasure of immortality for mankind. 

The manaia


The sorrowful piopio who saw the tragedy, fled south to Milford Sound to mourn for the death of its mate. The Māori name for Milford Sound is therefore "Piopiotahi", which translates as "the single thrush". Here, the little thrush is shown flying towards Piopiotahi towing a colossal bone carving in the form of a manaia. The manaia is an ancient mythical being with a bird's head and a human form. It is said to be the messenger between the earthly world of mortals and the domain of the spirits illustrating the strong links Maori have with the spirit world. The Manaia is depicted in this work with the three fingers of birth, life and death, representing the inevitable mortality of mankind and of Māui.

---
Sofia Minson Paintings | New Zealand Artwork 

SKU: 179