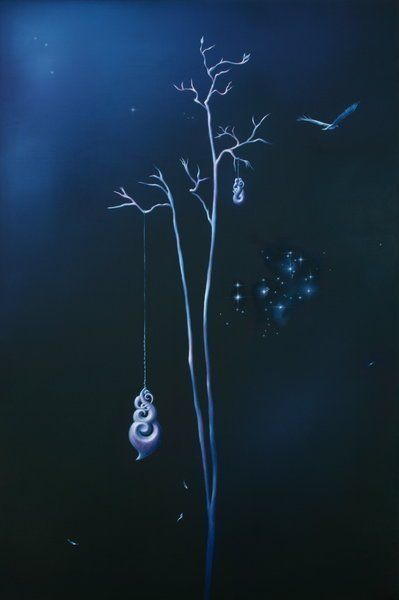 Te Po, Te Rangi
$950.00
or 4 interest free payments of $237.50 with
learn more
Original painting SOLD, oil on canvas, 920 x 610mm, 2010

Explore the story of the artwork >>

Print sizes and editions (limited to 75)
Regular museum archival paper print - 550 x 365mm

Your unique limited edition fine art print
Sofia Minson creates your exclusive signed print
We ship for $25 in NZ and from $50 internationally
Your artwork arrives rolled, ready to be framed - do you need help? Request framing guidance


---
The story of Te Po, Te Rangi


The World of Men exists in relation to the realms of Te Po and Te Rangi. Te Po is Night. It is darkness and death as well as the womb containing the seed, from which new life is generated. Te Rangi is Day. It is sky, heaven, light and life.

The highest realm of Nga Rangi, The Heavens, is Tikitiki o nga Rangi where Io, The Supreme Being dwells. As light cannot be comprehended except in relation to death, so Te Rangi and Te Po define and complete each other. Together they are united as spiritual realms in contrast with the World of Men. In pre-Christian Maori belief, the spirits of notable chiefs were drawn up into Te Rangi to become stars. Today speakers farewelling the dead often bid them go to join those who have gone before in Te Rangi.

Matariki, the constellation known to the Greeks as the Pleiades, is pictured in the sky of this artwork. Mata Ariki means Eyes of the Lord. Some say that when Ranginui, earth mother, and Papatuanuku, sky father, were separated by their offspring, the god of the winds, Tawhirimatea, became angry, tearing out his eyes and hurling them into the heavens.

This painting shows a movement connecting Te Po, Te Rangi and The World of Men. The carved manaia figures are intermediary beings - messengers between the mortal world and the heavens. Sofia sees the large manaia hanging from the tree on the left as encompassing birth and rebirth, the mania on the right as representing life's experience, and the giant Haast eagle or Pouakai as flying into the heavens with the consciousness of death. The tree has a divine purpose and that is to grow, it is alive and in a state of subtle motion connecting all elements in this painting.
---
Sofia Minson Paintings | New Zealand Artwork
SKU: 174