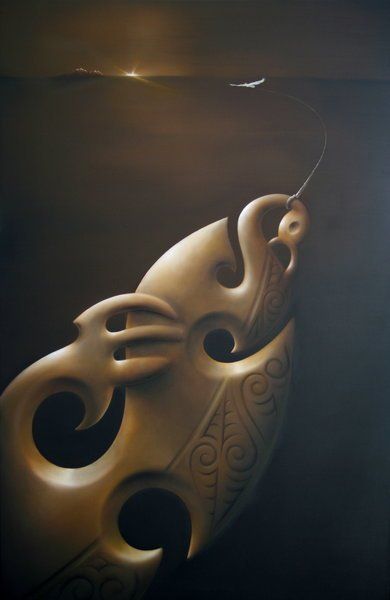 Te Matau a Maui
$950.00
or 4 interest free payments of $237.50 with
learn more
Explore the story of the artwork >>

Print sizes and editions (limited to 275)
Regular museum archival paper print - 550 x 360mm

Your unique limited edition fine art print
Sofia Minson creates your exclusive signed print
We ship for $25 in NZ and from $50 internationally
Your artwork arrives rolled, ready to be framed - do you need help? Request framing guidance
Original painting SOLD, oil on canvas, 1300 x 850mm, 2008

---
The story of Te Matau a Maui


"Te Matau a Maui" means 'The Fishhook of Maui'. This work was inspired by the old stories of Maui as told by Sofia's own tribe - the Ngati Porou iwi from the east coast of the North Island. Maui was a demi-god who came from Hawaiiki, the legendary homeland of Maori. Myth has it that long ago Maui and his brothers went fishing far out into the ocean. For lack of other bait, Maui smeared his magic fishhook with his own blood and dropped it over the side of the waka (canoe). He felt a strong tug on the line and after much straining and chanting of karakia (incantations), there surfaced Te Ika a Maui (the fish of Maui), which is now the North Island of NZ.

Te Waka a Maui


Some say Maui's waka then transformed into the South Island of NZ and call it Te Waka a Maui (the canoe of Maui). According to Ngati Porou tradition however, after the raising up of the land, Maui's waka Nukutaimemeha lay upside down on our sacred mountain Hikurangi and remains there to this day. Hikurangi is pictured snow-capped on the horizon.

A symbol of good fortune

A Kōtuku (white heron) is pictured towing a colossal bone carving towards Mt Hikurangi. The graceful Kōtuku is traditionally a symbol of good fortune and marks the arrival of a rare and sacred visitor.

A fishhook with great mana

In this work the bone carving is symbolic of Maui's sacred fishhook. Legend tells that it was fashioned from his grandfather's jawbone and possessed great mana. Here it is carved into the form of a manaia, which is an ancient mythical being with a bird's head and a human form. It is said to be the messenger between the earthly world of mortals and the domain of the spirits. The manaia is depicted with the three fingers of birth, life and death and foreshadows the mortality of mankind and of Maui, who eventually tried but failed to conquer the goddess of death Hinenui-te-Po.
---
Sofia Minson Paintings | New Zealand Artwork
SKU: 173