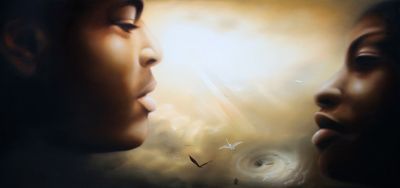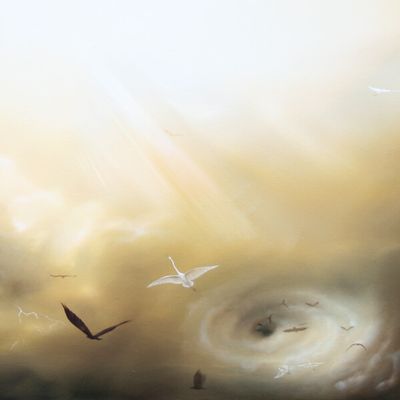 Te Ao Marama
$1,950.00
or 4 interest free payments of $487.50 with
learn more
Original painting SOLD, 2130 x 1010mm, oil on canvas, 2007

Explore the story of the artwork >>

Print sizes and editions
Regular museum archival paper print - 660 x 330mm (limited to 275)
Large museum archival paper print - 1318 x 625mm (limited to 195)
Extra Large museum canvas print - 1582 x 750mm (limited to 175)

Your unique limited edition fine art print
Sofia Minson creates your exclusive signed print
We ship for $25 in NZ and from $50 internationally
Your artwork arrives rolled, ready to be framed - do you need help? Request framing guidance
---
The story of Te Ao Marama

"Te Ao Marama" is the third and final state of evolution or progression in the Maori creation myth. It is the world of light, reality and emergence that is the dwelling place of humans and all life. 
Legend has it that before humans existed, Ranginui (sky father) and Papatuanuku (earth mother) clung together in a close, loving embrace. In the dark, confined realm between them, 70 divine sons were born. The strongest son, Tanemahuta, along with many of his brothers yearned for more air, space and light in which to live. Tradition tells that in planting his head on the earth and thrusting his feet against the sky, Tane succeeded in separating his parents. 
The cosmic mother and father, represented in portrait form in this work, drift apart from each other. They long to remain united in love and this sadness cause fierce, whirling storm clouds to erupt in the space opening up between them. But the glorious light has been let in and life, in the form of soaring native birds, have entered the new, illuminated realm. 
Amongst the birds flying out through the dark eye of the storm are large, graceful Kōtuku (white herons), which have positive connotations in Maori tradition because of their rarity in Aotearoa. Pouakai (Haast) eagles also feature. This majestic New Zealand species had a wingspan of up to three meters and became extinct around 1400AD.
---
Sofia Minson Oil Paintings | New Zealand Artwork
SKU: 10127