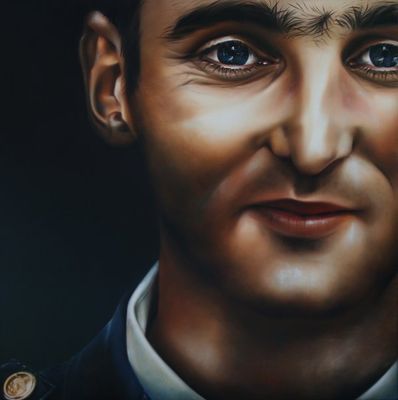 Son of Tbilisi
$950.00
or 4 interest free payments of $237.50 with
learn more
Original painting SOLD, oil on canvas, 1300 x 1300mm, 2008 

Explore the story of the artwork >>

Print sizes and editions
Regular museum archival paper print - 550 x 550mm (limited to 275)
Large museum archival paper print - 905 x 905mm (limited to 195)
Extra Large museum canvas print - 1100 x 1100mm (limited to 175)

Your unique limited edition fine art print
Sofia Minson creates your exclusive signed print
We ship for $25 in NZ and from $50 internationally
Your artwork arrives rolled, ready to be framed - do you need help? Request framing guidance


---
The story of Son of Tbilisi


Sofia spent a week in the Georgian capital of Tbilisi just before the August 2008 crisis with Russia over Georgia's two breakaway regions, South Ossetia and Abkhazia. There wasn't even a whisper to be heard of the conflict to come.

Tbilisi presented an enchanting contrast of old and new. The old city, with its derelict buildings and fortress on the hill, nestled itself comfortably next to the plush modern architecture of the new city. Rituals and spirituality were abundant in the Orthodox Christian churches scattered everywhere throughout Tbilisi, even in and around highly commercial areas. The cities predominantly well-off youth came across relaxed, fashionable and concerned with being part of a Western social ideal. Whereas the older generation had an air about them, which seemed to suggest they had not so quickly forgotten their region's history, the might of Russia and their only relatively new found independence.

On the eve of Georgian Independence Day, the Army, Navy and Air Force flooded the main street of Tbilisi in their thousands to practice for the following day's parade. Sofia was there to watch the spectacle of marching military personnel, weapons and tanks, to photograph them, and during break times to casually meet and talk with some of the men involved.

The subject of this portrait was one such man - a young, charismatic, kind-eyed Air Force Officer. His warmth, confidence and smile shone through the gatherings of uniform-clad men. He eagerly encouraged the taking of some photographs, not posing artificially but presenting himself contentedly as he was. Although language was a barrier, Sofia experienced an ease and purity of communication with him that belied culture or nationality. Sofia wonders whether he was subsequently deployed during the weeks of violence between Georgian and Russian troops and what he might have been through. At the time his photograph was taken his name was neither asked for nor given. In completing his portrait however, perhaps a fitting name for him is "Son of Tbilisi".
---
Sofia Minson Paintings | New Zealand Artwork
SKU: 156