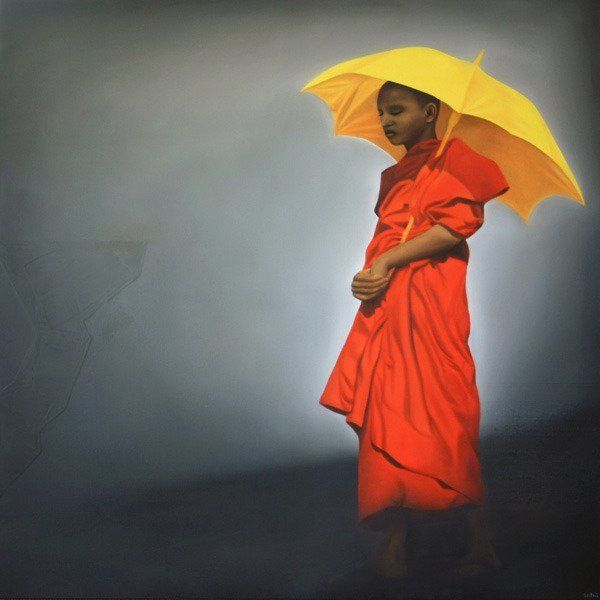 Saffron Monk
$950.00
or 4 interest free payments of $237.50 with
learn more
Original painting SOLD, oil on canvas, 1300 x 1300mm, 2005

Explore the story of the artwork >>


Print sizes and editions (limited to 75)
Regular museum archival paper print - 630 x 630mm
Your unique limited edition fine art print
Sofia Minson creates your exclusive signed print
We ship for $25 in NZ and from $50 internationally
Your artwork arrives rolled, ready to be framed - do you need help? Request framing guidance
---
The story of Saffron Monk

"Saffron Monk" was inspired by my time living in Sri Lanka when I was younger.
The piece was awarded 1st Prize at the 2005 Molly Morpeth Canaday Art Awards - a prestigious national art competition. 
The judge of the event, Simon Ogden, described the painting as "just splendid". 
He continued to say "believe me, any body who is prepared to use the intensity of colour, the orange and the yellow, in a work of this kind and at the same time provide the viewer with the quiet serenity that it breathes is both courageous and very, very clever. This painting has very subtle interventions in the field of grey which you will see on close examination and these interventions are so important. It is a very lovely work."
What took Sofia to Sri Lanka to live?
As expected, I experienced a huge culture shock moving to Sri Lanka at 11 years old from little ol' NZ, where I was living at the time. It was my dad's civil engineering work that took us there. Looking back it was a massive eye-opener to another world of possibilities. 

I was so sad leaving my life and friends back in Auckland but at the same time, those 3 years in Sri Lanka were some of the best experiences of my life. 

The landscape. The wildness. The tropical environment. The oceans. Oh my goodness we spent a lot of time swimming and snorkelling. That oceanic realm is something I feel very calm and at home in. 

I was so fortunate to join kids from all around the world at a beautiful international school, which very much celebrated our diversity and creativity and was a lot of fun. 

It was pretty intense seeing the juxtaposition of extreme wealth and abject poverty existing side-by-side in Colombo, the city we lived in. 

There was still civil unrest between the Tamil LTTE and the Sri Lankan government so there were some bombings in our city while we were there, but we were not harmed. 

Another thing that stood out during those formative years of my life in Sri Lanka was the Buddhist and Hindu religions, which I was lucky enough to experience close up. I was able to visit many ancient sacred sites and temples. 

Cows freely roaming the city streets was a regular site as they were considered sacred. Although the flipside of that is that they were often eating from piles of trash on the roadside.

We met so many great people there. The food was incredible - I got hooked on spicy curries for life. I really did love it there.
---
Sofia Minson Paintings | New Zealand Artwork
SKU: 153