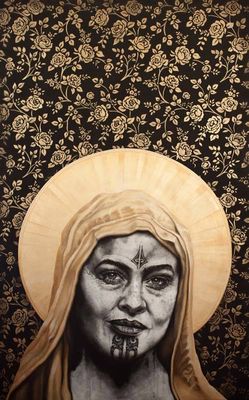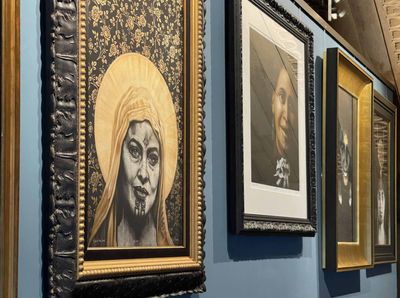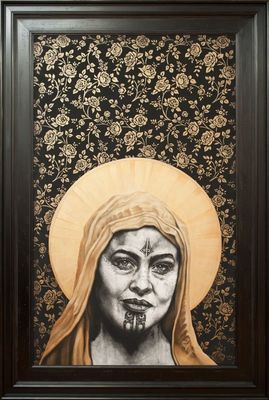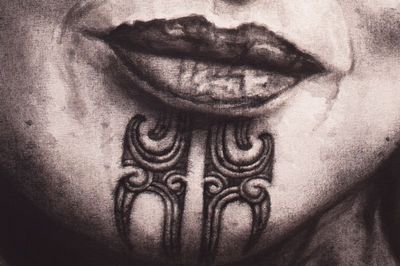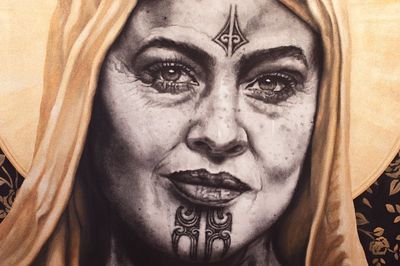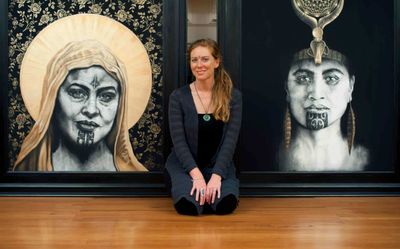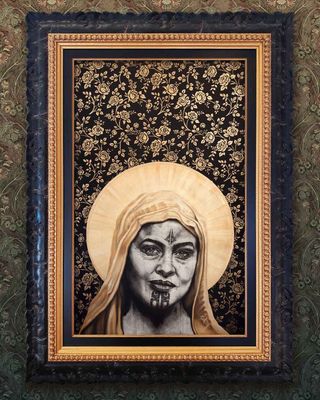 Rose of the Cross
$1,950.00
or 4 interest free payments of $487.50 with
learn more
Explore the story of the artwork >>

Print sizes and editions
Regular museum archival paper print - 497 x 805mm
(limited to 95)
Large museum archival paper print - 712 x 1152mm
(limited to 95)
Extra Large museum canvas print - 840 x 1360mm
(limited to 95)

Your unique limited edition fine art print
Sofia Minson creates your exclusive signed print
We ship for $25 in NZ and from $50 internationally
Your artwork arrives rolled, ready to be framed - do you need help? Request framing guidance
Original painting SOLD, acrylic and flashe on canvas, 1160 x 1120mm (including frame), 2016

---
The story of Rose of the Cross
The symbols draw from Christian, Maori and European culture. With a sprinkling of my own celtic freckles, the woman's face looks perhaps Eastern European.
While painting this portrait I felt both her power and compassion. She wears traditional Maori moko kauae or tattoo on her chin and forehead.

A golden veil and halo crown her. She is an other-worldly, cross-cultural, cross-dimensional mother Mary goddess figure.

Rose patterns detail the black background. Her head is slightly tilted like the Christian artworks of Mary, mother of God. She engages with us and invites us into her gaze.

A loving message

My impression is that she is transmitting a loving message from a higher consciousness. She is gleefully using symbols from many different cultures. There is no worry over people's possessiveness over those symbols. Her message is transcendent and unifying. Culture is merely a language or a tool here.

Ancient mysticism

The Rose of the Cross is a symbol associated with mystical truths of the ancient past. Truths which provide insight into nature, the physical universe and the spiritual realm.
Rosicrucianism arose in Europe in the early 17th century and utilised the symbol of The Rose of the Cross. The movement announced a secret esoteric order to the world. Their manifestos reference the mystical teachings of the Jewish Kabbalah, ancient Egyptian and Greek Hermeticism, and Christianity.

Movers and pawns

"The masses of people are carried along, obedient to environment; the wills and desires of others stronger than themselves; heredity; suggestion; and other outward causes moving them about like pawns on the Chessboard of Life. But the Masters, rising to the plane above, dominate their moods, characters, qualities, and powers, as well as the environment surrounding them, and become Movers instead of pawns."

- Three Initiates, Kybalion: A Study of the Hermetic Philosophy of Ancient Egypt and Greece
---
Sofia Minson Paintings | New Zealand Artwork
SKU: 10058