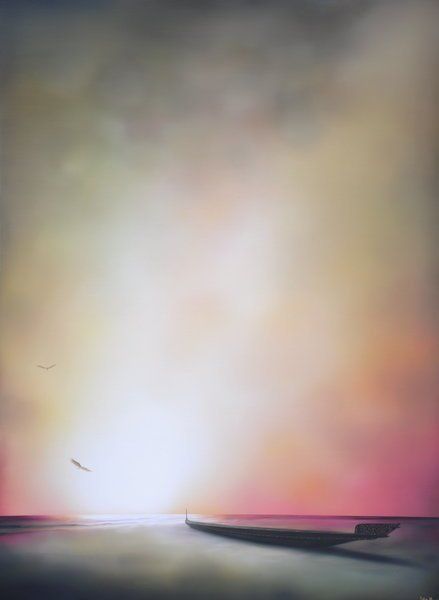 Rerenga
$950.00
or 4 interest free payments of $237.50 with
learn more
Original painting SOLD, oil on canvas, 1370 x 1010mm, 2010
Explore the story of the artwork >>

Print sizes and editions (limited to 275)
Regular museum archival paper print - 550 x 405mm

Your unique limited edition fine art print
Sofia Minson creates your exclusive signed print
We ship for $25 in NZ and from $50 internationally
Your artwork arrives rolled, ready to be framed - do you need help? Request framing guidance


---
The story of Rerenga

The word 'rerenga' can indicate the setting or rising of the sun, it can mean voyage, journey, flight, leaping place or even 'to plant something'. Cape Reinga at the very tip of the North Island is known as Te Rerenga Wairua or The Leaping Place of the Spirits and it is where Maori believe the spirits of the dead depart the island to return to Hawaiki - the ancestral home. Sofia has chosen the ambiguous and yet deeply meaningful word Rerenga as the title for this simple seascape with its explosive fiery sky and ancient waka (canoe) resting on the shores.
The painting was originally inspired by the legend of Kupe, the great Polynesian navigator. Kupe is said to have journeyed from his homeland, Hawaiiki, to become the first person to discover Aotearoa. Sofia's interpretation of his great ocean going vessel, the Matawhaorua, is depicted with an intricately carved tauihu (bow piece). The crew of the Matawhaorua encountered many obstacles on their long voyage including a battle with an enraged, monstrous octopus. It was Kupe's wife Hine Te Aparangi who finally sighted land naming it Aotearoa, Land of the Long White Cloud. As Kupe and the crew of the Matawhaorua leave to explore the recently discovered land, the solitary, ancient waka is depicted resting upon the shores after its immense journey. Two pouakai eagles - a large native species with a wingspan of up to 3 metres that went extinct c.1400 A.D. - are shown flying to greet the newly arrived vessel.

The vibrant sunrise of this painting gives the sense that the spirit of the Matawhaorua's voyage and the arrival of new people to Aotearoa ushers in a new epoch for this land.


---
Sofia Minson Paintings | New Zealand Artwork
SKU: 146