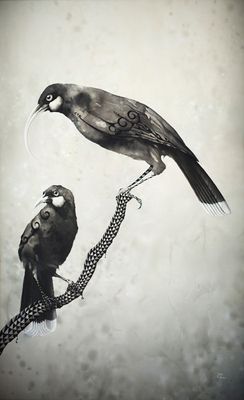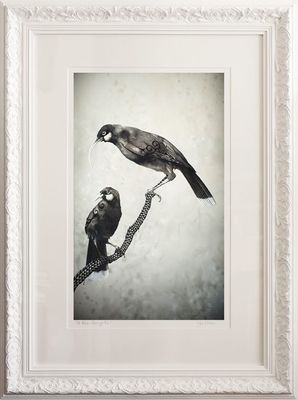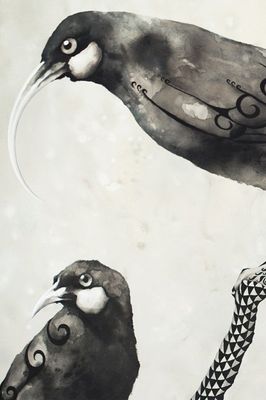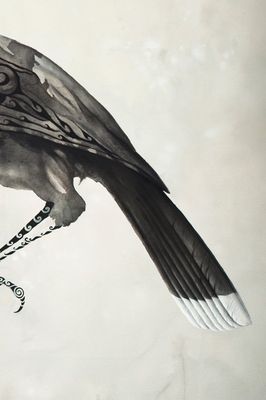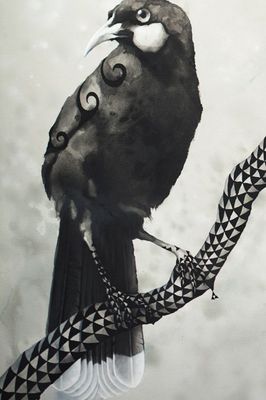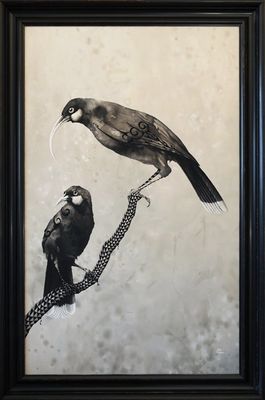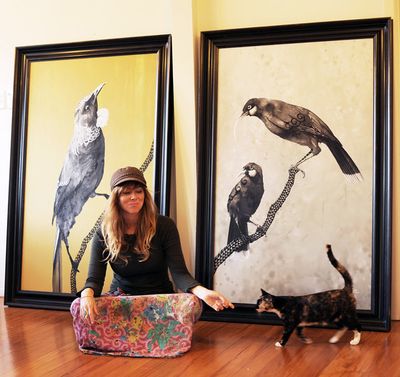 Ngahuia
$1,950.00
or 4 interest free payments of $487.50 with
learn more
Explore the story of the artwork >>


Print sizes and editions (limited to 95)
Regular museum archival paper print - 475 x 780mm
Large museum archival paper print - 710 x 1156mm
Extra Large museum canvas print - 780 x 1262mm

Your unique limited edition fine art print
Sofia Minson creates your exclusive signed print
We ship for $25 in NZ and from $50 internationally
Your artwork arrives rolled, ready to be framed - do you need help? Request framing guidance
Original painting SOLD, acrylic and flashe on canvas, 1080 x 1630mm (including frame), 2016

---
The story of Ngahuia

This painting of Aotearoa's native and sadly extinct huia birds, along with the piece "Tuihana" of the same size, which Minson painted concurrently, "flowed beautifully and was a joy to create" according to the artist.

Her process for both works started with loose, black, ink-like washes for the body of the bird using a vinyl, water based paint called flashe, and lastly came the fine detailing in black to give the huia a surreal, ornate quality. The triangle patterns that make up the branch are based on tāniko designs that are found in decorative Maori weaving used to decorate the borders of fine garments. The substantial wooden frame was chosen to bring out the birds' characters, giving the impression of traditional human portraits.

The two sister paintings "Tuihana" and "Ngahuia" both have names that are fairly common for Maori women. This is another element that suggests personality and harkens to human portraiture.

Uia, uia, uia

Huia, with their black bodies, white tipped tail feathers and fleshy orange wattles, were the largest of New Zealand's wattlebird species. Female and male huia had markedly different bill shapes making them the most extreme example of sexual bill dimorphism of any bird species. Maori named the bird after its loud, smooth call "uia, uia, uia."

Extinction of the huia

Sofia's bird and landscape paintings bring her own attention to precious parts of the natural world that all of us, as kaitiaki or guardians, must work to protect. We still have the tui but the last accepted sighting of a huia was in 1907. Their extinction was due to predation by introduced mammals, the removal of swathes of their natural forested habitat and to a lesser extent, being hunted for their prized white tipped feathers. For Sofia, huia have become a strong symbol of her connection to the natural world and also her whakapapa or genealogy, often giving her the sense of an ancestral presence whiles she paints. Ngahuia shines a light on a part of nature that even generations after it has gone, we continue to cherish.
---
Sofia Minson Paintings | New Zealand Artwork
SKU: 10064