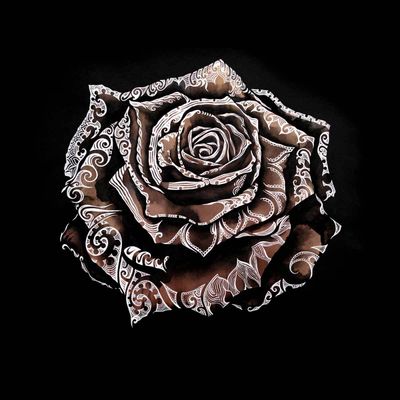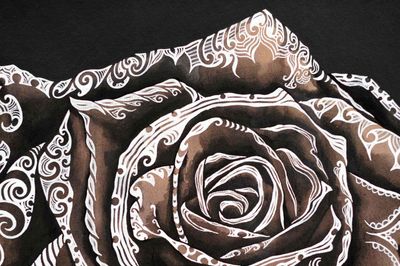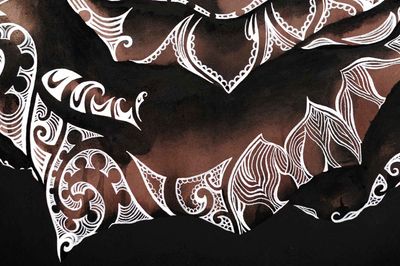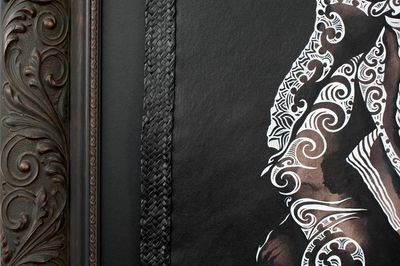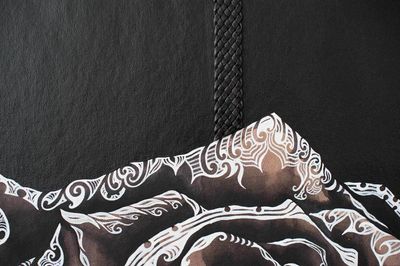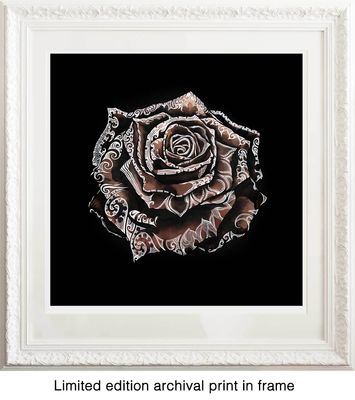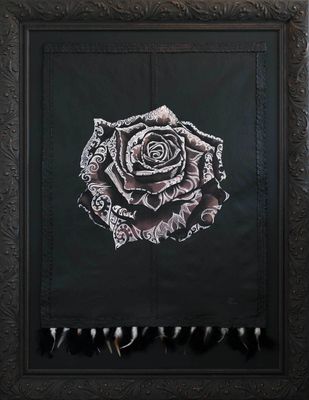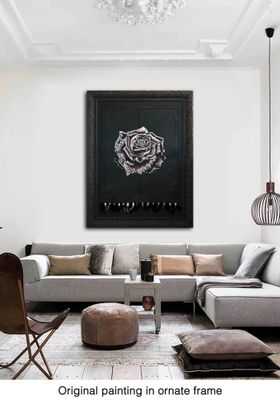 Midnight Rose
$1,950.00
or 4 interest free payments of $487.50 with
learn more
Explore the story of the artwork >>


Print sizes and editions
Regular museum archival paper print - 700 x 700mm
(limited to 275)
Large museum archival paper print - 905 x 905mm 
(limited to 275)
Extra Large museum canvas print - 1130 x 1130mm 
(limited to 275)

Your unique limited edition fine art print
Sofia Minson creates your exclusive signed print
We ship for $25 in NZ and from $50 internationally
Your artwork arrives rolled, ready to be framed - do you need help? Request framing guidance
Original painting SOLD, acrylic and flashe on canvas, 1240 x 900mm, 2018.
---
The story of Midnight Rose
Sofia painted "Midnight Rose" on loose canvas using watery washes of acrylic paint and an ink-like paint called flashe. 
In reference to traditional maori korowai or cloaks and whariki (large flax mats), the artwork has been completed with feathers and a woven flax border. 

A multicultural theme
The designs surrounding the rose are influenced by traditional Maori, Pacific and Eastern motifs including mandala, which are ancient Hindu and Buddhist circular patterns symbolising the universe. 
The rose continues the multi-cultural theme referring to Sofia's English heritage, which along with her Irish, Swedish and Ngati Porou Maori heritage, strongly informs much of her work.

The void and the long night

The midnight nature of the rose signifies Te Pō, the long night in the Maori view of creation. The unfolding of the universe can be imagined as a birth, beginning with conception and the development of growth, thought, memory and consciousness. 
First comes Te Kore, the void. Te Kore is a state of chaos, pregnant with possibilities yet formless and intangible, which has always existed and which contains "unlimited potential for being". Te Pō follows. It is aeons in the womb, from which comes the wind of life and an dynamic unfolding, just like the rose. Finally there is a bursting forth and Te Ao Mārama, the material world of light where we all live, is created.

Creation, unfurling and growth

The rose as well as the koru and double spiral patterns that feature in this work, are all symbols of creation, unfurling and growth. 
A 2009 article by Les R. Tumoana Williams and Manuka Henare entitled "The double spiral and ways of knowing" says that the spiral is a powerful reference for the Māori world, symbolizing "the unfolding of the cosmos from a core where there is neither space nor time. The source and flow of life-energy embraces the source and flow of knowledge; they reverberate through the universe and give purpose and meaning to all things. The dynamic cycles of life, growth, decay, death and rebirth are pervasive at all levels."
---
Sofia Minson Paintings | New Zealand Artwork
SKU: 10076