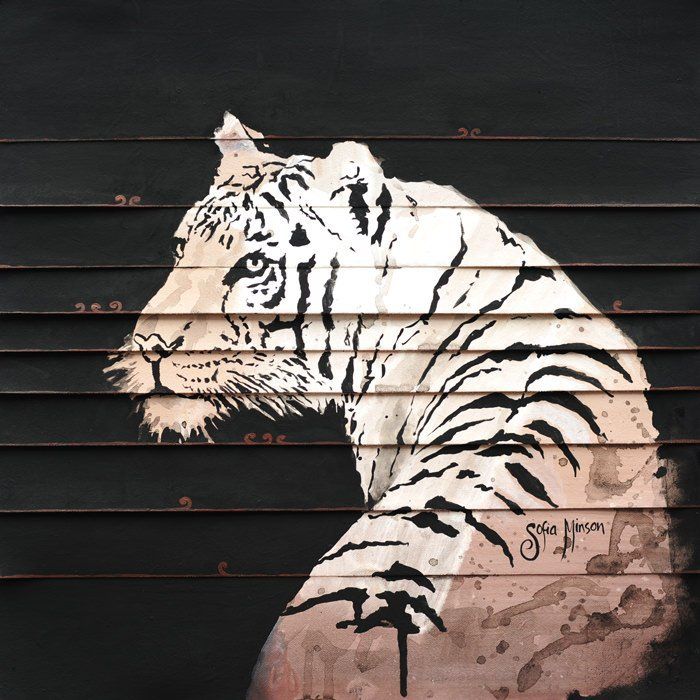 Mauri of the White Tiger
$750.00
or 4 interest free payments of $187.50 with
learn more
Original painting SOLD, acrylic on canvas, 300 x 300mm, 2014


Explore the story of the artwork >>


Print sizes and editions (limited to 275)
Regular museum archival paper print - 300 x 300mm

Your unique limited edition fine art print
Sofia Minson creates your exclusive signed print
We ship for $25 in NZ and from $50 internationally
Your artwork arrives rolled, ready to be framed - do you need help? Request framing guidance
---
The story of Mauri of the White Tiger


"Mauri of the White Tiger" celebrates the symbolism and 'mauri' or 'life force' of the White Tiger and was painted on 10 separate strips of horizontal canvas joined together like a korowai or Maori cloak.

The idea came out of Sofia's research into ancient Chinese scroll paintings and comparing their hanging form to Pacific tapa cloths and Maori feather cloaks. Chinese culture has been of particular interest to the artist since living in Suzhou, China in 2002 and because her husband has Chinese heritage. She is also interested in the Polynesian migratory connection with South East Asia.

In Chinese culture, the tiger is the king of the beasts and has been presented with a 王 on his forehead for centuries. According to legend, the tiger's tail would turn into white when it reached the age of 500 years. In this way, the white tiger became a kind of mythological creature. It was said that the white tiger would only appear when the emperor ruled with absolute virtue, or if there was peace throughout the world. Because the color white of the Wu Xing theory also represents the west, the white tiger became a mythological guardian of the west.

From a Shamanic perspective, the White Tiger represents passion; power and sensuality; ferocity; stamina; trusting our sensing instincts; intuition and discernment. The White Tiger is a solitary hunter and reminds us to keep ideas and endeavors to oneself as we go after our prey quietly.
---
Sofia Minson Paintings | New Zealand Artwork
SKU: 113