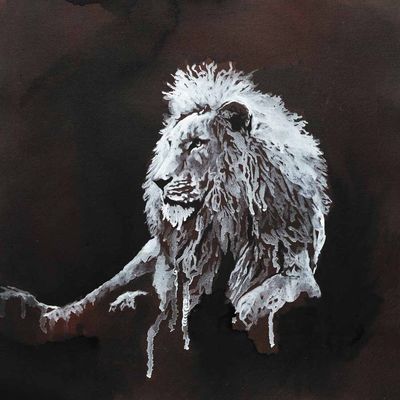 Mauri of the Lion
$1,050.00
or 4 interest free payments of $262.50 with
learn more
Original painting SOLD, acrylic and flashe on canvas, 300 x 300mm, 2014

Explore the story of the artwork >>


Print sizes and editions (limited to 95)

Regular museum archival paper print - 650 x 650mm 

Your unique limited edition fine art print
Sofia Minson creates your exclusive signed print
We ship for $25 in NZ and from $50 internationally
Your artwork arrives rolled, ready to be framed - do you need help? Request framing guidance


---

The story of Mauri of the Lion

"Mauri of the Lion" celebrates the 'mauri' or 'life force' of the Lion, which has been an incredibly powerful symbol and spirit animal for many cultures throughout the millenia of human history.

A symbol of many things

Ina Woolcott describes the Lion from a Shamanistic perspective as a symbol of "brotherhood, letting go of stress, strong family ties, strength, courage, energy, self fulfilment, feminine energy, co-operation, community, power of feminine energy, creativity, intuition, imagination.

The lion as fearless

Lions reside in the Savannah's of Africa. The male looks regal with his mane, and hence they are also known as the king of the cats. The coarse grasses and scattered trees to be found there offer little protection from the outside world and make them a prime target for hunters. Lions are frequently spotted lying around not doing much. They seem to be radiating the words don't bother me 'cause I'm busy relaxing - one reason why the energy of fearlessness has been linked to this proud animal. Mankind associates the Lion with fearlessness because of its mighty roar. From the Lion we can learn how to be fearless if we allow ourselves to relax long enough to learn from it." 
---
Sofia Minson Paintings | New Zealand Artwork
SKU: 112