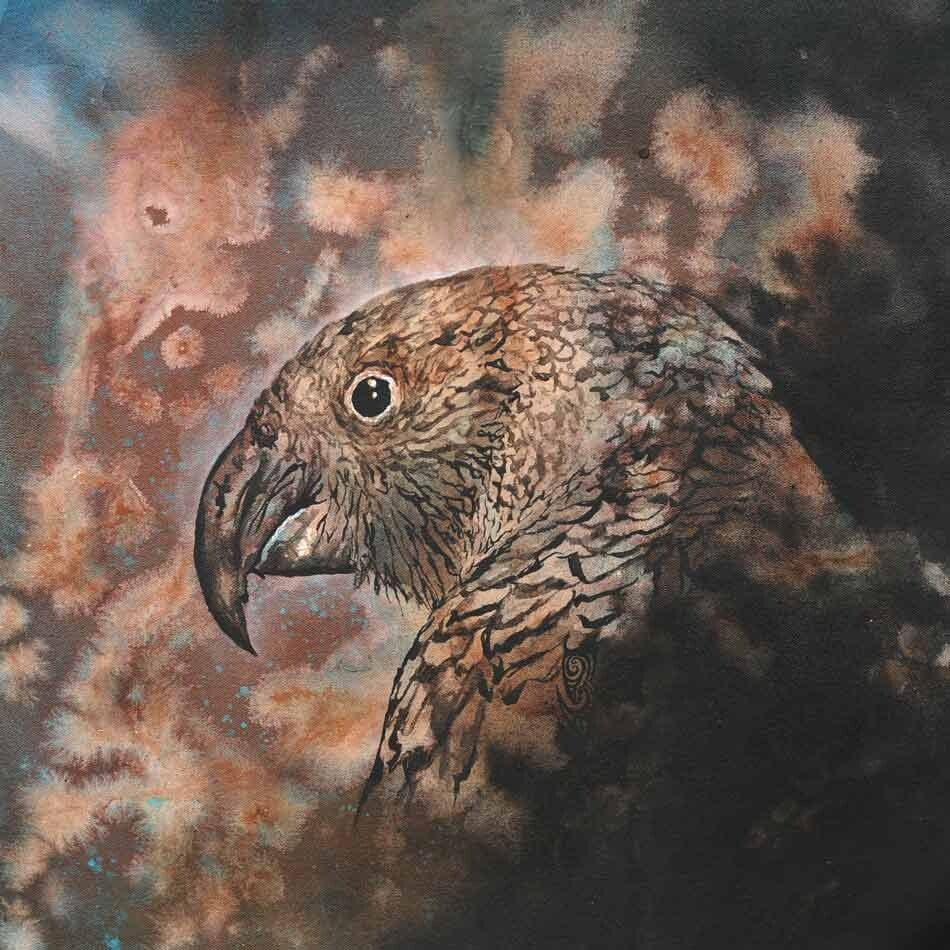 Mauri of the Kākā
$1,050.00
or 4 interest free payments of $262.50 with
learn more
Original painting SOLD, acrylic on canvas, 300 x 300mm, 2014

Explore the story of the artwork >>

Print sizes and editions (limited to 275)
Regular museum archival paper print - 700 x 700mm

Your unique limited edition fine art print
Sofia Minson creates your exclusive signed print
We ship for $25 in NZ and from $50 internationally
Your artwork arrives rolled, ready to be framed - do you need help? Request framing guidance
---
The story of Mauri of the Kākā


"Mauri of the Kākā" celebrates the symbolism and 'mauri' or 'life force' of New Zealand's native parrot, the Kākā. Mauri is an energy which binds and animates all things in the physical world. Without mauri, mana cannot flow into a person or object. Mana is the power or essence that comes from Te Kore - the realm beyond the world we can see.

Once common throughout Aotearoa, our native parrot the Kākā is now found in limited numbers in a few forests in the central North and South Islands. From stories of our Māori ancestors and those lucky enough to be close to the Kākā in recent times, we know that they are restless birds and one can hear their calls throughout the night. Any sign of dawn is noted by the brown and red parrot, who is awake and awaiting it. Its harsh cry rings out through the realm of Tāne (the god of the forest). One can say "Kua tangi to Kākā" (the Kākā has cried) and know that Hine-ata, the Morning Maid, is at hand.

One whakatauki or Maori proverb goes "he kuku tangai nui he Kaka kai honihoni" which translates as "a pigeon bolts its food, a Kaka eats it bit by bit."

The Kākā is also mentioned in an important Tauparapara, which is a Maori prayer or chant to invoke the gods' protection. This is said during Whaikōrero (formal speeches) to honour visitors to a marae or as part of welcome ceremonies and social gatherings. Tauparapara indicates a wish to speak, for example:

Ka tangi te titi 
Ka tangi te kākā 
Ka tangi hoki ahau 
Tihei Mauriora

The Titi is calling
The Kākā is calling and I wish to call
behold for there is life
---
Sofia Minson Paintings | New Zealand Artwork
SKU: 111