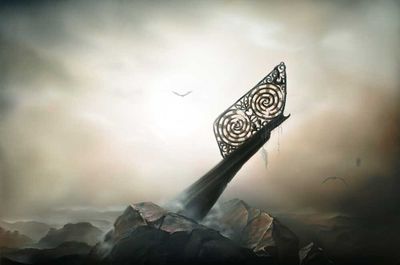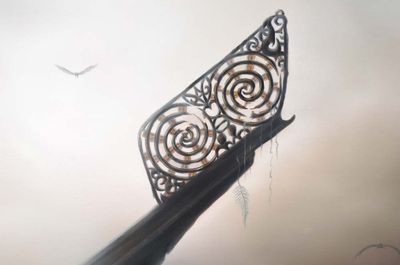 Māui's Waka Rests on High
$950.00
or 4 interest free payments of $237.50 with
learn more
Original painting SOLD, oil on canvas, 610 x 920mm, 2011

Explore the story of the artwork >>

Print sizes and editions (limited to 275)
Regular museum archival paper print - 511 x 771mm

Your unique limited edition fine art print
Sofia Minson creates your exclusive signed print
We ship for $25 in NZ and from $50 internationally
Your artwork arrives rolled, ready to be framed - do you need help? Request framing guidance



---

The story of Māui's Waka Rests on High


"Māui's Waka Rests on High" refers to Mt Hikurangi on the East Cape of the North Island of New Zealand as being the resting place of the waka (canoe) of Māui, the infamous Polynesian demi-god who legend tells fished up the North Island.

One day when Māui and his brothers went fishing far out into the ocean he dropped his magic fishhook over the side of the waka. He felt a strong tug on the line and after much straining and chanting of karakia (incantations), there surfaced Te Ika a Māui (The Fish of Māui), also known as the North Island of New Zealand.

Ngāti Porou

Hikurangi is the sacred mountain of Ngāti Porou, the people from whom Sofia decends. It is said to be the first piece of land to have emerged when Māui fished up the North Island. According to Ngāti Porou tradition, Māui's waka Nukutaimemeha remains stranded on the mountain and is depicted in this painting with its intricately carved tauihu (bow piece) emerging from rocks on the peak. 

Pouakai eagles


Pouakai eagles - a large native species with a wingspan of up to 3 metres that went extinct c.1400 A.D. - are shown flying near the ancient vessel. To this day the pouakai and the mountain itself are guardians or 'keepers' of the Nukutaimemeha.
---
Sofia Minson Oil Paintings | New Zealand Artwork

SKU: 109