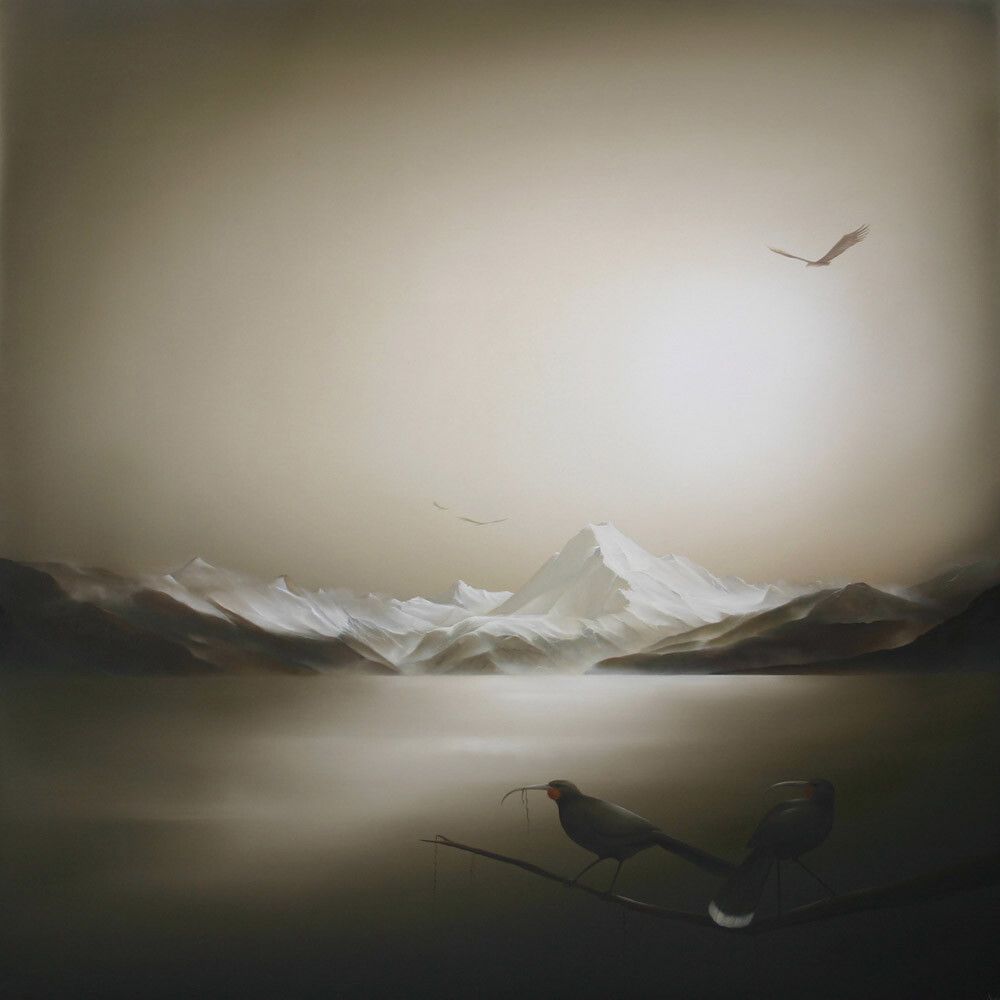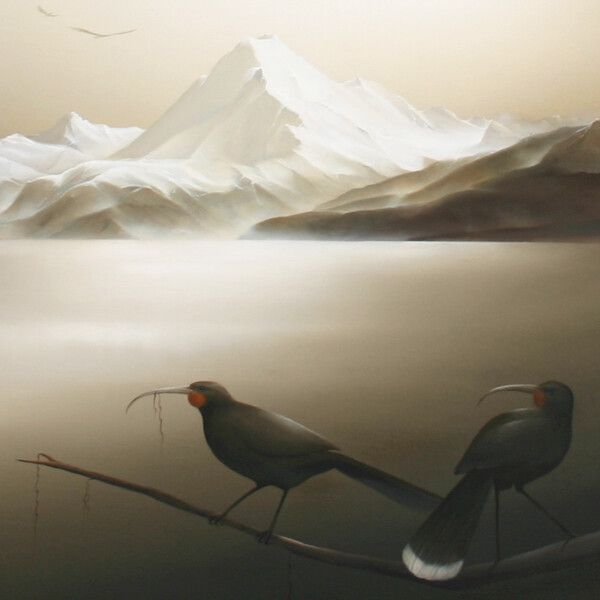 Ko Aoraki Te Maunga
$1,050.00
or 4 interest free payments of $262.50 with
learn more
Explore the story of the artwork >>


Print sizes and editions (limited to 30)

Regular museum archival paper print - 630 x 630mm 

Your unique limited edition fine art print
Sofia Minson creates your exclusive signed print
We ship for $25 in NZ and from $50 internationally
Your artwork arrives rolled, ready to be framed - do you need help? Request framing guidance
Original painting SOLD, oil on canvas, 1200 x 1200mm, 2006

---

The story of Ko Aoraki Te Maunga

"Ko Aoraki Te Maunga" is part of Ngai Tahu's ancient proverb that identifies Aoraki or Mt Cook as their sacred tribal mountain. The prominent South Island iwi trace their lineage back to Tahu Potiki, the younger brother of Porourangi who was one of the great ancestors of Ngati Porou, of which Sofia herself is affiliated.

Aoraki, 'The cloud piercer'

Aoraki stands tall in the centre of this primordial, surreal landscape. The natural, eerie world was born out of Sofia's imaginings, unfaithful to the confines of history, memory, time and space. 'The cloud piercer' as it is translated, slumbers as a quiet giant that has watched patiently over generations of human migration, natural evolution, creation and extinction.

A legend of love and loss

Legends of love and loss have been inspired by the colossal mountain. The myth of Hine Hukatere tells of a beautiful, icy snow maiden who fell in love with Wawe, a man of flesh and blood. Every time Hine and Wawe tried to touch they would scream in pain as she would melt from the heat of his skin and he would freeze instantly from her contact. The two lovers made a plan to go high into the mountains to ask Aoraki for warm breath and pink cheeks for Hine Hukatere. As they climbed Wawe became afraid and the air grew cold and thin. His ancestors had forbidden everyone from climbing Aoraki because it was the home of tribal guardians who jealously defended their resting place. Hine was in her element as she skipped joyfully over the snowy ground but Wawe's fingers and toes grew numb, his face turned blue and his eyelids became heavy with snow. He heard Tawhirimatea scream in his head. "Get off this mountain, you mortal!" and the enraged spirit pushed Wawe off the edge. Hine Hukatere desperately shook millions of snowflakes from her fingers to cushion his fall but Tawhirimatea blew them away and Wawe plunged down to his death. The wintry goddess cries over her lost love and never leaves Aoraki now. Sofia has depicted the mournful, sensual figure of Hine Hukatere lying within the slopes of the snow-covered mountain.

The majestic Pouakai Eagle and Huia

Just as the mountain is the subject of ancient legend, it also bore witness to the rise and fall of New Zealand's majestic Pouakai Eagle and Huia. Both native species feature in the painting and their extinctions have little gravity in Sofia's dreamscape of an Aotearoa out of time and space.
---
Sofia Minson Paintings | New Zealand Artwork
SKU: 92