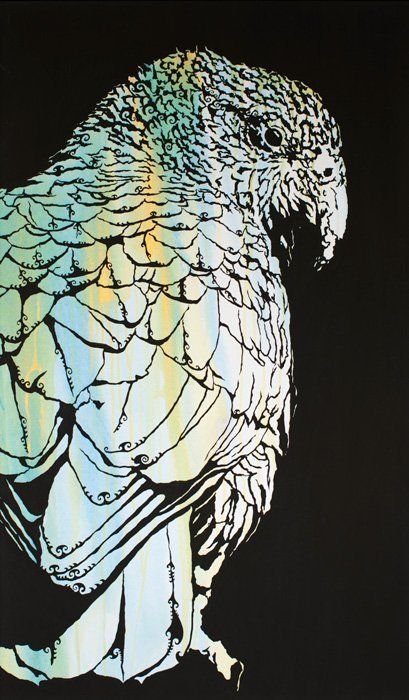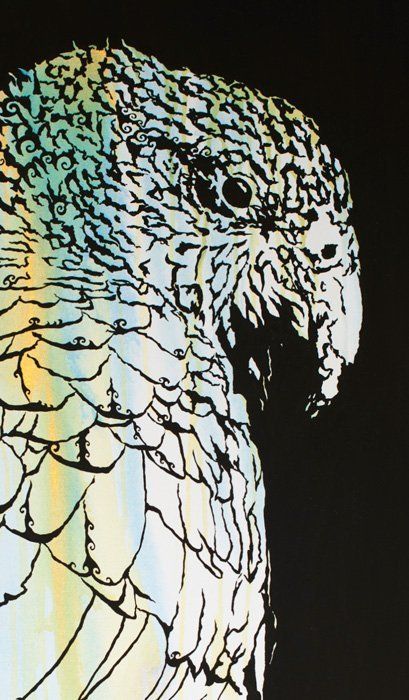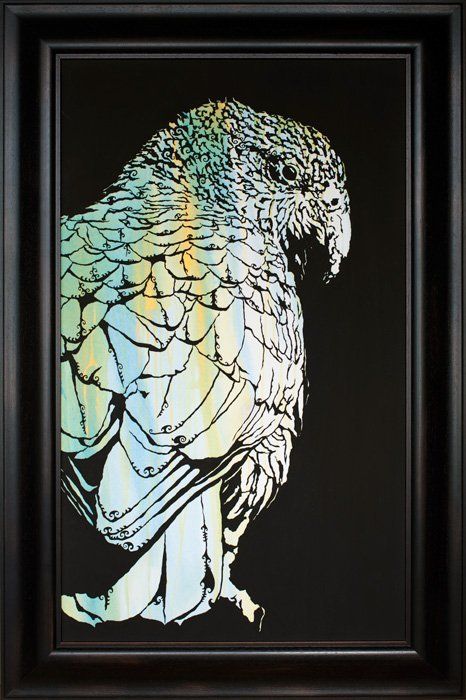 Kea
$950.00
or 4 interest free payments of $237.50 with
learn more
Original painting SOLD, acrylic and flashe painting on canvas, 1200 x 800mm (including frame), 2016

Explore the story of the artwork >>

Print sizes and editions (limited to 275)
Regular museum archival paper print - 782 x 520mm

Your unique limited edition fine art print
Sofia Minson creates your exclusive signed print
We ship for $25 in NZ and from $50 internationally
Your artwork arrives rolled, ready to be framed - do you need help? Request framing guidance
---
The story of Kea


"Kea" are the world's only alpine parrot, and one of the most intelligent birds.

Although they are seen in reasonable numbers in the South Island due to their inquisitive, social nature, they are actually endangered with numbers estimated between 1,000 and 5,000 birds. Their nests are made in holes in the ground so their young are particularly vulnerable to predation by cats, stoats, ferrets and possums.

Sofia was delighted to find out that the kea is related to the forest kākā, the subject of "The Kākā is Calling" which began her native bird series in 2014. Kea are thought to have branched off with their own special characteristics during the last great ice age, by using their unusual powers of curiosity in search for food in a harsh landscape.

Sofia's process for this work started with loose, watery acrylic washes of alpine whites, blues and greens for the body, with metallic gold for an added precious, ornate quality. An ink-like black paint called flashe was used to indicate strong contrasting shadows and to draw the intricate outline of the bird's feathers, intertwined with subtle Māori koru designs. The substantial wooden frame was chosen to bring out the bird's intelligent character, giving the impression of a traditional human portrait.

Like all of Sofia's native bird and wildlife paintings, she sees the work as a reminder of our role as kaitiaki or guardians of the natural world.

The forest is a living thing
just as I breathe and live. 
Every leaf, every tree, 
every insect, every bird, 
feels and knows this. 
When I enter its domain, 
I know I enter the House of Tāne. 
- From Maori Natural Lore
---
Sofia Minson Paintings | New Zealand Artwork
SKU: 89