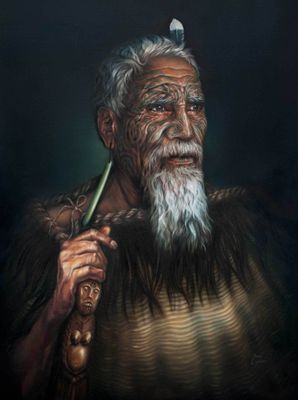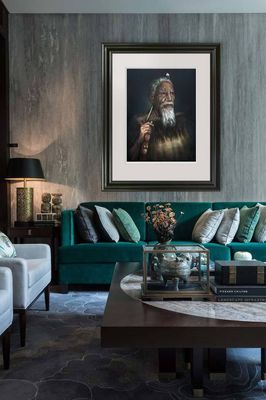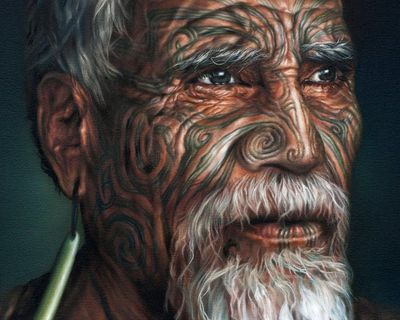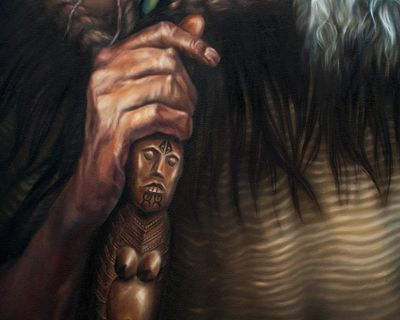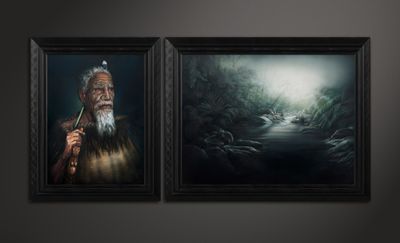 Kaitiaki - Portrait
$4,000.00
Explore the story of the artwork >>

Print sizes and editions

Regular museum archival paper print - 734 x 551mm
(limited to 95) [1 left in stock]
Large museum archival paper print - 893 x 670mm
(limited to 195)
Extra Large museum canvas print - 933 x 700mm
(limited to 175)

Your unique limited edition fine art print
Sofia Minson creates your exclusive signed print
We ship for $25 in NZ and from $50 internationally
Your artwork arrives rolled, ready to be framed - do you need help? Request framing guidance


Original painting SOLD, oil on canvas, 1050 x 788mm, 2017
---

The story of Kaitiaki - Portrait


Kaitiaki is a two-piece work - a portrait and forest landscape - that inform each other when sitting side-by-side. Sofia took three years to complete these oil paintings.

We humans are kaitiaki - guardians and stewards of the natural world. It's not about ownership over land and exclusivity of these people over those people, but a realization of abundance, which breeds harmony. The kinship we have with the natural world can be expressed by managing our environment wisely. Today there is growing interest in kaitiakitanga as iwi (tribes) restore their environment and their culture.

The old man

The old man wears Ta Moko Kanohi - full face tattoo. He is no particular person - Minson was looking at Goldie and Lindauer portraits, and dozens of old black and white 20th century photos of Maori. There's a sense of re-creating a centuries-old romanticism and depth, which is a welcomed change in this modern, digital, face-paced world.

Spirit of the forest

His wairua is part of the forest. The artist thinks of him as Tane, god of the forest, son of Ranginui Sky Father and Paptuanuku Earth Mother. Long ago he separated his parents' tight embrace to allow Te Ao Marama, a world of space and light to enter, and trees and birds and every living thing including mankind, to flourish.

His mother is kept close in the form of the carved taonga he holds, and Ranginui can be felt in the mist caressing the earth.

Maori natural lore

"The forest is a living thing just as I breathe and live.
Every leaf, every tree, every, insect, every bird, feels and knows this.
When I enter its domain, I know I enter the House Of Tāne.
My ancestor who created us all and each one of us.
A face of Io-of-the-Many-Faces."
- From Māori natural lore
---
Sofia Minson Oil Paintings | New Zealand Artwork
SKU: 10000-17