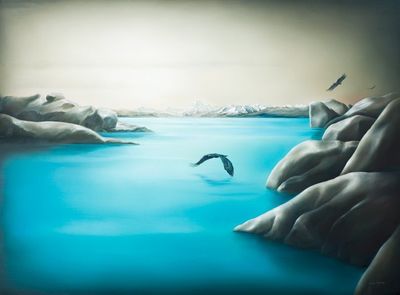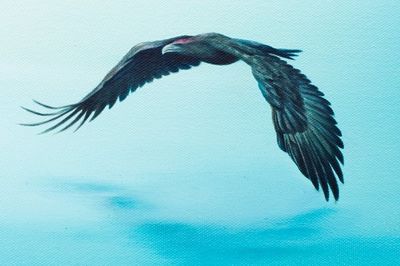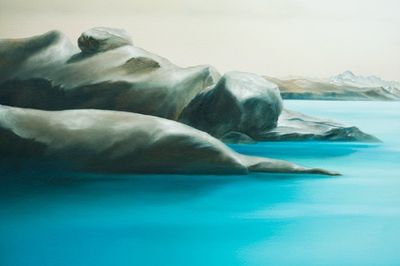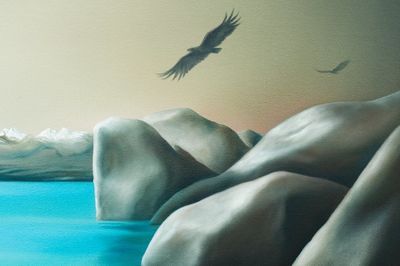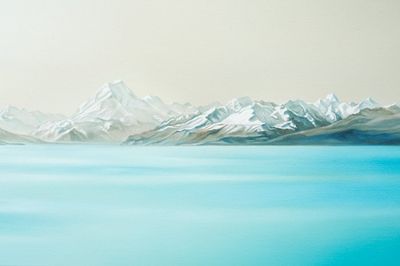 Hu-u, the sound of the wings
$1,950.00
or 4 interest free payments of $487.50 with
learn more
Original painting SOLD, oil on canvas, 1010 x 1370mm, 2014


Explore the story of the artwork >>

Print sizes and editions
Regular museum archival paper print - 550 x 741mm (limited to 275)
Large museum archival paper print - 778 x 1056mm (limited to 195)
Extra Large museum canvas print - 870 x 1180mm (limited to 175)
Your unique limited edition fine art print
Sofia creates your signed, museum archival print 
We ship for $25 in NZ and from $50 internationally 
Your artwork arrives rolled, ready to be framed - do you need help? Request framing guidance
---
The story of Hu-u, the sound of the wings


As we gaze over glacial lake Pukaki to Aoraki Mt Cook beyond there is a cold, ancient silence broken only by the the hokio's wings as they beat slowly, described in ancient myth as the sound "hu-u". The surreal, primordial lake glows too brightly for the moody grey sky and the larger-than-life boulders allude to the undulating curves of Papatuanuku (earth mother).

Hokioi, Haast eagle and Pouakai are all names for this enormous native eagle, which preyed on Moa, had a wingspan of 3 metres and went extinct c. 1400 A.D. We, of the present day, have not seen it but our ancestors lived among this powerful bird whose resting place was on the top of mountains; it did not rest on the plains. It was a bird of black feathers, tinged with yellow and green; it had a bunch of red feathers on top of its head.

The hokio was a fearsome creature in legends and appeared in rock drawings. According to one story, the hokioi's rival was the kāhu, which is a smaller hawk that still exists today. The hawk said it could reach the heavens and the hokioi said that only it could reach the heavens, therefore there was contention between them. The hokioi said to the hawk, "what shall be your sign?" The hawk replied, "kei" (the peculiar cry of the hawk). Then the hawk asked, "what is to be your sign?" The hokioi replied, "hokioi-hokioi-hu-u." ("Hokioi-hokioi" is the cry of the hokioi. "Hu-u" is the noise caused by the wings of the hokioi). So these were the words of the two creatures. They then flew and approached the heavens. The winds and the clouds came. The hawk called out "kei" and descended, it could go no further on account of the winds and the clouds, but the hokioi disappeared into the heavens. The Hokioi would be recognized by the noise of its wings "hu-u" whenever it descended back to earth.
---
Sofia Minson Paintings | New Zealand Artwork
SKU: 10175