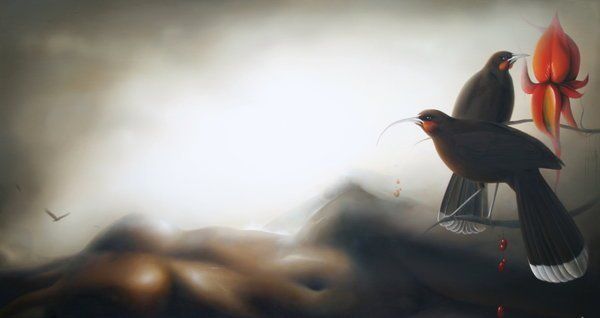 He Kakano Ahau
$950.00
or 4 interest free payments of $237.50 with
learn more
Original painting SOLD, 700 x 1300mm, oil on canvas, 2008

Explore the story of the artwork >>
Print sizes and editions (limited to 275)
Regular museum archival paper print - 296 x 550mm

Your unique limited edition fine art print
Sofia Minson creates your exclusive signed print
We ship for $25 in NZ and from $50 internationally
Your artwork arrives rolled, ready to be framed - do you need help? Request framing guidance


---

The story of He Kakano Ahau
"He kakano ahau, ruia mai i Rangiatea"

"I am a seed, scattered from Rangiatea"

Rangiatea or Raeatea is the name given to a group of islands in the Pacific Ocean known as the Society Group. Like Hawaiiki, Rangiatea is considered an ancient maori homeland from whence the original canoes voyaged to New Zealand centuries ago. Rangi means 'sky' and atea means 'clear' or 'space'. Rangiatea therefore describes the world that opened up in the creation myth after the separation of Ranginui (Sky Father) and Papatuanuku (Earth Mother).

The painting shows a mystical landscape encompassed by the forces of the divine parents Rangi and Papa, with bird and plant life in between. Two extinct huia birds are perched in the foreground alongside a stylized kaka beak flower and dangling red karaka berries. "He Kakano Ahau" expresses the enduring connections people have with their homelands, their past and their ancestors. We are all intricately shaped by history and our heritage, whether we're conscious of it or not, and this concept is quite humbling, hence the title 'I am a Seed'.
---
Sofia Minson Paintings | New Zealand Artwork
SKU: 60