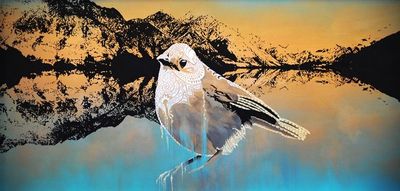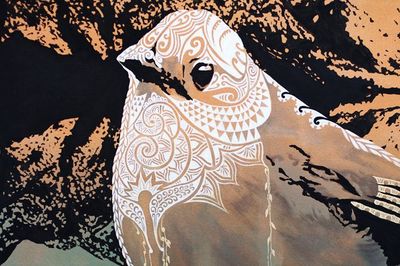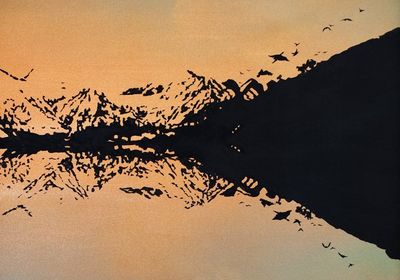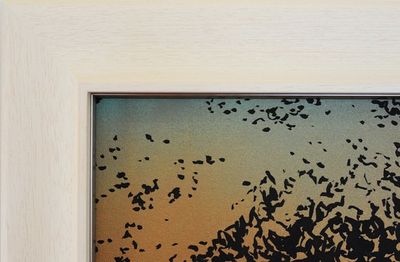 He Iti Kahurangi
$1,950.00
or 4 interest free payments of $487.50 with
learn more
Explore the story of the artwork >>

Print sizes and editions

Regular museum archival paper print - 740 x 354mm
(limited to 275)
Large museum archival paper print - 1172 x 600mm
(limited to 275)
Extra Large museum canvas print - 1563 x 800mm
(limited to 275)

Your unique limited edition fine art print
Sofia Minson creates your exclusive signed print
We ship for $25 in NZ and from $50 internationally
Your artwork arrives rolled, ready to be framed - do you need help? Request framing guidance
Original painting SOLD, acrylic on canvas with wooden frame, 1090 x 2130mm, 2015
---
The story of He Iti Kahurangi

In this painting a yellowhead or mōhua, a small endemic South Island bird, stands in front of Queenstown's Lake Wakatipu, in which Mt Earnslaw and surrounding mountains are reflected. On closer inspection, a dozen or so birds take flight from the hills on the far right of the painting. "He Iti Kahurangi" means "a little treasure."

The longform version of the whakatauki (ancient proverb) is "Whaia e koe ki te iti kahurangi; ki te tuohu koe, me maunga teitei" translated as: "Seek the treasure you value most dearly; if you bow your head, let it be to a lofty mountain." This saying is most often used to inspire generations to aspire, to succeed, to aim high, to achieve ones' goals in life and to work to the best of ones' ability. A colloquial but accurate rendering for 'kahurangi' is a treasured possession or jewel. The 'iti' emphasises the treasure as being small but precious.

The technique Sofia used on this painting was to first layer the canvas with blended metallic gold, blue and copper acrylics and then map out in minute detail using black ink-like paint, the mountain range and its reflection in the lake. The mōhua was lastly painted with intricate Maori and Hindu mandala designs, in irridescent pearl white paint. The irridescent and metallic paint reflects the light and changes in mood depending on the angle of the light in the room, while the black of the mountain range absorbs the light and is deep, matt and unchanging.

The mōhua is a small, insect eating bird with a population of below 5000 birds living in isolated forests in the South Island and Stewart Island / Rakiura. A beautiful splash of bright yellow covers its head and breast while the rest of the body is brown with varying tinges of yellow and olive.
The mōhua is the bird featured on our $100 note - another reason the yellowhead is "a little treasure."

The good news is that for a threatened species, mōhua have quite a high reproductive rate. Each year they can lay up to four eggs and once these chicks have left the nest the pair can raise another brood. Therefore, if the factors that have caused its decline can be eliminated or reduced significantly, the mōhua has a good potential for recovery. Mōhua have also bred in captivity at Orana Park in Christchurch."
---
Sofia Minson Paintings | New Zealand Artwork | mohua, bush canary, mohoua, houa
SKU: 10066