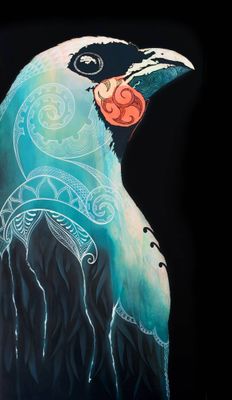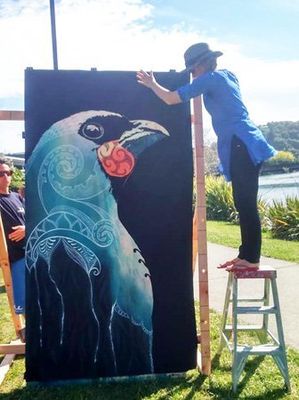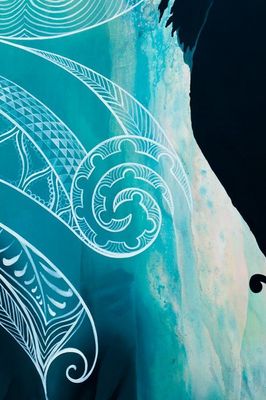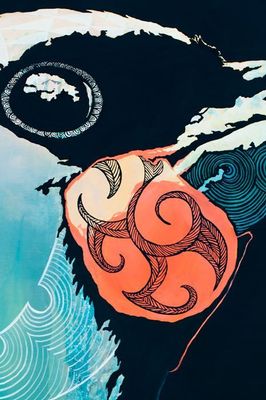 Grey Ghost
$3,750.00
Explore the story of the artwork >>
Print sizes and editions

Regular museum archival paper print - 485 x 835mm
(limited to 95)
Large archival print - 690 x 1187mm
(limited to 95)
Extra Large museum canvas print - 860 x 1480mm
(limited to 95)

Your unique limited edition fine art print
Sofia Minson creates your exclusive signed print
We ship for $25 in NZ and from $50 internationally
Your artwork arrives rolled, ready to be framed - do you need help? Request framing guidance

Original painting SOLD, acrylic painting on canvas, 1200 x 2400mm, 2015
---

The story of Grey Ghost


Sofia Minson was invited to paint this large-scale artwork as a live art demonstration on the banks of the Maitai River in Nelson for the 2015 Nelson Arts Festival Billboard Project, alongside fellow New Zealand artists Geoff Noble, Miriam Hansen, Smeagol and Richard Adams.

Entitled "Grey Ghost", this piece is inspired by the taonga (treasure) that are New Zealand's people, land, forests and birds.

Celebrating multi-cultural and multi-faith elements

The body of the kōkako, which is usually grey, is instead painted here with watery washes of the blues and greens of New Zealand's forests and waterways.

Peeking through shadow is a stylised korowai (feather cloak) as if worn by the bird itself. Intricate patterns painted in thin white ink that reference Māori kowhaiwhai designs, tukutuku panels and ancient hindu sacred geometry, drip down the torso. Sofia uses multi-cultural, multi-faith elements in celebration of her own mixed Maori, Swedish and Irish heritage, as well as her experiences growing up in NZ and overseas in Samoa, Sri Lanka and China due to her father's engineering work.

A watchful, ancestral presence

The creative process for this painting took place in Nelson and therefore the triangular patterns on top of the bird's head could be seen as a map of the top of the south and bottom of the north island.

The final detail painted was the orange wattle, proudly showcasing a Moko Kauae or chin tattoo, traditionally worn by Māori women to signify mana and status. This touch of human marking brings this image of a bird into the realm of dignified portraiture and reminded the artist of a watchful, ancestral presence.

Kokako

Sofia recently discovered the unusual story of the 'unextinction' of South Island's elusive orange-wattled kōkako.

Kōkako are related to the extinct huia bird whose feathers were highly prised among Māori. The North Island kōkako with blue wattles are endangered with fewer than 400 pairs existing in isolated forest areas. South Island kōkako on the other hand were considered completely extinct until 2013 when rare sightings brought their Department of Conservation classification back from 'extinct' to 'data deficient'. Known as the Grey Ghost, there is renewed hope for the South Island kōkako. However the bird's incredibly shy and secretive visual nature, coupled with its unique tendency to very rarely produce vocalizations and possibly even mimic the song of other bird species, is making it impossible to to acquire unequivocal video, audio or photographic evidence.

Maui and kokako

In Māori legend the kōkako gave Māui, the infamous Polynesian demi-god, water to quench his thirst as he fought to slow the racing sun across the sky. Māui and his people were frustrated with the fleeting sun and wanted to increase the hours of daylight so their lives could be more productive. The kōkako filled its wattles with water and brought it to Maui who was wrestling with the fiery behemoth, pulling with all his might on unbreakable plaited flax ropes. The sun became exhausted and Māui succeeded in bringing longer days to earth. He rewarded the kōkako by making its legs long and slender, enabling the bird to bound through the forest with ease in search of food.

The Grey Ghost, whether its modern-day existence is myth or fact, serves as another reminder of our sacred role as kaitiaki (caretakers) of the natural world.
---
Sofia Minson Paintings | New Zealand Artwork

SKU: 10102