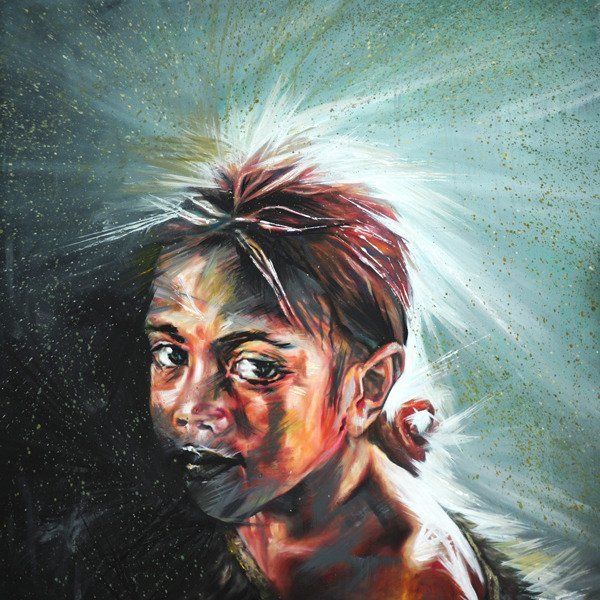 Girl in graphic style
$950.00
or 4 interest free payments of $237.50 with
learn more
Original painting SOLD, oil on canvas, 1000 x 1000 mm, 2012
Print sizes and editions (limited to 275)
Regular museum archival paper print - 550 x 550mm

Your unique limited edition fine art print
Sofia Minson creates your exclusive signed print
We ship for $25 in NZ and from $50 internationally
Your artwork arrives rolled, ready to be framed - do you need help? Request framing guidance
---
The story of Girl in graphic style 


"Girl in graphic style" is Minson's bold foray into the medium of acrylic paint, splatters, cross hatching and lightning bolt brush work.  It is graffiti art, graphics and painting all in one.  This little Maori girl is not one person in particular but she is a strong symbol for the youthful energy and potential for growth within the artist, and the viewer.  
The new technique and strikingly different aesthetic to Minson's usual finely detailed oil work does not herald a complete and permanent break from her style.  It is in these sorts of dramatic experimentations where an artist will take the best of what she has learned and incorporate it subtly into her established "voice". Minson's voice is not static but has been continually developing over the last eight years of her career as a full-time artist. The purpose of this work is to investigate a new, sharp, raw energy, which can potentially inform her contemporary Maori portrait series in the future.  
Since 19th century New Zealand artists such as Lindauer and Goldie, there has been a surprising lack in the tradition of Maori oil portraiture. While Minson is inspired by their works, she says her contemporary Maori portraits "are far from Goldie's recordings of a vanishing race" and are intended to fill an important niche for her generation.  As a Maori artist of mixed heritage (Ngati Porou, Swedish and Irish) she is interested in showcasing contemporary Maori as a vibrant and evolving people.
This painting is part of Minson's 4-18 September 2012 exhibition of new works at Parnell Gallery. 
Watch this Maori Television feature on the show:
---
Sofia Minson Paintings | New Zealand Artwork
SKU: 51