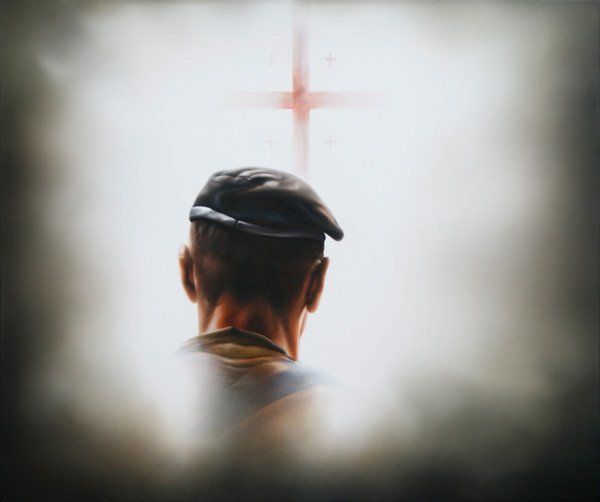 Georgia on my Mind
$950.00
or 4 interest free payments of $237.50 with
learn more
Original painting SOLD, oil on canvas, 630 x 750mm, 2008

Explore the story of the artwork >>
Print sizes and editions (limited to 275)
Regular museum archival paper print - 580 x 690mm
Your unique limited edition fine art print
Sofia Minson creates your exclusive signed print
We ship for $25 in NZ and from $50 internationally
Your artwork arrives rolled, ready to be framed - do you need help? Request framing guidance


---
The story of Georgia on my Mind 


This piece references both New Zealand's ANZAC soldiers that gave their lives in WWI as well as present-day Georgian soldiers who risked their lives to defend their vulnerable Eastern European nation against the mighty force of Russia in the August 2008 conflict. The two nation's armies, separated by time, space and culture, wear hauntingly similar uniforms. One wonders whether the war-time experiences or emotional challenges for men in both armies also run parallel? In this picture the soldier, who could be from either time or place, gazes at an ominous cross. For the Anzacs this cross represents many untimely deaths, for the Georgians this cross is their nation's flag and symbolizes all that they are fighting for.

Just before the August 2008 crisis with Russia over Georgia's two breakaway regions, South Ossetia and Abkhazia, Sofia spent a week in the Georgian capital of Tbilisi. There wasn't even a whisper to be heard of the conflict to come. On the eve of Georgian Independence Day, the Army, Navy and Air Force flooded the main street of Tbilisi in their thousands to practice for the following day's parade. Sofia was there to watch the spectacle of marching military personnel, weapons and tanks, to photograph them, and during break times to casually meet and talk with some of the men involved. Sofia sometimes wonders whether the soldiers and officers she spoke to were subsequently deployed during the weeks of violence between Georgia and Russia and what might have become of them?

Not long after visiting Georgia, Sofia then travelled to Gallipoli in Turkey where she took in the solemn sites of the WWI Gallipoli Campaign where 3000 New Zealanders lost their lives. "Georgia on my Mind" presents a mystical vision of an unnamed New Zealand or Georgian soldier gazing at a red cross, a symbol which is both subjective, ambiguous and yet extremely powerful.
---
Sofia Minson Paintings | New Zealand Artwork
SKU: 50