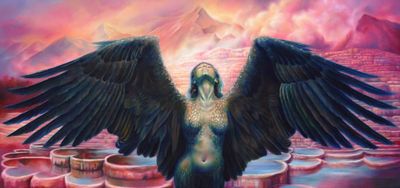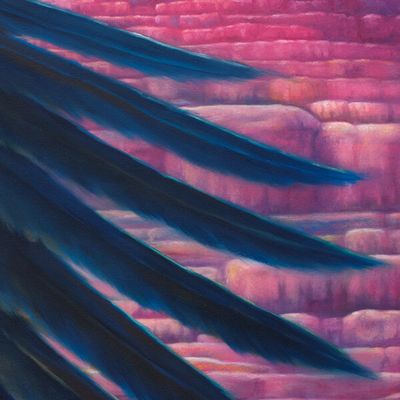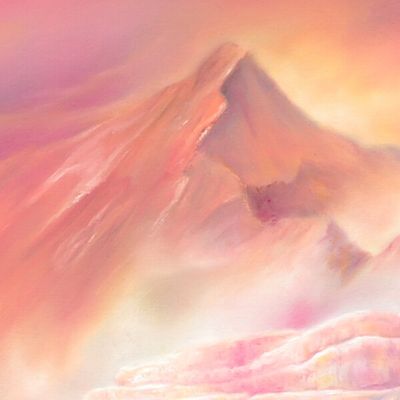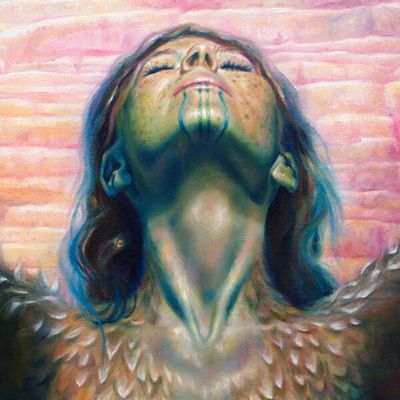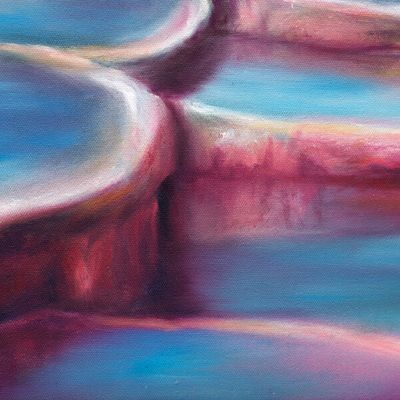 Dominion of Pouakai
$1,950.00
or 4 interest free payments of $487.50 with
learn more
Original painting SOLD, oil on canvas, 850 x 1800 mm, 2012

Explore the story of the artwork >>


Print sizes and editions
Regular museum archival paper print - 330 x 699mm (limited to 275)
Large museum archival paper print - 550 x 1165mm (limited to 195)
Extra Large museum canvas print - 720 x 1525mm (limited to 175)

Your unique limited edition fine art print
Sofia Minson creates your exclusive signed print
We ship for $25 in NZ and from $50 internationally
Your artwork arrives rolled, ready to be framed - do you need help? Request framing guidance
---

The story of Dominion of Pouakai


The vivid pink backdrop of "Dominion of Pouakai" is that of the White Terraces, a spectacular feature of our landscape, which was decimated in Lake Tarawera's 1886 eruption.  
The eagle-winged woman has been modelled after the artist, even down to her freckles, and wears a stripped-back moko kauae (chin tattoo) consisting of just four vertical lines. The cosmic creature was inspired by a fusion of Aotearoa's most majestic and fearsome bird, the Pouakai eagle, as well as numerous wāhine toa (strong women) from Māori myth, especially Papatūānuku earth mother.  
Sofia sees Papatūānuku as being the phoenix rising from the ashes after her separation from her celestial lover, Ranginui sky father.  In the painful tearing apart of the parents by their strongest son Tāne, life and light streamed into the space between them and plants, animals and humans were created.  
Pouakai, also known as haast eagles or hokioi, had the world's largest wingspan of three metres and went extinct c. 1400 A.D. They inspired fear and awe in beast and man alike, inciting stories of a 'man eating' bird known to prey on full-size moa. 
The surreal scene set forth in this painting contains a message of transformation and power.  We witness the spirit of the female warrior, the earth mother, the Sophia archetype herself, in a process of liberation and integration that follows pain and destruction. Here she embodies both the earth and galactic realms within her.
---
Sofia Minson Oil Paintings | New Zealand Artwork
SKU: 10160