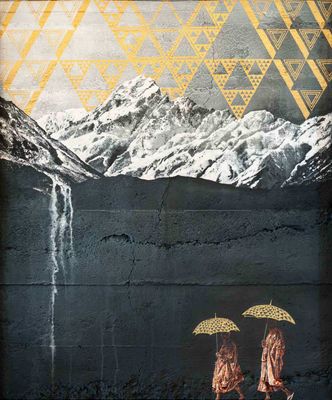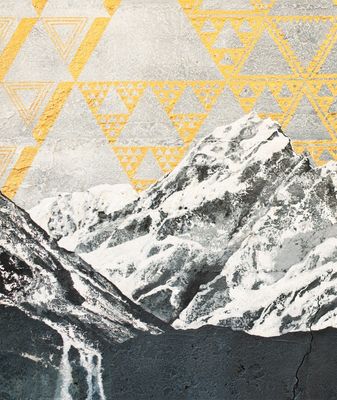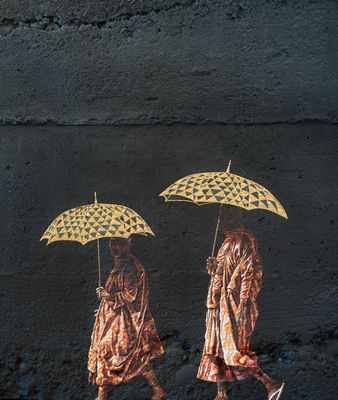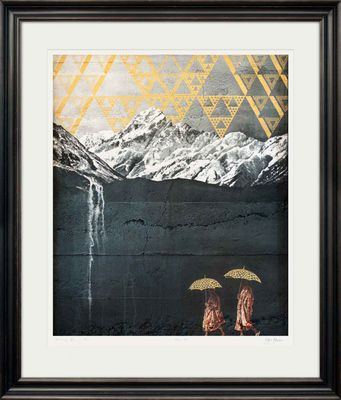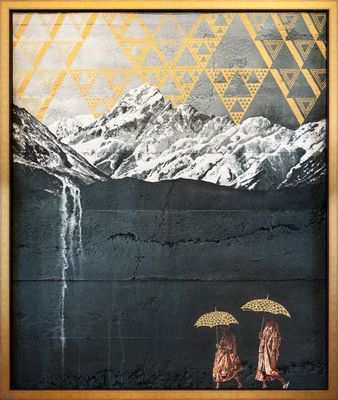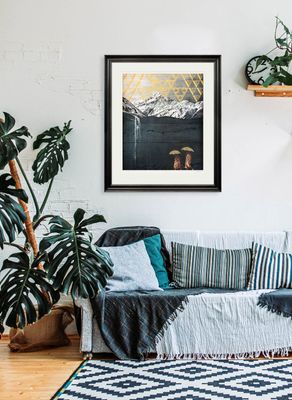 Aoraki Fractalis
$8,000.00
Explore the story of the artwork >>
Print sizes and editions
Regular museum archival paper print - 587 x 695mm
(limited to 95)
Large museum archival paper print - 827 x 992mm
(limited to 95)
Extra Large museum canvas print - 915 x 1096mm
(limited to 95)
Your unique limited edition fine art print
Sofia creates your signed, museum archival print
We ship for $25 in NZ and from $50 internationally
Your art arrives rolled, ready to be framed - do you need help? Request framing guidance
Frame your new artwork
Enjoy your very own Sofia Minson artwork hanging on the wall
Original painting SOLD, flashe on moulded fibreglass board, 1190 x 1410mm, 2016
---
The story of Aoraki Fractalis
Aoraki Fractalis is a surreal, interdimensional view of Aoraki Mt Cook, Ngāi Tahu's sacred mountain, as seen from the Hooker Glacier terminal lake.
Triangular patterns, found in eastern sacred geometry, mathematical fractals and traditional Maori art, are painted in shiny, metallic gold and dominate the realm of Rakinui - the Sky Father.
White snow from the mountain drips as a waterfall to the bottom of the painting where curious saffron-robed buddhist monks serenely walk by. To Sofia the monks represent a human element of flesh, blood, religion and culture, attempting to connect to a larger cosmic picture.

What is this scene telling us?


What is this scene telling us? Minson says she can "only share what inspired her, but the intensity and narrative of the image should be experienced by the viewer themselves."
One big influence was her research into how mathematical fractals, traditional Maori tāniko and tukuku patterns, as well as sacred geometry from cultures around the world, are so profoundly similar and are also seen in nature all the time. From snowflakes and mountain ranges like the Southern Alps to spiral galaxies and the structure of human lungs, the patterns of chaos are all around us. Fractals are patterns formed from chaotic, yet quite simple mathematical equations, and if you divide a fractal pattern into parts or perpetually zoom in, you get nearly identical, reduced-sized copies of the whole. This pattern within a pattern carries on infinitely.

Meditation and psychedelia


This sort of geometry is seen in deep meditation and psychedelic visions. Psychedelia is associated with hallucinogenic drug taking. The term 'psychedelic' on its own is "useful and profound" explains Minson, "when it comes to pulling away the veil on what is happening in our mind and consciousness." The word is derived from the Ancient Greek 'psyche' or 'mind' and 'delos' which is 'to make visible, to manifest or reveal.'

"The physical painting process all started with this deeply grooved, gnarly piece of board" says the artist, "which is actually moulded fibreglass, mimicking the much heavier substrate of a concrete wall. It has that rugged, mountainous feeling of tectonic plates pushing up and cracks forming in the earth and I knew a powerful image was needed here."

The supernatural and natural worlds


While painting, Minson was listening to lectures on the creative force in nature, visionary artists and all human beings. She was also learning about the whakapapa or genealogy of Aoraki, who is a great Ngāi Tahu ancestor embodied in Aotearoa's tallest mountain, which provides an important link between the supernatural and natural world.
It is a lineage that starts with the beginning of the universe when all was darkness (Te Pō). Out of the first glimmer of light (Te Ao), long standing light (Te Aotūroa) emerged until it stood in all quarters. Encompassing everything was a womb of emptiness, an intangible void (Te Kore). This void was intense in its search for procreation. Finally it reached its ultimate boundaries and became a parentless void (Te Korematua) but with the potential for life. And so Te Maku, moisture, emerged and coupled with Mahoranuiatea, a cloud that grew from the dawn. From this union came Raki, the heavens, who coupled with Poharua Te Pō the breath of life found in the womb of darkness. The first child in this chain of creation was Aoraki who stands as the supreme mountain of Ngāi Tahu.
---
Sofia Minson Paintings | New Zealand Artwork

SKU: 10086