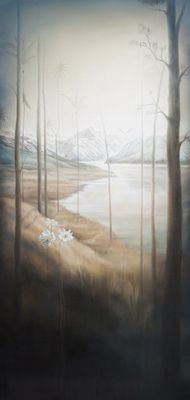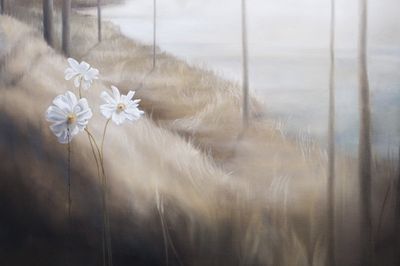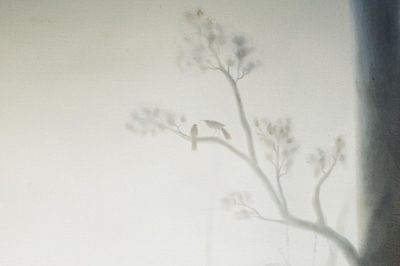 Aoraki
$1,950.00
or 4 interest free payments of $487.50 with
learn more
Original painting SOLD, oil on canvas, 2130 x 1010mm, 2015

Explore the story of the artwork >>


Print sizes and editions

Regular museum archival paper print - 497 x 805mm (limited to 275)
Large museum archival paper print - 550 x 1160mm (limited to 195)
Extra Large museum canvas print - 750 x 1582mm (limited to 175)
 
Your unique limited edition fine art print
Sofia Minson creates your exclusive signed print
We ship for $25 in NZ and from $50 internationally
Your artwork arrives rolled, ready to be framed - do you need help? Request framing guidance
---
The story of Aoraki

"Aoraki" was inspired by Sofia's connection with the land, myths and history of Aotearoa (New Zealand). Snow-covered Aoraki Maunga (Mt Cook) stands as a quiet giant with glacial-fed Lake Pukaki in the foreground. White Mt Cook lilies peek out from the hills of tussock grass and are towered over by a surreal forest of rimu, tī kōuka (cabbage trees), nikau palm and ponga ferns. On closer inspection the forest's inhabitants are tiny huia birds perched high in branches and soaring pouakai eagles, also known as hokioi or haast eagles, which were once the largest eagle in the world with a wingspan of 3 metres. Both of these native bird species are now extinct and for the artist, this sets the tone of the painting as being an enchanting, primordial world where Aotearoa is still young and the mountains, lakes and birds have only just emerged from the mists of creation.

As Ngāi Tahu's sacred tribal mountain, Aoraki is also the highest peak in Aotearoa. Ngāi Tahu are a prominent South Island iwi (people) who trace their lineage back to Tahu Pōtiki , the younger brother of Porourangi who was one of the great ancestors of Ngāti Porou - Sofia's own iwi.

The legend of Aoraki's origins enhanced the making of this painting. It tells of four brothers who made a grave mistake, which created the spectacular mountain range known today as Te Tiritiri o Te Moana (The Southern Alps).

The story begins when Raki (sky father) wedded Papatūānuku (earth mother). After the marriage the four sons of Raki, one of whom was Aoraki (which translates as cloud-piercer), came down from the celestial sphere to greet their father's new wife. They descended to earth in a waka (canoe) and spent time with Papatūānuku, who lay as one body in a vast continent known as Hawaiiki. After exploring the surrounding ocean the brothers decided to return to their home. However the karakia (incantation), which should have lifted the waka back to the heavens failed and the canoe fell back into the sea and leaned over onto its side, turning to stone and earth in the process. Thus the earthen waka became the South Island of New Zealand. Aoraki and his brothers clambered on to the high side and were also turned to stone, remaining there until this day as the great Southern Alps.
In the painting Aoraki stands as a quiet giant that is destined to endure patiently over generations of human migration, natural evolution, creation and extinction. Raki, the sky, is filled with birds and life has begun to sprout from Papatūānuku, the fertile land.
---
Sofia Minson Paintings | New Zealand Artwork
SKU: 10154